El Salvador have banned 14 international footballers for life for match-fixing, including some of their best-known and most experienced players.
One other player was given an 18-month ban, two were suspended for six months, one was acquitted while four more face further investigation, the country's football federation (FESFUT) president Carlos Mendez said on Friday.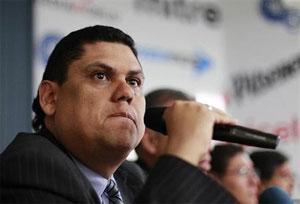 "The work of the disciplinary commission has been exhaustive. We have used valuable information which has come from interviews, video accounts from people who have had the strength to declare and help us find those responsible," said Mendez.
The 14 given life bans were goalkeepers Dagoberto Portillo and Miguel Montes, defenders Ramon Flores, Miguel Granadino, Luis Anaya, Mardoqueo Henriquez, Alfredo Pacheco, Marvin Gonzalez and Reynaldo Hernandez and midfielders Osael Romero, Darwin Bonilla, Dennis Alas, Ramon Sanchez and Christian Castillo.
Pacheco, Romero, Gonzalez, Alas and Sanchez have more than 50 caps apiece.
Carlos Romero was banned for 18 months, Eliseo Quintanilla and Victor Turcios for six each and Carlos Carillo was acquitted.
Rodolfo Zelaya, Emerson Umana, Rodrigo Martinez, Benji Villalobos will face further investigation, FESFUT said.
All 22 players had been provisionally suspended since August.
"The national teams will continue with their agenda," added Mendez. "The players pass by and the institutions are permanent."
Mendez said the matches affected included a 5-0 defeat by Mexico at the 2011 Gold Cup.
Central America is especially vulnerable to match-fixing as many clubs struggle financially, playing conditions are poor and footballers often do not get paid on time.
Last year Guatemalan internationals Guillermo Ramirez, Gustavo Cabrera and Yony Flores were banned for life by their country's federation for trying to persuade team mates to manipulate a friendly against Costa Rica.
The case was brought to light by the then national team coach Ever Almeida and striker Carlos Ruiz.
Nicaragua defender Armando Collado was also banned for life over a friendly against Guatemala played in 2010.
Image: Carlos Mendez head of El Salvador's Football Federation (FESFUT), speaks to the media
Photograph: Ulises Rodriguez/Reuters