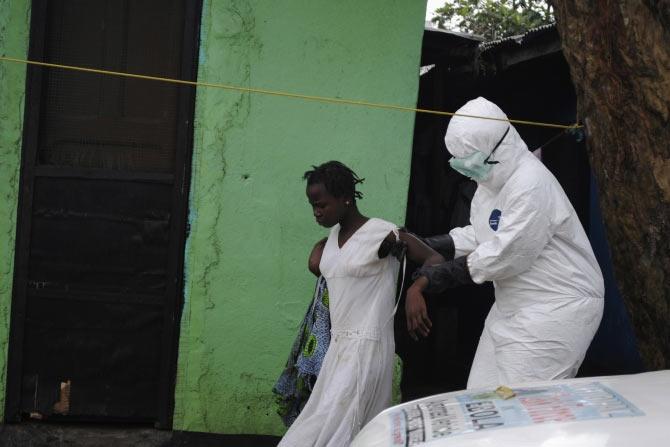 A health worker brings a woman suspected of having contracted the Ebola virus to an ambulance in Monrovia, Liberia. Photograph: James Giahyue/Reuters
African Nations Cup's organisers reportedly have no intention of changing the dates of next year's football event even though hosts Morocco called for postponement of the finals because of fears over the Ebola virus.
However, The Confederation of African Football (CAF) said in a statement on Saturday that it would meet the Moroccan government next month, sending a high-powered delegation to discuss the issue in Rabat led by its president Issa Hayatou.
The host nation's government made a shock announcement on Friday, saying that it wanted the 16-team tournament from January 17 to February 8 postponed following a report by its health ministry into the possible spread of the Ebola virus, Sport24 reported.
The organisers said that CAF acknowledges this request and confirms that it would make no changes to its calendar of scheduled competitions. They also stated that they have taken into account the recommendations of the World Health Organization and various medical experts.
The organisers further said that it should be noted that since the first edition in 1957 no African Cup of Nations has ever been postponed or deferred.
Last month the Moroccan government ordered a detailed report into the possibility that the tournament might spread the disease although no cases have yet been reported in the North African country.
CAF had already banned international matches in Liberia, Guinea and Ebola-affected Sierra Leone. The latter two are still involved in Nations Cup qualifiers.
The organisers added that the request of the Moroccans would be discussed at the next meeting of the CAF executive committee scheduled for November 2 in Algiers. They said that subsequently a meeting would be organised between CAF and the Moroccans in Rabat on November 3 and the delegation would be led by CAF president Issa Hayatou.
The world's worst Ebola epidemic since the disease was identified in 1976 has killed more than 4,000 people, mainly in West Africa. The virus, spread by contact with bodily fluids, causes fevers and potentially fatal bleeding.