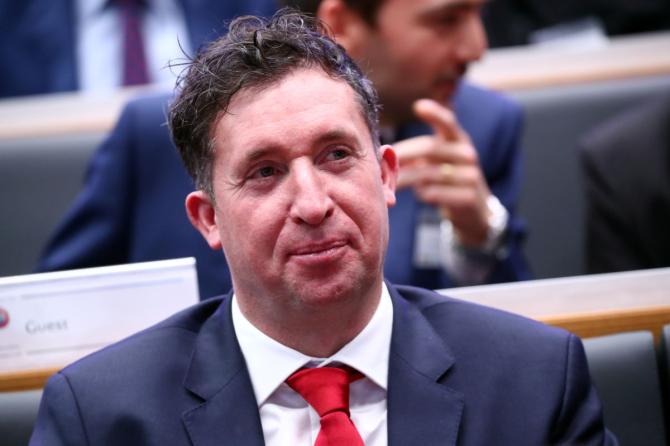 FC Goa and SC East Bengal might have played out a 1-1 draw but the Red and Golds brigade were clearly not happy with the poor decisions made in their game on Wednesday in the ongoing Indian Super League (ISL).
The Robbie Fowler coached side is set to lodge a complaint with the Football Sports Development Limited (FSDL), the All India Football Federation (AIFF) and against referee Arumughan Rowan, Goal.com reported. In what was initially a cagey contest, East Bengal had taken the lead through Bright Enobakhare's (79') stunning solo goal. But Goa fought back with a goal from substitute Devendra Murgaonkar (81') to deny their opponents a second successive win, who were brought down to 10 men in the second half.
According to Goal.com, Rowan, who officiated the match on Wednesday evening, made poor decisions in the game that changed the fate of the match, according to the club management.
"After every match, the club can give official feedback about the referee. Along with that feedback, we are also lodging a complaint with the AIFF and the FSDL about two major decisions that were questionable. These things need to be corrected because the team is getting affected a lot," goal.com quoted an East Bengal official as saying.
"The first one is Bright's second goal which was disallowed. The replays clearly suggest that Surchandra Singh did not touch Mohammed Nawaz and it was an FC Goa player with whom the goalkeeper had collided," the official further said.
"The second one is the red card of Danny Fox because when the challenge happened, the referee initially took out the yellow card but it was the assistant referee who suggested that it is a straight red. We feel it was harsh, it was a 50-50 challenge and he got the ball. If East Bengal had 11 players, it would have been a different scoreline," he added.
This is the second time in the ongoing seventh season of ISL, that East Bengal is lodging a complaint against a match official.
East Bengal is currently at ninth place in the ISL points table with seven points from nine games. The side will next take on Bengaluru FC on Saturday.
COVID-19 cases at Villa puts Liverpool FA Cup tie in doubt
Aston Villa's FA Cup third round match against Liverpool on Friday is in doubt after Villa reported fresh COVID-19 cases in their first team squad.
Villa said they had closed their training ground and cancelled Thursday's training session, as a number of players and staff went into isolation.
"A second round of testing was carried out immediately and produced more positive results today," Villa said in a statement.
"Discussions are ongoing between medical representatives of the club, the Football Association (FA) and the Premier League."
Earlier, the FA said Southampton's FA Cup third round match at home to Shrewsbury Town will not take place as scheduled on Saturday after the third-tier team reported several COVID-19 cases in their squad.
Shrewsbury told the FA that due to the "significant number" of cases, they did not have enough fit players who were not in self-isolation to fulfil the fixture against the high-flying Premier League side.
"Shrewsbury Town FC provided the FA with details of the medical advice it had received and its communications with local Public Health England and liaised with the FA's COVID Medical Officer for the FA Cup," the FA said in a statement.
"The FA also requested and considered further information regarding Shrewsbury Town's ability to fulfil the fixture."
The FA said there will be a meeting of its Professional Game Board next week to decide on the fate of the fixture.
Championship (second-tier) side Middlesbrough also said on Thursday that preparations for their third round match at Brentford had been affected after a number of their first team players and staff tested positive.
On Wednesday, Derby County said their first-team squad and interim manager Wayne Rooney will not play a part in Saturday's FA Cup match at sixth-tier Chorley as they were self-isolating after an outbreak of the virus at the club.
But the game is due to go ahead with Derby set to pick a team predominantly made up from the club's Under-23 and Under-18 squads with youth coaches taking charge.
COVID-19 outbreaks have led to four Premier League matches being postponed and more than 50 games in the lower divisions of the Football League (EFL) being called off this season.
Zidane isolating due to contact's COVID positive
Real Madrid coach Zinedine Zidane is isolating after a close contact of his tested positive for COVID-19, Spanish newspaper ABC said on Thursday.
Real did not immediately respond to a request for comment on the report.
The story in ABC said Zidane learned of the contact testing positive on Thursday morning and subsequently did not attend Real Madrid's training session ahead of Saturday's La Liga game away to Osasuna.
The report added that the Frenchman had undergone a COVID-19 test and is awaiting the result, although La Liga must approve his return to work as its protocols dictate that a person should isolate for three days and then get a negative test before returning to training or take part in a match.
Benzema to stand trial in sex tape case, says lawyer
Real Madrid striker Karim Benzema will stand trial after being charged by prosecutors with being complicit in a conspiracy to blackmail his former France team mate Matthieu Valbuena in a case linked to a sex tape, his lawyer said on Thursday.
Investigators alleged that Benzema, who has not played for Les Bleus since October, 2015, encouraged Valbuena to pay blackmailers in order that the tape would not be made public.
Benzema has denied wrongdoing and a trial date has not yet been set.
"We are unfortunately not surprised by this decision, which is as absurd as it was expected," Benzema's lawyer, Sylvain Cormier, told Reuters.
"I am dismayed to note that one is forced to distort the elements gathered in the investigation to justify sending my client before the tribunal. We will explain ourselves before the judges of the tribunal to demonstrate this abuse."
Benzema, 33, has scored 261 goals in 533 games with Real Madrid and found the net 27 times in 81 games for France.
Ozil's future could be sorted in January, says Arsenal's Arteta
Arsenal outcast Mesut Ozil's future at the Premier League club could be decided during the January transfer window and the German midfielder will be allowed to leave if they receive a good offer, manager Mikel Arteta said on Thursday.
Ozil, whose contract at Arsenal ends this season, has not played for the London club since March last year and was omitted from their Premier League and Europa League squads for the first half of the season.
Ozil, 32, is free to negotiate with other clubs this month and British media reported he was in talks with Turkish club Fenerbahce and American side DC United.
"We will decide what's happening in the next few days, I don't know what is going to happen," Arteta told reporters ahead of Saturday's FA Cup home game against Newcastle United.
"We'll discuss internally what the best solution for him is for the near future, obviously with the player and agent too, and try to find the best solution for everyone.
"If something was sorted this month, it's because it's good for both parties, it's good for Mesut and his future, and it's good for the club. If that's the case, we'll move forward. If it's not the case, the player will stay here."
Ozil can be named in the Premier League squad again this month but when Arteta was asked about the prospect of the playmaker returning to the side, the Spanish boss remained non-committal.
"We have to make a decision," Arteta added.
"I had to make a decision (at the start of the season) and I made it. I knew the consequences of it and now we're going to have to make another one in January."
Arteta said midfielder Thomas Partey would be assessed before the game before deciding whether to risk him or save him for Crystal Palace's league visit next week.
Defender Gabriel, who tested positive for COVID-19 last month, is not showing any signs of illness but will return to training only after medical checks.
Arsenal take out 120 million pound loan after finances take COVID-19 hit
Arsenal have borrowed 120 million pounds ($162.65 million) from the Bank of England to ease the strain on their finances as a result of the COVID-19 pandemic, the Premier League club said on Thursday.
The club announced it has met the criteria set by the Bank of England for the Covid Corporate Financing Facility (CCFF), and they have taken out a short-term loan, which must be repaid by May 2021.
The move comes after north London rivals Tottenham Hotspur borrowed 175 million pounds from the CCFF scheme in June.
"As we continue to work through the implications of the global pandemic on our finances, we can confirm today that the club has met the criteria set by the Bank of England for the Covid Corporate Financing Facility (CCFF)," a statement read.
"As a result, we are taking a short-term £120 million loan through this facility to partially assist in managing the impact of the revenue losses attributable to the pandemic.
"This is a similar approach to that taken by a wide variety of major organisations across many industries including sport."
The help from the CCFF scheme comes in addition to the loan provided by Arsenal's owners Kroenke, Sports & Entertainment that enabled the club to refinance the debt on their Emirates Stadium last year.
Manchester United sign Ivorian winger Diallo from Atalanta
Manchester United have signed winger Amad Diallo from Italian side Atalanta, with the 18-year-old Ivorian putting pen to paper on a contract until June 2025, the Premier League club said on Thursday.
Financial details of the transfer were not disclosed but British media reported United agreed to pay a base fee of 21 million euros ($25.77 million) with 20 million euros in add-ons.
United said an agreement had been reached between the clubs on the last day of the summer transfer window in October, with personal terms and his work permit now finalised for a visa application.
"As a club, we have followed Amad for a number of years and having watched him myself, I believe he is one of the most exciting young prospects in the game," United boss Ole Gunnar Solskjaer said.
"It will take time for him to adapt but his speed, vision and fantastic dribbling ability will stand him in good stead to make the transition.
"He's a player with all of the raw attributes that are needed to be an important player for Manchester United in the years to come."
Diallo said finally being able to complete a move to United after terms were agreed months ago was a "dream come true".
"I am hugely ambitious and there is so much that I want to achieve in the game. When I spoke to the manager I knew that I had joined the perfect club," he said.
"I have had time to prepare for this move, both physically and mentally, and I have worked really hard to be ready to make the step up to this amazing club."
United are second in the league standings, level with leaders Liverpool on 33 points with a game in hand, and host Watford in the FA Cup on Saturday.
Inter Milan's D'Ambrosio sidelined with knee injury
Inter Milan defender Danilo D'Ambrosio suffered a knee ligament injury in Wednesday's 2-1 Serie A loss at Sampdoria, the club said on Thursday.
Italy's Sky Sport said the 32-year-old full back could be out of action for four to five weeks.
D'Ambrosio left the field shortly before the end of the game after a collision with Sampdoria midfielder Mehdi Leris, having come on to replace Milan Skriniar in the 81st minute.
"The tests revealed that the Italian has strained the medial collateral ligament of his left knee. His condition will be reassessed next week," Inter said in a statement.
The Italy international will miss Sunday's Serie A match at AS Roma and Wednesday's Coppa Italia game away to Fiorentina.
Inter are second in the standings on 36 points from 16 games, a point behind AC Milan and three points ahead of Roma.
Liverani sacked by struggling Parma, D'Aversa re-appointed
Struggling Parma have sacked coach Fabio Liverani after two wins from 16 Serie A games this season and reappointed Roberto D'Aversa as manager, the club said on Thursday.
Liverani, 44, only took charge in August, succeeding D'Aversa, but leaves the northern Italian club after a 3-0 defeat at Atalanta on Wednesday leaves them in the relegation zone in 18th place in the standings on 12 points.
"Parma Calcio 1913 can confirm that Fabio Liverani has been relieved of his duties as coach of the first team. The club would like to thank Liverani and his staff and wishes them all the best in their future endeavours," a club statement read.
D'Aversa, 45, whose Parma contract still runs until June 2022, coached the club from December 2016 to August 2020.
Cutrone returns to Wolves from Fiorentina loan
Wolverhampton Wanderers have recalled striker Patrick Cutrone from his loan spell in Italy with Fiorentina.
The 23-year-old moved to Florence last January on an 18-month loan deal but has not started a Serie A game this season.
Italian Cutrone will bolster Wolves' attacking options with no comeback date pencilled in for Raul Jimenez after the Mexican striker fractured his skull in November.
Nuno Espirito Santo's side are 13th in the Premier League without a win in their last four league games.
Man City's WSL game v West Ham postponed over COVID-19 cases
Manchester City Women's Super League match against West Ham United on Saturday has been postponed because of COVID-19 cases within the squad, the club said on Thursday.
City reported four positive cases on Monday but did not name the players affected by the virus.
A new date for the game between the women's FA Cup holders and West Ham will be announced in due course, City added.
City are fourth in the league table with 18 points after nine games, while West Ham sit 10th on seven points.
The club are already battling a COVID-19 outbreak in the men's squad, with several first-team players and staff members testing positive.
City's Premier League match at Everton was postponed last month and the training ground was closed for two days as a precaution.