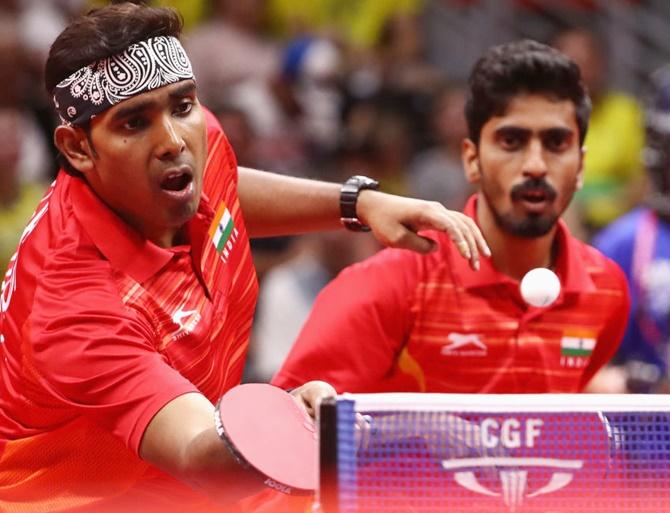 The Indian pairing of Sharath Kamal and G Sathiyan upset top-seeds Kwan Kit Ho and Chun Ting Wong of Hong Kong to enter the men's doubles final of the ITTF World Tour Hungary Open, in Budapest on Friday.
In a hard-fought five-setter, the Indian qualifiers won 11-7, 12-10, 4-11, 4-11, 11-9 and earned a meeting with the second-seeded pair of Duda Benedikt and Franziska Patrick from Germany in the final to be held on Saturday.
The Germans defeated Poland's Dyjas Jakub and Belgium's Nuytinck Cedric 11-4, 11-5, 8-11, 11-3.
Later on Friday, Sharath and Manika Batra take on German duo of Patrick Franziska and Petrissa Solja in the mixed doubles semifinals.
On Thursday, Sharath and Sathiyan had beaten home favourites Nandor Ecseki and Adam Szudi in the quarterfinals, after having sent the Japanese pair of Shunsuke Togami and Yukia Uda packing in the previous round.
As for Sharath and Manika, they got a walkover in the quarterfinals from the second-seeded Japanese pair of Jun Mizutani and Mima Ito after Mizutani pulled out because of a neck injury he suffered during his singles event.
Manika failed to go past Japanese Miu Hirano in the pre-quarterfinals, losing in straight games of 9-11, 1-11, 7-11, 7-11. Manika, who beat Szu-Yu Chen of Taipei 4-3 in a tough round of 32 match, was down 0-3 before scoring a strong comeback win, including the crucial fourth game on extended points.
Sathiyan is still in the fray and is also slated to meet top-seed Harimoto Tomokazu and Manika will meet Japanese Miu Hirano in the round of 16 later on Friday. In the round of 32, the Indian defeated Noshad Alamiyan of Iran 4-1.
Dutee to participate in Khelo India University Games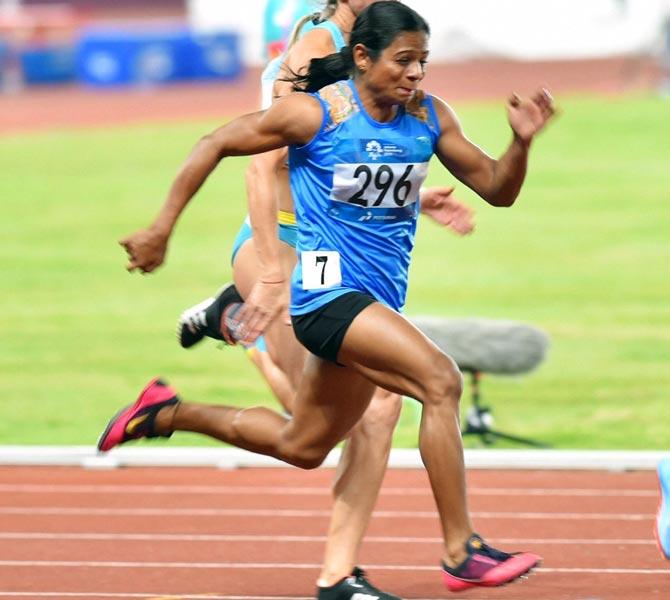 Indian sprinter Dutee Chand, on Friday, confirmed her participation for the first edition of Khelo India University Games.
"Yes, I will sprint for my University (Kalinga Institute of Industrial Technology) next week," Chand said in a statement. The inaugural edition of Khelo India University Games will be held in Bhubaneswar from February 22 to March 1.
World University Games champion Chand said that her focus will be to perform well at the games and achieve the qualification standard for the upcoming 2020 Tokyo Olympics.
"I may make the grade on the strength of my world ranking (currently No. 54 in 100m and No. 43 in 200m) but I really want to make it to the Olympic Games by achieving the qualification standard. To improve my ranking, I will need to compete in some quality events and, for some reason or the other, that has not happened," she said, returning to her intense workout at the Kalinga Stadium.
Prime Minister Narendra Modi will launch the first edition of Khelo India University Games on February 22.
As many as 3400 athletes from 159 universities across the country have been given entries in 17 disciplines namely archery, athletics, boxing, fencing, judo, swimming, weightlifting, wrestling, badminton, basketball, football, hockey, table tennis, tennis, volleyball, rugby, and kabaddi.