Wim Koevermans is the new coach of India's senior football team.
The Dutchman, whose last assignment was with the Republic of Ireland as High Performance Director, was unveiled by Kushal Das, general-secretary of the All India Football Federation, at the AIFF headquarters, Football House, in Delhi on Friday.
His two-year contract commences on July 1.
"It's an honour to be here in India," said Koevermans, in his first official interaction.
"I'm looking forward to meeting the boys. I have travelled in many countries and have been fortunate to have played with some greats and also coached by some legendary coaches," he added.
Koevermans was part of the Dutch squad that won the European Football Championship in 1988, under the coaching of Rinus Michels.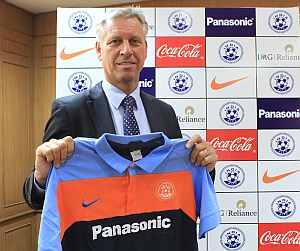 "I've watched some videos of the Indian team's recent matches. I will travel to Muscat along with Technical Director Rob Baan to watch India's matches in the forthcoming AFC Under-22 Championship," he informed.
Das, who presented an Indian jersey to Koevermans, explained the logic behind employing him.
"We didn't want to hurry into selecting the new coach. We look forward to working with Wim. The AIFF will be extending its support to him in every possible direction," he maintained.
Earlier in the day, Koevermans met AIFF president Praful Patel and interacted with its executive committee members at Udyog Bhawan. He also made a presentation at the meeting which was appreciated by all.
The former Dutch defender thanked Patel and the executive committee for inviting him to India.
"Coach education stays one of the most pertinent points. Good coaches will always make a difference at any level," said Koevermans, who will also involved in coach education during his tenure in India.
His first assignment will be the Nehru Cup, which kicks-off on August 23.
The executive committee decided the tournament will consist of five-teams, including India, and be played on a round-robin basis. The top two teams will qualify for the final, which is slated for September 2.
The prize-money of the Nehru Cup has been doubled to US $200000 from US$ 100000.
It was also decided in the meeting that the Platinum Jubilee celebrations of the AIFF will kick-start on June 23 with a flag-hoisting ceremony at Football House. The Platinum Jubilee flag will be unfurled by legendary Indian footballer Ahmed Khan on the day.
Khan was an integral member of the 1951 Asian Games gold medal-winning squad.
Meanwhile, Ranti Martins was named the best forward and Player-of-the-Tournament in I-League 2011/12. He was adjudged after votes from all I-League team captains and coaches.
Besides, Armando Colaco was named best coach, Karanjit Singh best goalkeeper, Mahesh Gawli best defender and Climax Lawrence best midfielder.