'I might die a little earlier than others, but I have time to finish off unfinished businesses.'
Mithila Balse, a cancer-striken mother of two who will take the start in the 7km Dream Run at the Standard Chartered Mumbai Marathon, speaks to Laxmi Negi/Rediff.com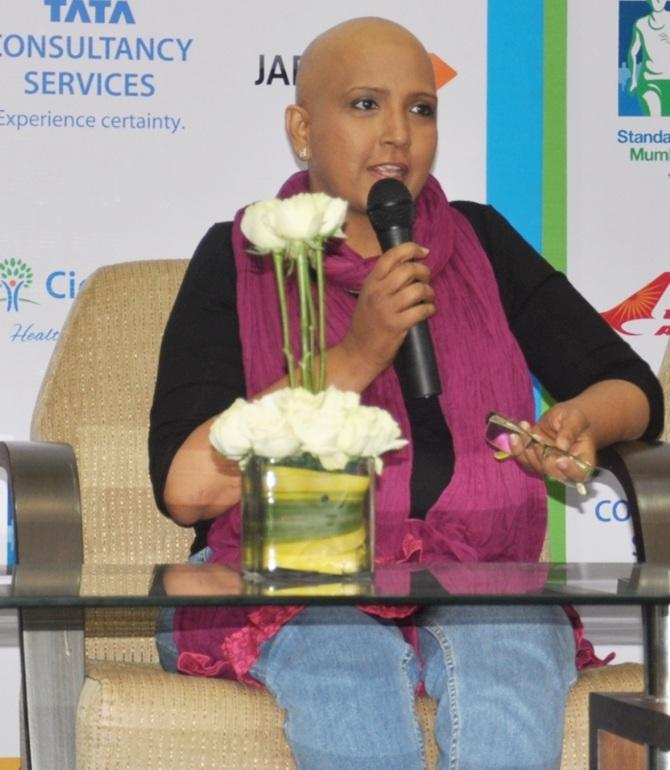 Image: Mithila Balse at the Standard Chartered Mumbai Marathon Charity meet
Mithila Balse stands out in the crowd. It is not because of a clean shaven head, but her fighting spirit and will to overcome all odds.
On Sunday, January 18, this 48-year-old mother of two who is undergoing chemotherapy will take the start in the 7 km Dream Run at the Standard Chartered Mumbai Marathon.
She is running to raise funds for the Indian Cancer Society.
"I thank God that it is me who suffers from cancer. I thank God that I could afford the expensive treatment and operation costs. I thank God for my family and friends who were beside me."
"It is heart-wrenching to see cancer patients struggling to cope with the costs of basic treatment for cancer. It is sad that most people are bread-earners for their family and have dependant parents and children and step back from treatment only because they cannot afford to lose their daily wages," says Balse, who has already raised Rs 500,000.
Just two weeks after her first chemotherapy session this radiant-looking banker, courtesy her 23-year-old make-up artist daughter, met with Laxmi Negi/Rediff.com.
How is it possible that in the middle of chemotherapy sessions you are attempting the Dream Run?
Every 21 days I have my chemotherapy session. I have already completed two sessions; on January 21 will be my third.
The week I undergo chemotherapy I am unable to walk even in the house and so, automatically, my stamina goes down.
From the second week my first effort is to start walking and the next week is trying not to feel dizzy when walking.
From the last chemotherapy session I had a horrible backache; I was immobile for three days. It is a chemotherapy side-effect. I have to start all over again every two weeks.
I am lucky that due to some reasons my chemotherapy got postponed and I am in my second week. So, hopefully, I will be in better condition to attempt the Dream Run.
At the moment I can walk 2 km comfortably. January 18 is the third week and, therefore, I will make an attempt to walk the entire distance as the third week is the safest.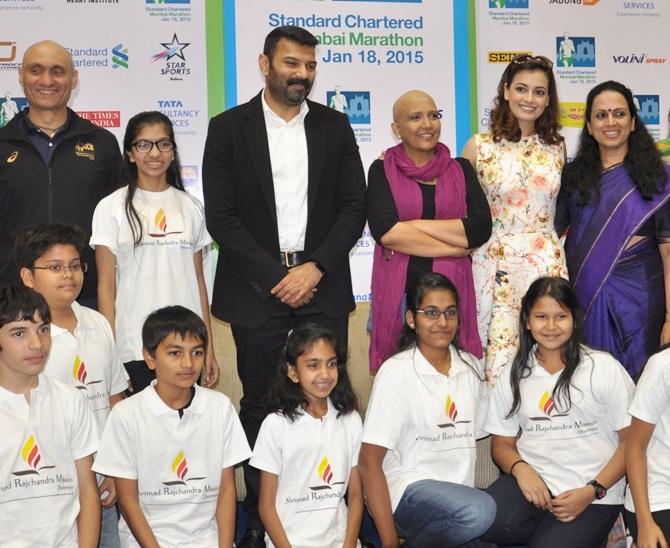 Image: From left: Vivek Singh, Joint, MD Procam International; Meera Mehta, Shrimad Rajchandra Love and Care; Dharmesh Jain, Chairman, Nirmal Lifestyles; Mithila Balse, Indian Cancer Society; Bollywood actress Dia Mirza, Swades Foundation; and Jayanti Shukla, Executive Director, United Way of Mumbai at the Standard Chartered Mumbai Marathon Charity meet.
How did you come to know about the cancer?
My husband and I go for an annual health check-up. I was a workaholic and scheduled to get the heath check up done in May, but postponed it until August because my life in office was so hectic.
I clearly remember August 25, 2014. After the tests the doctor said there was a 24 inch tumour in my stomach. Though the blood reports stated that the tumour was malignant I went through many tests.
The most devastating part of cancer is not for you, but the people around you. It was sad to see them go through so much. It must have been more tragic for them.
As for me, I was fine. I said to myself "Tumour, fine; operation, fine!" Everybody dies, but here I was getting a notice period.
Finally, I was operated in September and later shifted to the ICU. The stitches were painful and it was difficult to even turn in bed for some time. By mid-October I made efforts to sit down and later go on with life.
How has life changed?
Everything has changed.
,p>In college I was very active in sports. I was in the NCC (National Cadet Corps) and played badminton at the zonal level. But after getting into a high-profile corporate job and working from 9 am to 9 pm you don't find time for anything.
I was always on the go, waking up at odd hours and travelling to different cities. From the health and fitness point of view it was a sedentary life. The maximum I did was running for flights. (chuckles)
Now I am okay suffering from cancer. I might die a little earlier than others, but I have time to finish off unfinished businesses.
Like?
I was very open about me suffering from cancer. My children were a bit wary about who to tell and who not to, but I encouraged them. Even in my office there were whispers about my ailment.
I wanted to tell people that cancer is nothing to fear about or not taboo.
In some stages people die, but at least they have a notice period.
You are not dying of an accident or heart attack and the entire family suffers; you don't have time to finish off whatever you came here for.
I think now I have time to do wherever I want. I can finish off my pending work, tie all the loose ends.
Now I have found time to dedicate for charity, which I had never done.
What lies ahead?
If I could practice a little I could have run the full marathon. But why do it now that I have cancer?
I like being with the family and creating a bond with my girl, which was missing when I was working hard.
Earlier, for me, work, the goals, targets and achieving those was priority. Now work has completely taken a backseat.
I can sit back and see what I have done in life. I am quite happy actually that I have got a notice period.
Come on! This is death. I must try and finish off whatever I have come here for. I am going to balance my life.
Mithila will run along with her family and friends.