Forty-year-old O'Neil Bell was killed during a robbery in Atlanta, while suspended St. Louis Rams wide receiver Stedman Bailey underwent surgery after shootout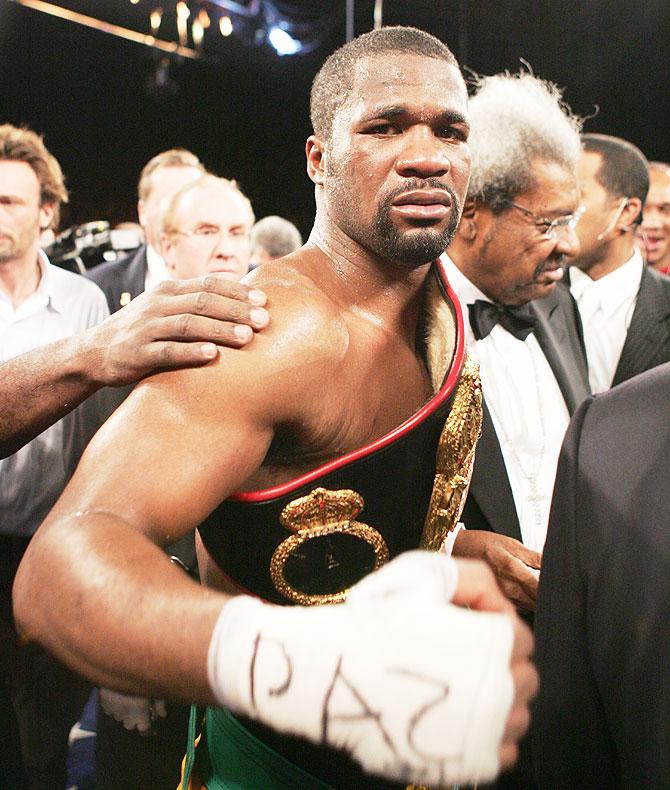 IMAGE: Cruiserweight boxer O'Neil Bell. Photograph: Al Bello/Getty Images
Former cruiserweight boxing champion O'Neil "Supernova" Bell was shot to death during a robbery as he exited a public transit bus in Atlanta early on Wednesday, police said.
An officer found Bell, 40, lying in the street, Atlanta police said. Another man nearby had also been shot but survived.
The survivor, who was taken to a local hospital, told police he and Bell were shot after first being robbed when they stepped off the bus, police said.
No arrests have been made, police said.
Born in Jamaica and known as "Supernova" throughout his career, Bell was the undisputed cruiserweight champion in 2006, winning the World Boxing Council, World Boxing Association and the International Boxing Federation titles after a 10th-round knockout of Jean-Marc Mormeck at MadisonSquareGarden in New York.
Bell lost a unanimous decision to Mormeck the following year in France.
Bell had a 27-4-1 career record, including 25 victories by knockout. His last appearance came in December 2011, when he beat Rico Cason in a first-round knockout.
St. Louis Rams player hospitalised after shooting in Florida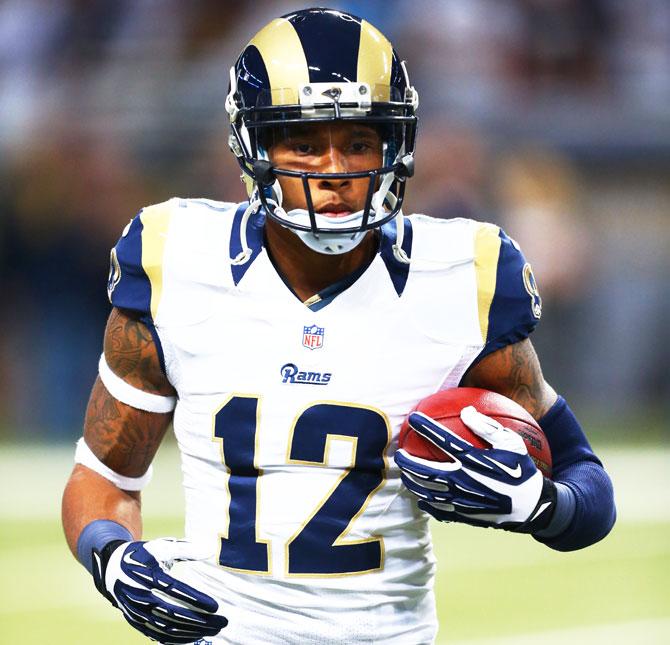 IMAGE: Stedman Bailey of the St. Louis Rams. Photograph: Dilip Vishwanat/Getty Images
Suspended St. Louis Rams wide receiver Stedman Bailey was in critical but stable condition in a hospital on Wednesday after being shot in a car near his Miami-area hometown.
Bailey had surgery that lasted up to six hours, said Rams head coach Jeff Fisher, who did not have specifics of the injury.
Bailey was in a car with four other people, including a cousin of his and the cousin's two children, at a private residence when another vehicle arrived and someone inside it opened fire, the Miami Gardens Police Department police said.
The victims drove themselves to a hospital for treatment, police said.
The cousin, Antwan Reeves, was also injured and had surgery soon after arriving at the hospital and was recovering on Wednesday afternoon. The three other passengers in the vehicle, including Reeves' 5-year-old son and 10-year-old daughter, were uninjured, police said.
"Whether you're a coach or you're a father or you're a family member, anytime something like that happens, it's very, very difficult," Fisher told reporters on Wednesday.
"The one thing that gave us hope last night was that we were able to get in touch with Sted at the hospital and there was a conversation that took place. So that gave us hope that he would pull through this and this was not life-threatening."
Bailey, 25, began serving a four-game suspension on Nov. 9 for violating the National Football League's substance-abuse policy. He posted an apology on his Instagram account when he was suspended, saying he put his coaches and teammates in a "bad position by regrettably partaking in a disgraceful activity."
Bailey, who played at West VirginiaUniversity, was selected in the third round by the Rams in the 2013 NFL draft. He has 12 receptions for 182 yards and one touchdown in eight games this season.
Bailey was also suspended for four games in 2014 for violating the league's policy on performance-enhancing drugs, but that suspension was ultimately shortened to two games.