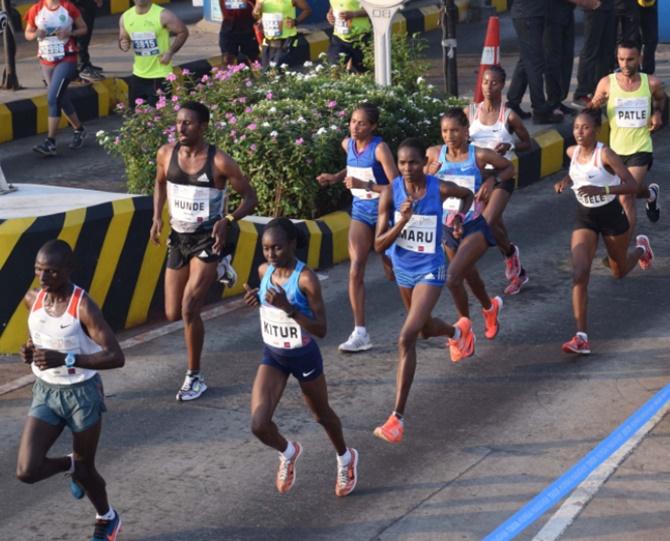 IMAGE: Elite marathon runners cross the Bandra-Worli sealink. Photograph: Sahil Salvi
Solomon Deksisa and Amane Gobena made it a double delight for Ethiopia in the $ 405,000 Tata Mumbai Marathon in Mumbai on Sunday by clinching the respective men's and women's races.
Twenty-two-year-old Deksisa broke away from the rest of the field at the 35-km mark and kept his nose ahead for the reminder of the 42.195-km men's event to lead a 1-2 finish for Ethiopia ahead of 29-year-old compatriot Shumet Akalnaw.
Deksisa clocked 2 hours, 9 minutes, 34 secs, off the course record of 2:08:35, while his compatriot Shumet crossed the finish line in 2:10:00 after being in hot pursuit of the lead runner over the last seven kms without being able to catch up.
Kenyan Joshua Kipkorir, second last year, ended up third this year in 2:10:30.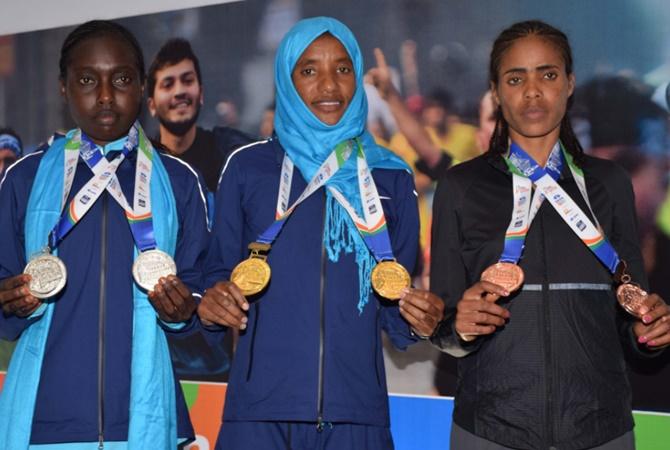 IMAGE: Ethiopia's Amane Gobena, centre, made the women's race her own to win by a comfortable margin. Photograph: Sahil Salvi
Gobena made the women's race her own to win by a comfortable margin and won in 2:25:49 ahead of defending champion Bornes Kitur of Kenya who clocked 2:28:48 with male pacer Bernard Soi of South Africa helping her maintain her speed.
In third place was another Ethiopian, Shumo Genemo (2:29:41).
Indian men racers Gopi Thonakal, the winner of the Asian marathon title in November last in China, and his army rival Nitendra Singh Rawat, the course record holder among the home country participants, finished just outside the top ten in 11th and 12th places, respectively.
Gopi, who was second to Rawat among Indians in 2016 in the run-up to the Rio Olympics for which both were later selected, was timed at 2:16:51 and nosed ahead of arch-rival Rawat who clocked 2:16:54 in the last stretch.
Srinu Bugatha was the third-best Indian male finisher much farther down in 2:23:56.
Rawat said it became warmer midway through the race and he was cramping a bit too.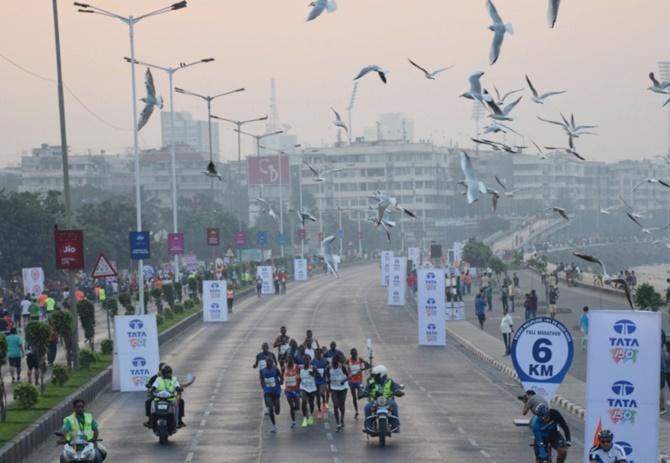 IMAGE: The Elite men are seen at the Marine Drive during the Tata Mumbai marathon. Photograph: Sahil Salvi
"It was a bit warm halfway through the race and I was getting cramps too," he said.
The corresponding top three Indian women finishers were Sudha Singh, in a slow 2:48:32, Jyoti Gawte (2:50:47) and Parul Chowdhary (2:50:47).
Pradeep Singh won the men's half marathon in 1:05:42 in slightly humid conditions.
Shankar Man Thapa and Deepak Kumbhar took the second and third places.
In the women's half marathon, Sanjeevani Jadhav came in first in 1:26:24, followed by Monika Athare who clocked 1:27:15. In third place was Juma Khatun who clocked 1:27:48.
Elite women runners slam marathon organisers
The elite women runners of the Tata Mumbai Marathon slammed the event organisers, saying there were too many casual runners on the course and that the Metro construction work was also a hindrance.
"It was a quite difficult race as there were a lot of people (casual participants in other non-competitive events) on the road. It was difficult to concentrate," said women's race winner Amane Gobena of Ethiopia at the post-event media conference.
She said she missed receiving water thrice the 5, 15 and 30 km marks.
"It was difficult to get water also and there were too many corners (due to construction work for Mumbai Metro-3 line)," she said, about the chaotic manner in which the race was held.
Gobena said she knew that despite the hazards she will win the race just past the halfway mark after taking a clear lead.
"I had prepared very well for the race. We (She and Kitur) were together for the first 25 kms, and after 25 kms I knew I was going to win," she said.
"At one point I thought I will break the course record, but as I said there were a lot of people (on the road) and temperatures were also rising, So I had to slow down," she further said.
"(Metro) construction work was a problem. The last km was difficult as there were a lot of corners," said the Kenyan runner.
Joshua Kipkorir of Kenya, who finished third in the men's race, criticised the pacemakers for dropping out earlier than expected.
"One pacemaker dropped out at 15km and another at 25km," he said.
Meanwhile, India's Asian champion Gopi Thonakal said he was satisfied with his timing (2:16:51) because of the weather conditions.
"It was hot. I am happy with my timing," said Gopi, who finished 11th overall just ahead of his arch-rival Nitendra Singh Rawat (2:16:54).
Vivek Singh, Joint Managing Director, Procam International, the organisers of the event, said, "We are sorry that the elite runners had to face slow moving amateur marathoners at Worli sea face".
"The race director has taken note of this and changes will be made for the next edition. However, as the amateur marathoners category continues to increase, it is our earnest request that they appreciate the right of way of elite runners and stay clear," Singh added.
Results:
Marathon:
Men (Overall): 1. Solomon Deksisa (Eth) 2:09:34, 2. Shumet Akalnaw (Eth) 2:10:00, 3. Joshua Kipkorir (Ken) 2:10:30
Indians: 1. Gopi Thonakal 2:16:51, 2. Nitendra Singh Rawat 2:16:54, 3. Srinu Bugatha 2:23:56.
Women (Overall): 1. Amane Gobena (Eth) 2:24:49; 2. Bornes Kitur (Ken) 2:28:48, 3. Shuko Genomo (Eth) 2:29:41.
Indians: 1. Sudha Singh 2:48:32, 2. Jyoti Gawate 2:50:47, 3. Parul Chaudhary 2:53:26.
Men's half marathon: 1. Pradeep Singh (Ind) 1:05:42; 2. Shankar Man Thapa (Ind) 1:06:40; 3. Deepak Kumbhar (Ind)
1:06:54.
Women's half marathon: 1. Sanjeevani Jadhav (Ind) 1:26:24; 2. Monika Athare (Ind) 1:27:15; 3. Juma Khatun (Ind) 1:27:48.