Dope tainted athletes Mandeep Kaur and Sini Jose got the axe as Athletics Federation of India on Sunday named a 37-strong team for the Asian Championships starting on July 7 in Kobe, Japan.
Mandeep and Sini, members of the Indian quartet that won 4x400m relay gold in Commonwealth and Asian Games last year, were caught for doping for anabolic steroids in the dope tests conducted by the IAAF. Four more athletes also tested positive for anabolic steroids in NADA tests.
Another member of the Commonwealth and Asian Games 4x400m relay squad Ashwini Akkunji, who also won gold in the 400m hurdles in Asian Games, has been named in the team.
In the absence of Mandeep, Sini and Manjeet, who has been also left out of the team, national record holder in 800m Tintu Luka has been named in the 4x400m relay squad besides being selected in her pet event.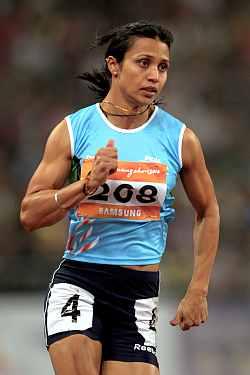 Priyanka Panwar and Mrudula Korada were the other two named in the 4x400m relay squad. Ashwini will also run in the 400m and 400m hurdles.
Commonwealth Games gold medallist discus thrower Krishna Poonia, Asian Games gold medallist long distance runner Preeja Sreedharan and Kavita Raut also made it to the team.
Also in the team, which had 16 women, are Asian Games 3000m steeplechase gold winner Sudha Singh and the country's top long and triple jumpers M A Prajusha and Mayookha Johny.
Asian Games 400m hurdle gold medallist Joseph Abraham, national record holder discus thrower Vikas Gowda, top shot putters Om Prakash and Saurabh Vij will lead the challenge among men.
Meanwhile, NADA director general Rahul Bhatnagar said that results of samples of a few athletes are yet to come, including that of Akkunji.
He also said that 30 athletes, bound for the Asian Championships, were tested by NADA on the request of AFI.
"We normally do not encourage dope tests of athletes before international events. But this time in view of the dope flunk by six athletes, AFI requested us for such tests and we took samples from 30 athletes. We are expecting results of them tomorrow," Bhatnagar said.
"The results of a few samples which we had taken during the June 11-14 National Inter-state Athletics Meet in Bangalore are yet to come. These include that of Ashwini Akkunji," he said.
NADA had taken 59 samples in Bangalore and results of eight are yet to come.