Dolgopolov, who advanced to the 2nd round of the US Open on Wednesday, said he could not remember ever being approached to fix a match.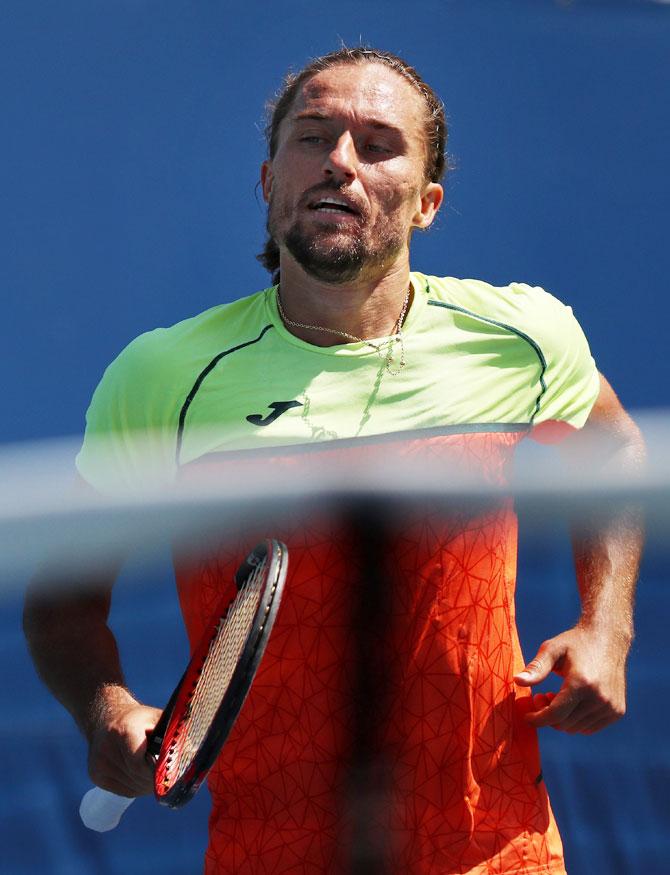 IMAGE: Ukraine's Alexandr Dolgopolov reacts during his US Open first round Men's match against Germany's Jan-Lennard Struff on Day 3 of the 2017 US Open at the USTA Billie Jean King National Tennis Center in the Flushing neighborhood of the Queens borough of New York City in New York on Wednesday. Photograph: Abbie Parr/Getty Images
Alexandr Dolgopolov reacted furiously when he was questioned about suspicious betting patterns surrounding one of his matches during a fiery US Open news conference on Wednesday.
The Ukrainian world number 64 suffered a shock loss to Thiago Monteiro in the first round of the Winston-Salem Open warm-up tournament on August 20.
The Tennis Integrity Unit (TIU) have confirmed they are looking into the match after concerns were raised over betting patterns but no formal investigation has been launched.
Asked about the matter after beating Jan-Lennard Struff in the first round of the year's final grand slam, Dolgopolov exploded.
"You want my honest answer? I don't give a fuck to be honest because it's like a circus," the 28-year-old said, before likening media coverage to "fairytales".
"I don't want to even talk about it. I talked to the TIU, I respect their work, I gave all the information needed.
"At the end of the day, what's going to happen is I'm not involved in anything. That's going to be what happens and these guys are still going to write that. For me, writing those things before there is an investigation is silly."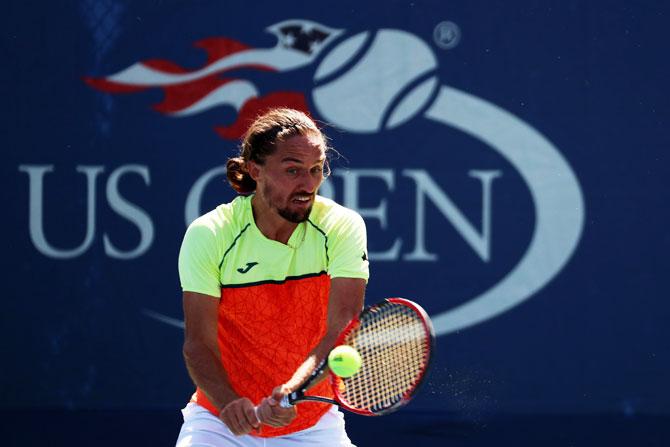 IMAGE: Alexandr Dolgopolov has likened media coverage of his alleged match-fixing to "fairytales". Photograph: Abbie Parr/Getty Images
Dolgopolov had been the pre-match favourite against Montiero but several leading bookmakers stopped taking bets after so much money was placed on the Brazilian to win he started the match as an odds-on chance.
The Ukrainian said he had no idea why such a spike in betting had occurred before he lost 6-3, 6-3 to Montiero, who was ranked 114th in the world and needed just 55 minutes to clinch the victory.
He added that he had just played badly and the incident was now affecting his family, who were being threatened on social media.
"I go on social media and every time I have to delete 10 messages because people are doing threats, stuff to the family," he said.
Dolgopolov, who will face 15th-seed Tomas Berdych in the second round on Thursday, said he could not remember ever being approached to fix a match.
"Er, no, not really. I don't have a lot of friends on social networks," he said.
"If you give your phone too many times, probably, but no, not that I remember of."