Putin says FIFA's Blatter 'a respected person', deserves Nobel prize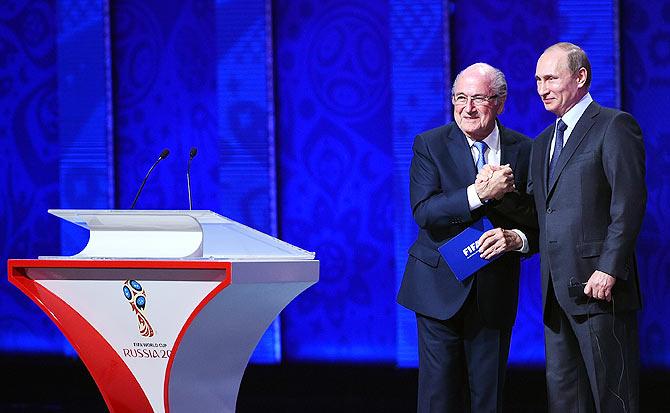 IMAGE: Suspended FIFA President Joseph S Blatter, left, with Vladimir Putin, President of Russia. Photograph: Dennis Grombkowski/Getty Images
President Vladimir Putin said on Thursday that suspended FIFA President Sepp Blatter was 'a very respected person', adding that it was up to investigators to establish whether there actually were cases of corruption in the world soccer body.
"Whether there are signs of corruption in FIFA, the investigation must show. As for Joseph Blatter, he is a very respected person, he has done a lot for the development of world soccer... That's the one to be awarded Nobel Peace Prize," Putin said.
Speaking at his annual news conference, Putin also said Russia had won its right to host the World Cup fairly and that it was open for joint work on tackling doping following accusations of widespread doping among Russian athletes.