'I think that our men's tennis world, ATP world, should fight for more because the stats are showing that we have much more spectators on the men's tennis matches. I think that's one of the reasons why maybe we should get awarded more. Women should fight for what they think they deserve and we should fight for what we think we deserve'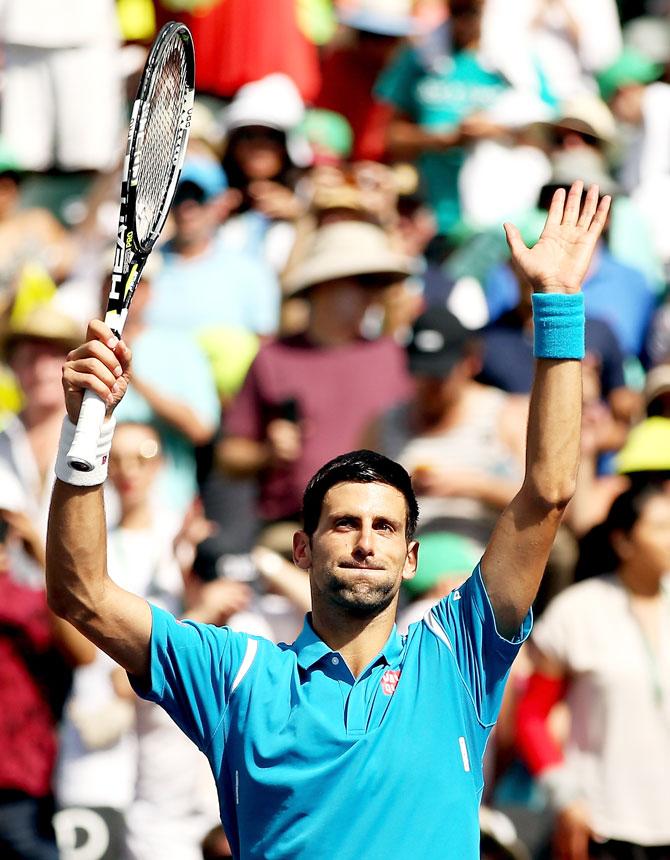 IMAGE: Serbia's Novak Djokovic. Photograph: Matthew Stockman/Getty Images
World No 1 Novak Djokovic added to the sexism row, saying male tennis players should earn more money than their female counterparts as more people watch their matches.
After claiming the Indian Wells title, the 11-time major winner said the men's tennis tour "should fight for more".
The Serbian champ added fuel to already burning fires after controversial remarks made on earlier on Sunday by chief executive of Indian Wells, Raymond Moore.
Moore sparked a row telling reporters that top-level women's players rode "on the coattails of the men", did not make any decisions and were "very, very lucky" to have equal prize money, sparking a firestorm on social media.
- Indian Wells CEO says women 'ride on the coattails' of men, apologizes
Later, Djokovic, 28, said women "fought for what they deserve and they got it", but claimed prize money should be "fairly distributed" based on "who attracts more attention, spectators and who sells more tickets", according to reports in the British media.
"Obviously it's a very delicate situation. Women deserve respect and admiration for what they are doing. You know, equal prize money was the main subject of the tennis world in the last seven, eight years. I have been through that process as well so I understand how much power and energy WTA and all the advocates for equal prize money have invested in order to reach that.
"I applaud them for that, I honestly do. They fought for what they deserve and they got it. On the other hand I think that our men's tennis world, ATP world, should fight for more because the stats are showing that we have much more spectators on the men's tennis matches. I think that's one of the reasons why maybe we should get awarded more. Women should fight for what they think they deserve and we should fight for what we think we deserve.
"As long as it's like that and there is data and stats available upon who attracts more attention, spectators, who sells more tickets and stuff like that, in relation to that it has to be fairly distributed."
Since 2007 there has been equal prize money in all four majors -- the Australian Open, US Open, French Open and Wimbledon, and combined Masters events such as Indian Wells and Miami pay the same to men and women.
But female players are paid significantly less at women-only events when compared to similar sized men's events, the BCC reports.
Djokovic played the sympathiser, adding "Women have to go through hormones and other challenges men do not and women have to make sacrifices for certain periods of time, the family time or decisions that they make on their own bodies in order to play tennis".
He also went on to remind reporters (in damage-control mode) that "I have had a woman that was my coach and that was a huge part of my tennis career. I'm surrounded by women. I'm very happy to be married with one and to have a child. I'm completely for women power."
IMAGE: CEO Raymond Moore address the audiance at the trophy ceremony after Novak Djokovic defeated Milos Raonic to win the men's final of the BNP Paribas Open at the Indian Wells Tennis Garden in Indian Wells, California, on Sunday. Photograph: Matthew Stockman/Getty Images
Moore later apologised for his statements saying: "At my morning breakfast with the media, I made comments about the WTA that were in extremely poor taste and erroneous.
"I am truly sorry for those remarks, and apologise to all the players and WTA as a whole.
"We had a women's final today that reflects the strength of the players, especially Serena and Victoria, and the entire WTA. Again, I am truly sorry for my remarks."
World number one Serena Williams said Moore's statement was "offensive", calling it "mistaken and very, very, very inaccurate".
Former World No 1 and winner of 12 Grand Slam singles titles, Billie Jean King, tweeted: "Disappointed in Raymond Moore comments. He is wrong on so many levels. Every player, especially the top players, contribute to our success."
WTA CEO Steve Simon, said Moore's comments were "extremely disappointing and alarming".
Fellow American Chris Evert, an 18-time grand slam champion, tweeted: "Now is the Golden Era 4 men, no doubt, but women have worked, fought harder, and have been bigger draws many times."