'It's quite an achievement to get to the quarters of a Slam for me.'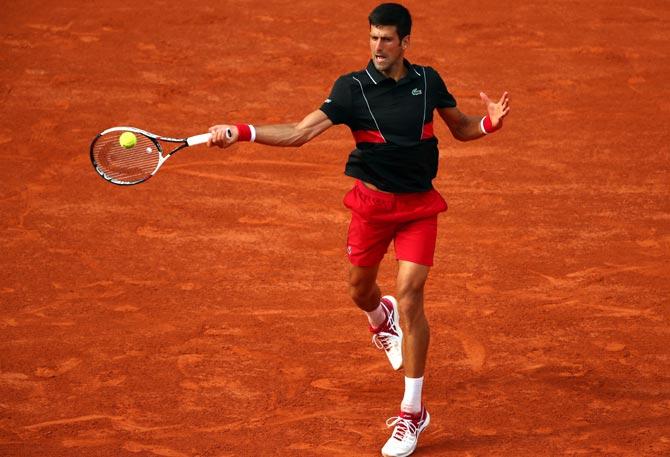 Novak Djokovic doused Fernando Verdasco's fire then aimed a dig at French Open organisers for not watering the courts on Sunday as he moved confidently into the French Open quarter-finals.

Verdasco gave the 12-times Grand Slam champion tricky moments early on but it was the slippery Court Phillipe Chatrier clay that raised Djokovic's hackles.

The Serb appeared to lose his footing a few times during the first and second sets of his 6-3, 6-4, 6-2 fourth-round win and he made his feelings known to the chair umpire.
"It was a very warm day, and after the first set they decided not to water the court, which I thought it was not the right decision," Djokovic told reporters after reaching his 12th quarter-final at Roland Garros.

"I just questioned the decision from the chair umpire, actually, that he's listening to the grounds people.

"What I don't like is that there is no participation of the players. So they don't ask players whether -- you know, we are the ones who are playing and sliding and not sliding, so we can give them the most important feedback.

"It doesn't seem like they care too much about our opinion, and that's something I don't like."

Djokovic looked as though he would need a hose to cool down Verdasco's thunderous groundstrokes which, in the early stages, looked capable of knocking the 2016 champion off balance.

In the end, however, Djokovic won with something to spare as his pursuit of a 13th Grand Slam title gathered pace.

Seeded 20th and with lower expectations than normal coming in after an injury-disrupted year, the 31-year-old Djokovic appears to be rediscovering the old fire.

Having seen off Verdasco's early charge he said he felt in control and was clinical in taking his break points.

"That was quite a beginning for both of us," he said. "Very physical, very long games, a lot of exchanges.

"He's got weapons everywhere. Serve, forehand, everything. He loves playing on clay. But I think in the most important moments today, I just managed to play an extra shot in the court and just made him run and just made him uncomfortable."

Djokovic, who missed the second half of last season with an elbow injury which flared up again at the Australian Open in January, resulting in surgery, said he was happy to be back in the second week of a Grand Slam.

"It's important for me, especially considering all the circumstances that I was in in the last 15 months," he said.

"It's quite an achievement to get to the quarters of a Slam for me. I have been many, many times in quarters of Roland Garros and all the slams, and of course I do appreciate it, considering it's a different kind of situation for me."

"But I don't want to stop here."