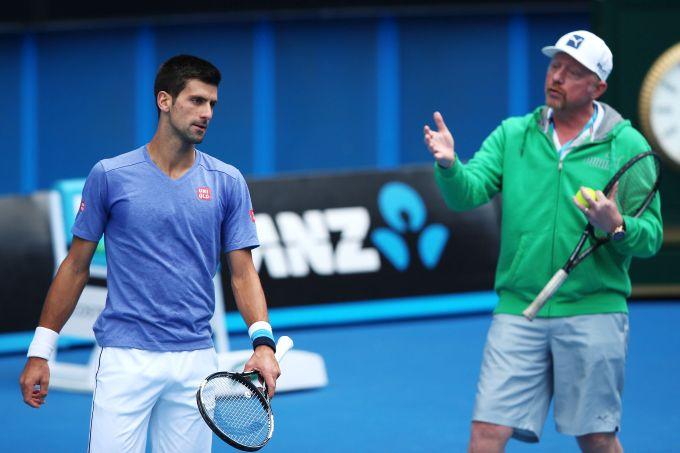 IMAGE Novak Djokovic of Serbia with former coach Boris Becker during training. Photograph: Hannah Peters/Getty Images
World number two Novak Djokovic has confirmed that he and his coach Boris Becker have mutually agreed to end their three-year-long partnership.
Djokovic, who lost the number one ranking he had held for 122 weeks to Britain's Andy Murray in November, asserted the goals they had set together have been fulfilled. He also thanked the German tennis legend for his cooperation and dedication.
"Boris Becker and I have jointly decided to end our cooperation. The goals we set when we started working together have been completely fulfilled, and I want to thank him for the cooperation, teamwork, dedication and commitment," the 29-year-old, who clinched this year's Australian and French Open, confirmed on Facebook.
Insisting that his professional plans are now directed primarily to maintain a good level of play, Djokovic said he is looking forward to make a good schedule and new goals for the next season, Sport24 reported.
In reply, Becker posted a photo of him and Djokovic celebrating this year's French Open title on Twitter and added, "Thank U! We had the time of our life ...#teamdjokovic."
Out of Djokovic's 12 Grand Slam titles in his career, half came while working with Becker - twice in Australia (2015, 2016) and Wimbledon (2014, 2015) and once in French (2016) and US Open (2016).
Djokovic was also the runner-up at three other Grand Slam tournaments during his time with Becker, thus making it to finals in nine of the 12 majors during their partnership.
However, the Serbian's season went off course after Paris triumph. He made a third-round exit at Wimbledon, the first-round upset at the Rio Olympics and final defeat to Stan Wawrinka at the US Open before losing the No. 1 ranking to Murray last month at the ATP World Tour finals.