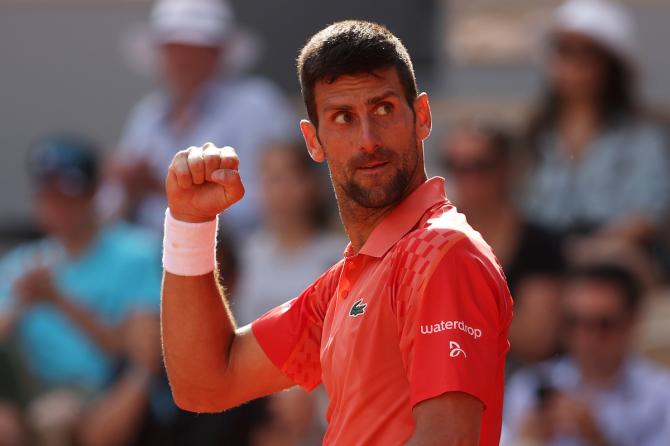 Novak Djokovic was in a perfect place on Friday after his much-awaited French Open semi-final clash against a cramping Carlos Alacaraz ended in abrupt fashion and left him with a record 23rd men's Grand Slam title within touching distance.
The highly-anticipated contest between the world number one and the two-time Roland Garros champion was suddenly effectively over after two high-octane sets - the kind of feeling you get at a disco when the music is turned off and the lights are switched on.
"Obviously this was a big win today under the circumstances that were obviously a little bit strange, especially in the third and fourth. But a win is a win," Djokovic told a press conference after his 46th semi-final at a major.
On Sunday, he will face last year's runner-up Casper Ruud of Norway, looking to also become the first man to win each Grand Slam at least three times.
Being at the foot of the winner's platform in Paris is enough for Djokovic, who will start Sunday's showdown as the overwhelming favourite.
"I put myself in another really ideal position to win a Grand Slam. That's basically what still drives me when I wake up in the morning and think about the season and think about things I want to achieve," he said.
"I'm thinking really just to win another Grand Slam title here on Sunday, and I'm so close. I know it. I know the feeling. I've had this feeling quite a few times in my career.
"So I know how I need to handle myself, my emotions, my day tomorrow, and after tomorrow, and to approach the finals in the best possible way."
It will be Djokovic's 34th Grand Slam final and even if he struggled against Stefanos Tsitsipas in 2021 to claim his second title in Paris and that he will be under tremendous pressure, the Serbian knows he will start with a slight advantage.
"Pressure is always on my shoulders, so it's not going to be different. But it's part of my sport, part of my life. I will play someone that already has been in a Grand Slam finals, either Casper Ruud or Zverev, they both played in finals but they never won a title," he said.
"But again, experience on my side, but does it win matches? I don't think so. I just have to recover well, be prepared for another long battle, and, you know, after the finals, if I win, let's talk about history."
And the music will be back on and the lights off at the disco.