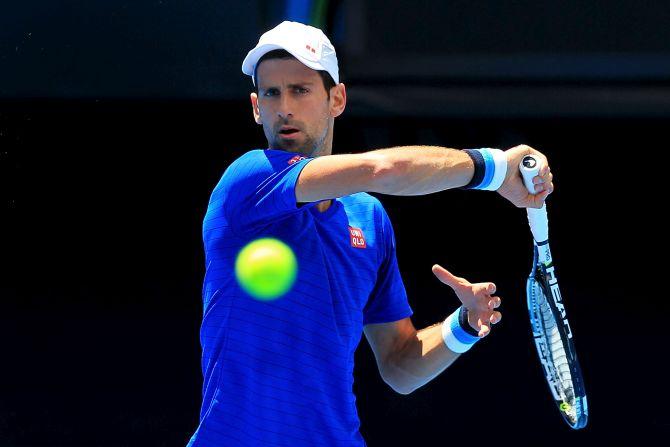 Novak Djokovic of Serbia plays a forehand during a practice session ahead of the 2015 Australian Open at Melbourne Park. Photograph: Graham Denholm/Getty Images
Four-time Wimbledon semi-finalist Tim Henman of Great Britain has his money on Novak Djokovic as the favourite to win the Australian Open while Roger Federer's best chance to add to his kitty of 17 Grand Slams is at the Wimbledon, this year.
"Novak is my favourite right now. He has had a fantastic year finishing world No 1. His record on hard courts is very very good. I see a big group of players behind him, who will fancy their chances as well. If I had to pick one player it would be Novak Djokovic," Henman, who's here as the HSBC Road to Wimbledon ambassador, told reporters at the Calcutta South Club.
'Federer grass court record is second to none'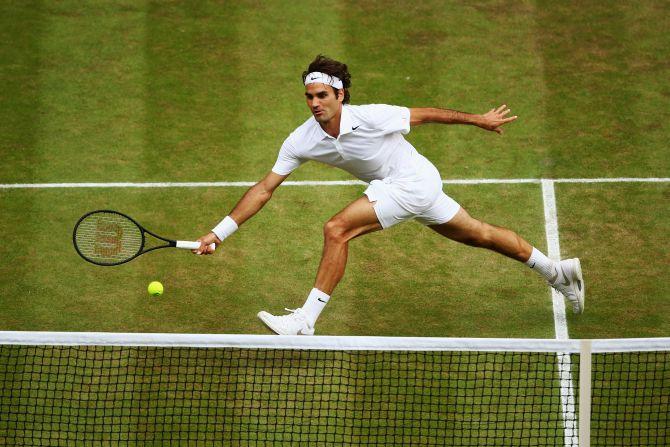 Roger Federer. Photograph: Brunskill/Getty Images
The former World No 4 however said he would look forward to seeing Federer, defending champion Stanislas Wawrinka, among others, when the Australian Open gets underway on Monday.
"Federer has already won a tournament this year. He's looking very fit and healthy and plays so aggressively. Andy Murray's record in Australia is fantastic. He's been in three Australian Open finals.
"Stanislas Wawrinka is the defending champion, he played so well last year. I would like to see whether the likes of Kei Nishikori or (Milos) Raonic can break in. It's going to be very interesting to see what actually happens in the next three weeks in Melbourne."
Terming Swiss legend Roger Federer as his favourite sports person, the 40-year-old said, "I don't know if he's playing his best tennis at the moment. But he's No 2 in the world and he was in the Wimbledon final last year."
"I think he can win one more and if he wins one it is going to be Wimbledon. Grass is still the best surface for him. He's the most aggressive player out on the tour. He'll have a great chance this year."
"His (Federer) grass court record is second to none. His game is so attacking that fits perfectly to grass. Grass is the most difficult surface to defend on and the other players rely on their defensive skills than he does. If he's fit and healthy, I think he will have a great chance this year."
Federer is a great ambassador for our game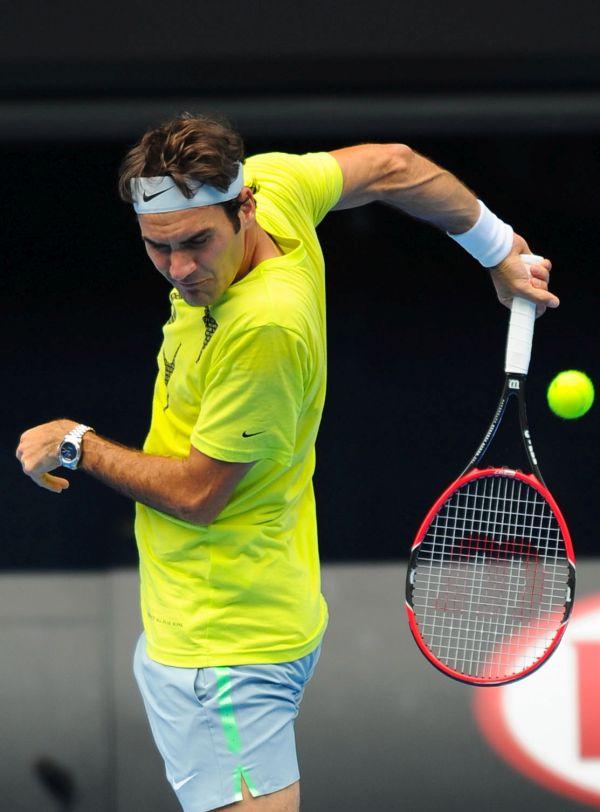 Roger Federer. Photograph: Vince Caligiuri/Getty Images
Henman also said this is the golden era of world tennis with Djokovic, Federer and Rafael Nadal leading the pack.
"It's a golden era for men's tennis right now to have those players. Federer with 17 Grand Slams and Nadal with 14 and Djokovic trying to close the gap. It's important they are fit and healthy. It would be great to watch play each other at the later stages of the tournament."
"The top four guys -- Federer, Nadal, Djokovic and Murraydominating the scene for a long long time. Nadal had a difficult time suffering from appendicitis and right wrist injury. He will look forward to shaping up well (in Australian Open)."
Henman also termed Federer as the great ambassador to tennis and the Swiss will be sorely once he retires.
"He's a great ambassador for our game. We're really lucky to have him in tennis. He really plays the game the right way. I think we should all as tennis fans and people involved in the sport should enjoy him as long as we can. I know he will be sorely missed when he eventually does retire."
"All aspects of him as a player and as a person make him special... His game is so technically sound. I love the way he plays but I also enjoy his demenour and his sportsmanship."