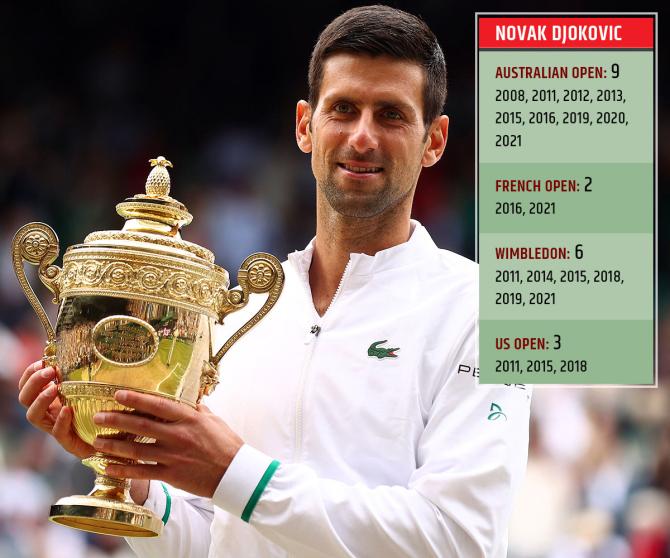 Novak Djokovic firmly established himself as one of the greats on modern tennis after winning a record-equalling 20th Grand Slam title by beating Italy's Matteo Berrettini in Sunday's Wimbledon final.
The Serb continues his dream run in 2021, by winning his sixth Wimbledon title to add to the Australian Open and French Open titles he won earlier this year.
He has drawn level with Roger Federer and Rafael Nadal on 20 Grand Slam titles.
Djokovic is the only one among the trio to win every Grand Slam title at least twice and he is the first player since Rod Laver in 1969 to win the year's first three Grand Slams.
When Djokovic won his second Grand Slam title in 2011, Federer already had 16 and Nadal nine.
If he goes on to win his fourth US Open later this year he will match Laver's calendar-year Slam of 1969, which even Federer and Nadal have failed to match.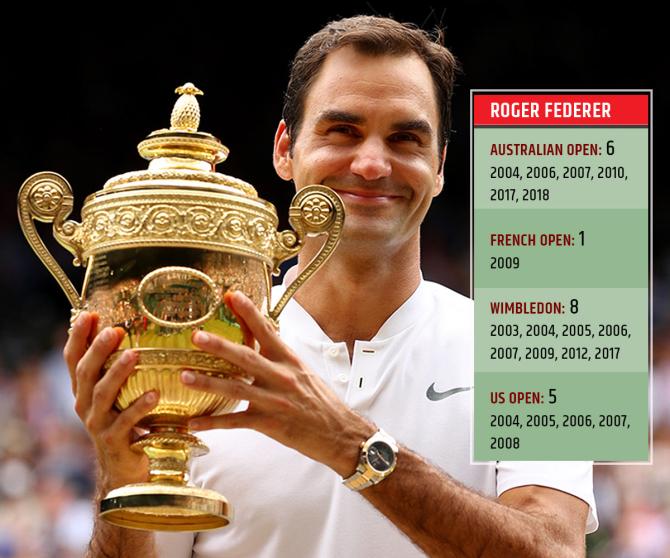 Roger Federer was the first men's player to win 20 Grand Slams.
The Swiss achieved the landmark after winning the 2018 Australian Open -- his sixth triumph in Melbourne. In the process, he also emulated Rod Laver by winning his fourth Grand Slam title after his 30th birthday.
He also joined Novak Djokovic and Roy Emerson as the only men to win six Australian Open trophies. Federer broke American Pete Sampras's record of 14 Grand Slam titles with his 15th win in the 2009 Wimbledon final.
Federer is the only man to win five consecutive titles at two different Grand Slams -- Wimbledon and US Open.
His 2009 French Open crown made him the sixth man -- after Fred Perry, Don Budge, Rod Laver, Roy Emerson and Andre Agassi -- to have won all four Grand Slam titles during his career.
Nadal later became the seventh to achieve the feat and Djokovic joined the list in 2016.
Federer won an unprecedented eighth Wimbledon title in 2017, going past Britain's William Renshaw and Sampras.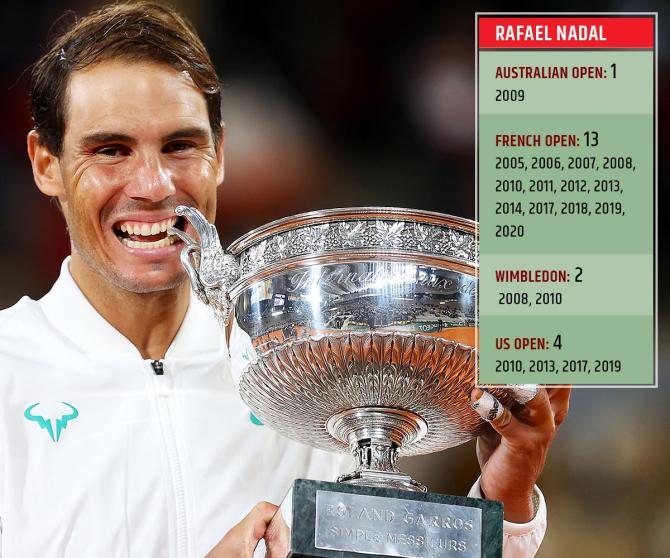 Rafael Nadal claimed a record-equalling 20th Grand Slam title when he demolised Djokovic in straight sets in the final of last year's French Open.
Nadal's 13th triumph at Roland Garros put him level with Federer as the player with the most men's singles major titles.
Nadal has been a force on clay since winning the French Open on debut in 2005 and a year later beat Federer in the final.
In 2007, he became the first man since Bjorn Borg in 1980 to win a hat-trick of Roland Garros titles. He won his first Wimbledon title in 2008 with a five-set victory over Federer, a match dubbed the 'greatest tennis match in history'.
He also won Wimbledon for a second time in 2010 before claiming his first US Open title, becoming the seventh man to win all four Grand Slams.
Nadal became the first man with eight titles at the same Grand Slam when he beat fellow Spaniard David Ferrer in the 2013 final at Roland Garros. He also won the US Open that year.
The next year, he became the first man to win five successive French Open titles in 2014. He defeated Dominic Thiem again in 2019 final to seal his 12th Roland Garros title. He also won a fourth US Open crown by defeating Russian Daniil Medvedev in the final.
His lone Australian Open triumph came in 2009, when he beat Federer in the final.
Photographs: Getty Images
Design: Uttam Ghosh/Rediff.com