'It feels like a new chapter. Kind of creating a new team, creating a new vibe, it feels exciting'
'It feels right at this moment because I was, in the last, you know, five, six months, struggling a little bit on the court and trying to re-define myself'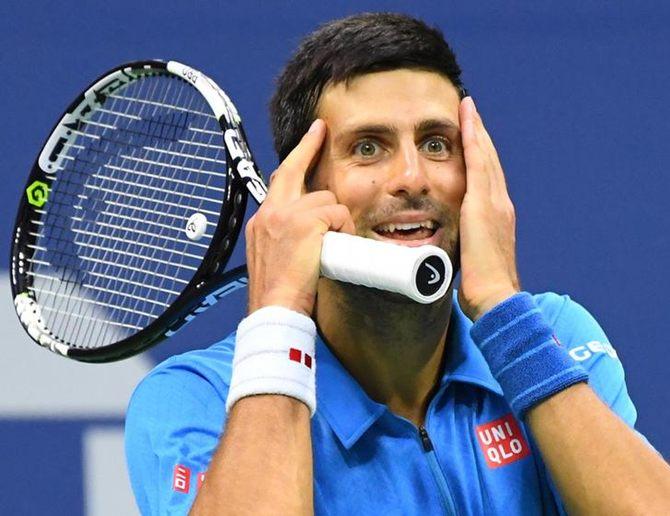 IMAGE: Novak Djokovic parted company with his entire coaching team earlier this month, admitting he needed to rediscover his spark. Photograph: Robert Deutsch-USA TODAY Sports/Reuters
Defending champion Novak Djokovic says he is excited to have created a "new vibe" by inviting Andre Agassi to work with him during the French Open which starts on Sunday.
First Look: Djokovic working on finding lost mojo with coach Agassi
World number two Djokovic parted company with his entire coaching team earlier this month, admitting he needed to rediscover his spark after some disappointing results this year.
American eight-time Grand Slam champion Agassi, 47, has taken on a coaching role for the first time since ending his glittering playing career in 2006.
"It feels like a new chapter. Kind of creating a new team, creating a new vibe, it feels exciting," the 30-year-old winner of 12 grand slam titles told a news conference.
"It feels right at this moment because I was, in the last, you know, five, six months, struggling a little bit on the court and trying to re-define myself, rediscover what kind of approach is the right one."
Djokovic was out on court with 1999 champion Agassi on Friday before the draw ceremony, where he was paired with Spaniard Marcel Granollers.
"Right now I feel much better on the court," Djokovic said. "I was talking with Andre for a couple of weeks during Madrid and Rome on the phone, kind of preparing for the matches, analysing matches. That allowed both of us to get to know each other and for him to get closer to my thinking and my mindset.
"I was very glad that he accepted to come in person in Paris and spend some time."
Djokovic said he had shared some long conversations with Agassi in Paris and that they had "clicked and connected".
"He's someone that inspires me a lot. That's one of the things I felt like I needed is new inspiration, someone that knows exactly what I'm going through on the court.
"It brings a new dimension of motivation."
Djokovic, seeded second behind an out-of-form Andy Murray, said resurgent Spaniard Rafael Nadal is favourite for the title as he seeks a 10th French Open crown.
"Rafa, next to Roger, has been the best player so far this year in terms of results," he said.
"And Rafa, again, playing on his favourite surface won three tournaments in a row, and playing confidently and much better than he was playing actually last year.
"I definitely see him as number one favourite for this title."