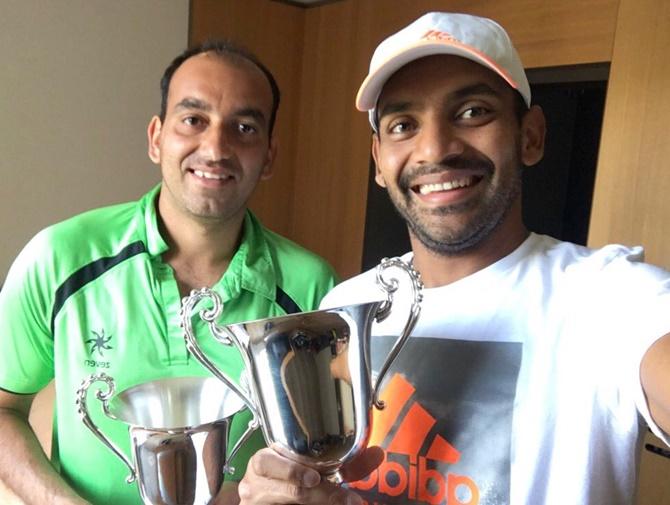 IMAGE: Divij Sharan and Purav Raja with their trophy. Photograph: Twitter
Divij Sharan and Purav Raja won their first title of the 2017 season and maiden on the clay courts by lifting the Bordeaux Challenger trophy with a straight sets win over Santiago Gonzalez of Mexico and Artem
Sitak, in Bordeaux, on Sunday.
The third seeded Indians defeated the fourth seeded Mexican-Kiwi combination 6-4, 6-4 in the summit clash that was over in 67 minutes.
Divij and Raja saved all the four breakpoints they faced in the match and broke their rivals twice -- once in each set.
"It was pretty tough field as we beat players like Kokkinakis and Paes to win the title. It is out first title on clay and it's encouraging to get this win going into the French Open," Divij said.
This year Divij and Raja have mostly played on the ATP World Tour and it was only their fourth tournament on the Challenger Tour.
"It was not a deliberate choice. It was the obvious choice for us to play a Challenger this week as the only Tour event this week is ATP 1000 in Rome and our rankings was not good enough to make the cut there.
"Our goal is is to play the highest level tournaments because we won't move up in rankings by playing lower level tournaments. Next week we are playing Leon, Mexico and then the French Open," Divij said.
Reaching the final of the ATP Chennai Open has been their best show so far.