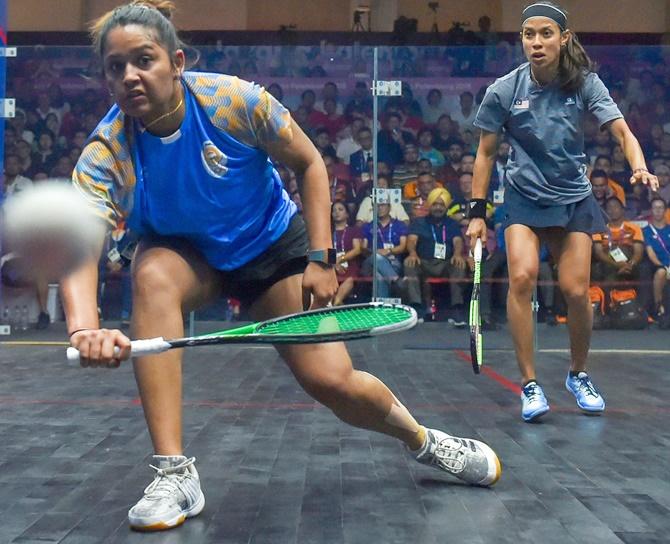 India's squash singles campaign in the Asian Games yielded three bronze medals after Saurav Ghosal, Dipika Palikal and Joshna Chinappa lost their respective semi-final clashes, in Jakarta, on Saturday.
Saurav Ghosal frittered away a two-set advantage to lose the men's singles semifinal after Dipika Pallikal Karthik and Joshna Chinappa suffered defeats in the women's singles semi-finals earlier in the day.
Irrespective of the defeats, this is India's best ever show in the Asian Games in squash singles. In the 2014 Asian Games, India won two singles medals -- Ghosal had a silver and Dipika a bronze.
Ghosal was going great guns but lost 12-10, 13-11, 6-11, 6-11, 6-11 to Chun Ming Au from Hong Kong in an intense semi-final.
In the first game, Ghosal trailed 4-9 at one stage but made a remarkable comeback to snatch the lead. In the second game, he had a 4-0 lead but Chun Ming wasnot in a mood to throw in the towel and stretched the Indian.
It was neck and neck at 8-8, 9-9 and 11-11 but Ghosal found a winner at crucial time to take a 2-0 lead in the match.
However, in the third set, from a lead of 6-5, Ghosal lost six points in a row to allow Chung Ming make a comeback. The momentum had shifted and Ghosal was now finding it tough to get going and meekly lost the fourth and fifth set.
Ghosal said he suffered an injury in his left leg towards the end of the second set and that took away the 'intensity' from him.
"I don't want make excuses but it's hurting badly. Against this player, you need to have high intensity. Towards the end of the second game it flared and I lost my intensity. But credit to him for fighting back after losing two sets," Ghosal said.
"A lot of things go into a win. The body did not hold today but I have played good squash here," he said.
Dipika lost her semifinal to Malaysian great Nicole David, one of the most formidable players the game has seen.
Dipika led 5-2 and 4-1 in the first two games but three-time defending champion Nicol had enough experience to run away with a 11-7, 11-9, 11-6 win.
Nicol's agility, movement and anticipation was too good for Dipika.
"She is experienced and knows how to handle every situation, thrown at her. She was world number one for 10 years for a reason. I am happy I played well. It's unfortunate that I was in top-half to play with Nicol," Dipika said after her match.
Joshna was also up against a Malaysian in Sivasangari Subramaniam, who emerged a 12-10, 6-11, 11-9 winner in the second semi-final.
It was her maiden singles Asian Games medal for Joshna, who returned empty-handed in the previous three editions.
"The umpiring was dodgy. I have always felt like this when this referee is there. Anyway, Siva really played well. I have waited for this for long. I competed in three Asian Games but never won a medal," she said.
Dipika said she would try to forget the defeat and get focused on winning the gold in women's team event.
"We have a gold to achieve in team event. You can't think much about what has happened in the singles. It's hard to regroup and comeback but we have to do it. We don't want to celebrate as yet, we have a bigger target to achieve."
The women team had won a silver in the 2014 Asian Games.
Asked if a few calls which went against her perturbed her, Dipika said, "We are used to it. It's part and parcel of the game. She has been playing Asian Games for a long time, she is very experienced. I think you have take positives out of it. I am only 26, I have few more Asian Games to go. Hopefully I will come back strong."
Nicol is 35 years old and still going strong. Dipika said it's Nicol's era and she will have to wait for her time.
"Squash is about how fit you are, how much you enjoy the game. We can see she really enjoys the game. This is only my third Asian Games. Let the older one win here and we will comeback after four years and win."
The squash players have trained without a regular coach for some time.
The SRFI had sent Cyrus Poncha and Bhuvneshwari Kumari as coaches with the contingent but Dipika said the players prefer helping each other.
"All of us like to be coached by the players. Only the player will talk to the players, it works like that for us. It's a silent decision taken by the players. Harry (Harinderpal Sandhu), Saurav (Ghosal), we are all training together."