'She (Dipa) is no more Tripura's girl but entire country's girl.'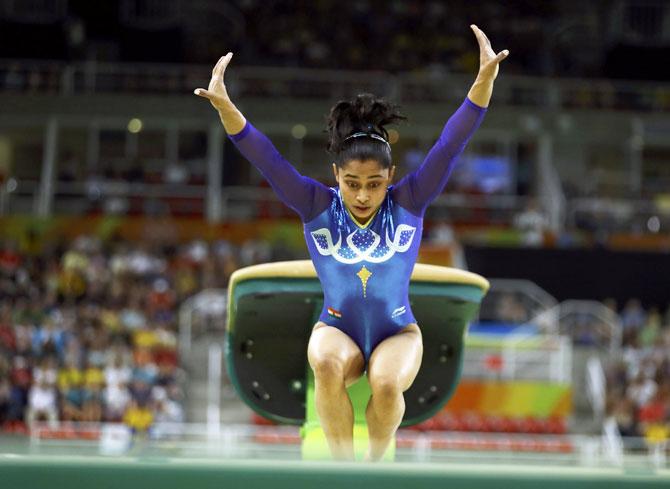 IMAGE: Dipa Karmakar of India performs during the women's gymnastics vault apparatus final. Photograph: Andrew Winning/Reuters.
Dulal Karmakar is a proud man today even if her daughter Dipa missed a historic Olympic medal in gymnastics by a whisker in Rio Games, saying the 'Produnova' girl will come better and stronger in 2020 Tokyo Oylmpics.
"I am feeling very proud of her accomplishment. I am not at all sad. This was her first Olympics. Next time, when the Olympics will be held in Japan, she will perform much better and bring a medal (for the country)," a seemingly proud Dulal said.
Dipa missed a bronze medal by a whisker to finish fourth in the women's vault finals in the Rio Games but still created history by producing the best-ever performance by an Indian gymnast in the Olympics history.
The 23-year-old Dipa, who had become the first Indian woman gymnast to have qualified for the Olympics, scored an average of 15.066 points, a mere 0.15 less than the eventual bronze winner Giulia Steingruber (15.216) of Switzerland.
The gold went to American pre-event favourite Simone Biles (15.966), adding to the two gold she has already won in team event and all-round in this Olympics.
Reigning vault world champion Maria Paseka of Russia got the silver with an average of 15.253 points.
"Dipa's performance has made everyone notice her. There are four years to go for the next Olympics. She will practice hard and easily bring a medal," he added.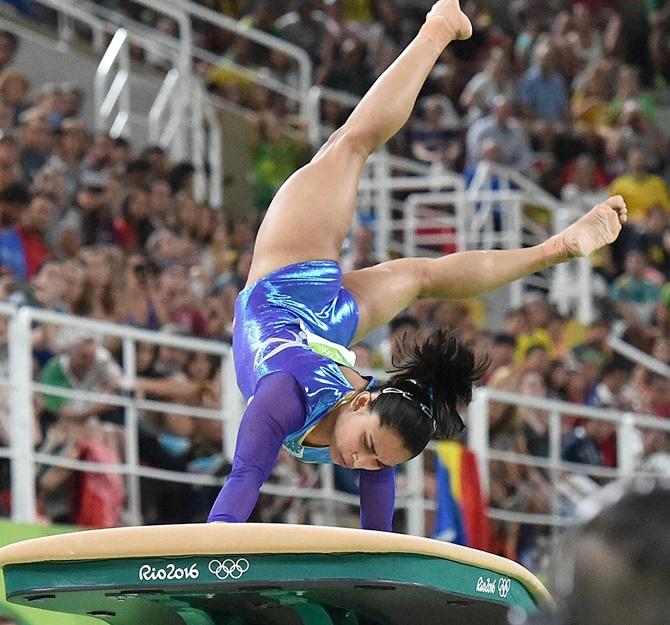 IMAGE: India's Dipa Karmakar competes in the Vault final at the Rio Olympics on Sunday. Photograph: Mike Blake/Reuters.
"She is no more Tripura's girl but entire country's girl."
Dipa, who had scored 14.850 in the qualifying round, could have got more points had she not landed on her haunches in her risky 'Produnova' vault for which she is now known all over the world.
Coming in as the sixth competitor in the finals, the Tripura girl went for the 'Tsukahara' in her first attempt in which she collected 14.866 points. She went for a difficulty level of 6 and got 8.855 for the execution.
In her 'Produnova', Dipa did everything right except that she did not have a perfect landing as her buttocks just touched the ground and thereby she lost points.
She scored 15.266 from her 'Produnova' with 8.266 points for execution for a difficulty level of 7. The average of the two attempts gave her 15.066, a mere 0.15 difference with bronze winner Steingruber.