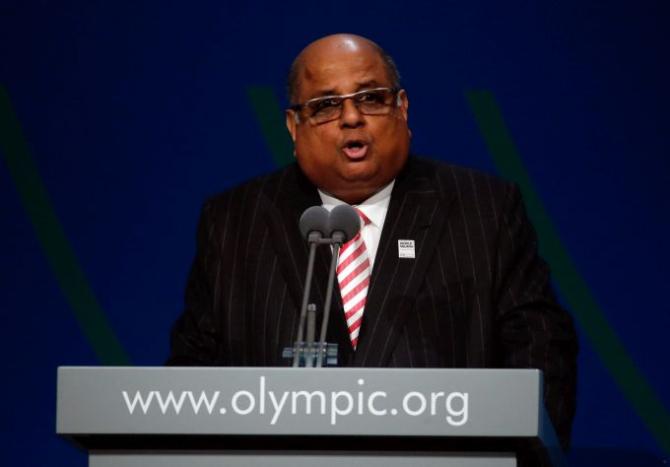 N Ramacandran. Photograph: Scott Halleran/Getty Images
The infighting within the Indian Olympic Association took a sensational turn with Narinder Batra alleging that N Ramachandran camp offered him a huge sum of money in return for his support during the elections last year, a claim strongly rebutted by the incumbent IOA president.
Hockey India president, Batra circulated an e-mail in which he claimed that Ramachandran, through a representative, offered him Rs 1 crore every year till he remains president if he supports his candidature during the Indian Olympic Association (IOA) elections in February last year. He asked Ramachandran to forward the complaint to the IOA Ethics Commission for action.
"Mr Ramachandran, you in January/February 2014 during the IOA elections in which you stood for the post of President IOA and got elected unopposed, had sent a gentleman to meet me in my office with a proposal that you will give Rs 1 crore every year till you remain president and I should support your presidential candidature. The man was politely asked by me to leave," Batra said in the mail addressed to Ramachandran. The e-mail was also released to the media.
"I ask you that this complaint of mine be forwarded to the Ethics Commission of IOA (which you have made defunct and inoperative under your presidentship) and if it is not done then I will approach the IOC Ethics Commission and the appropriate Court's in India for proper justice and needful. I will produce the witness and evidence before the Ethics Commission," said Batra, who is spearheading a campaign to oust Ramachandran through a no confidence motion.
Ramachandran, on his part, strongly rebutted Batra's claim and threatened to sue him if "anything defamatory is contained in the mail".
"Mr Narinder Batra sends a lot of mail and I have not read this mail in question. I don't want to comment now without reading the mail. If there is anything defamatory, my lawyers will deal with it and take appropriate action," Ramachandran said when contacted for his reaction.
Ramachandran was elected unopposed as IOA President in the elections held in February last year, which led to India's return to the fold of International Olympic Committee after a 14-month suspension. India was banned by the IOC in December 2012 for electing corruption tainted persons as top officials.