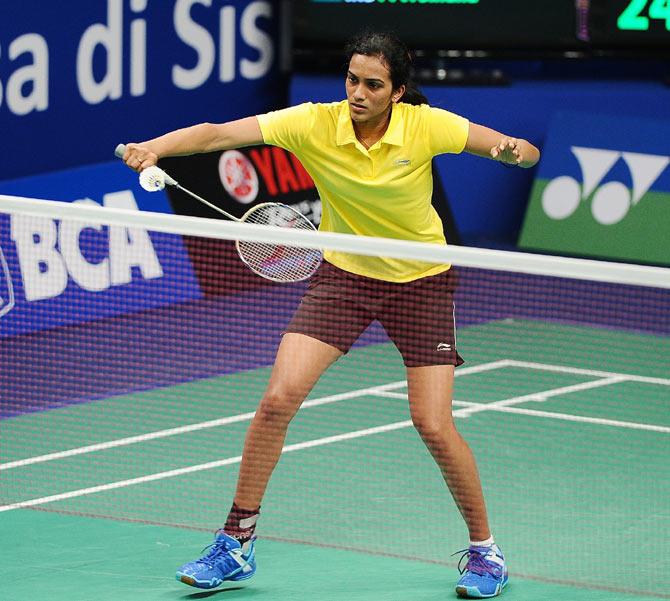 IMAGE: India's PV Sindhu. Photograph: Robertus Pudyanto/Getty Images
India's PV Sindhu was outplayed by Olympic champion Li Xuerui in the final of the Denmark Open Super Series badminton tournament in Odense on Sunday.
Fourth seed Xuerui retained her title beating Sindhu 21-19, 21-12 in a 47-minute encounter.
In the first game, Li took a quick 3-0 lead but Sindhu showed excellent net play to make a good comeback and go one point behind at 8-9. She then attacked well to go 10-10 and race to a 16-10 lead.
But Sindhu could not keep up the momentum and from a 16-10 lead she fell back to 17-18 after a string of unforced errors. The Chinese played quick strokes and delectable drops to race to a lead.
Unable to keep up with Li's reflexes, the Indian fell back 18-20 and misjudged a shot at game point.
Li hit a shot high and Sindhu made an error to assume it would go wide. Sindhu decided against returning and unfortunately for the Indian the shuttle fell in and the game went to Li.
In the second game, Li, with her confidence now sky high, soon raced to a 6-1 lead. Sindhu lost her second video referral and erred consistently.
But the tall Indian crawled back picking three points trying to use the smash to her advantage.
The Chinese played some sharp angled shots which Sindhu had no clue. All of Sindhu's returns started going wide as Li moved into the interval with a 11-4 lead.
A twice bronze medallist at the Worlds, Sindhu could not survive the long rallies and a drift in the court rendered the Indian clueless about the length of the shots. Some top quality shots from Li completely overpowered the Indian.
With her armoury of shots, Li left Sindhu wrong-footed to soon move to 15-7. Sindhu lunged and stretched to make an effort to return everything that came her way, but Li was simply outstanding as she led 19-12 with a cross court slice, that Sindhu couldn't reach.
Sindhu did show flashes of brilliance with her smashes and net attacks but it looked like a one-way traffic as Li dominated with her precision play.
The Hyderabadi managed to get four straight points later but two big rallies and Li rushed to a 19-12 lead.
Li reached the match point after Sindhu hit long once again and won match point with another shot which the latter let go by sheer misjudgment.