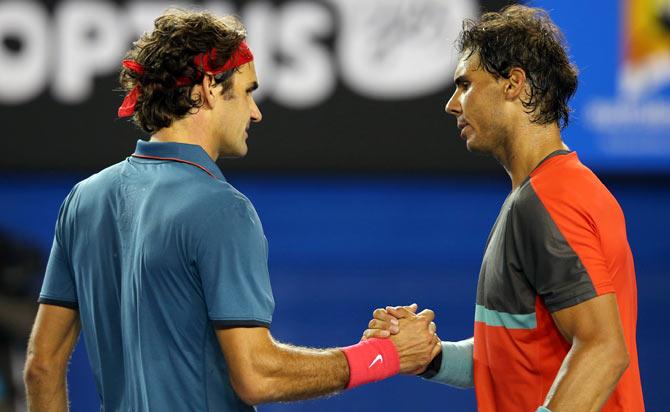 Roger Federer (left) with Rafael Nadal. Photograph: Mark Kolbe/Getty Images
The marquee clash between a vintage Roger Federer and classy Rafael Nadal, the legends of the game will be awaited keenly by the fans as the third leg of the International Premier Tennis League (IPTL) begins in New Delhi on Thursday.

The two legends had contrasting 2015 season before touching down the national capital for the high-profile event, which is the brainchild of India's doubles hero Mahesh Bhupathi.

Federer has been on an impressive redemption road this season, while the Spanish player has endured his first season in a decade in which he has failed to annex a single Major title.

That 18th Grand Slam title remained out of reach for Federer too but he made two finals -- US Open and Wimbledon, losing both times to world number one Novak Djokovic.

The fans will miss out on watching Djokovic, who was to play for Singapore Slammers, as the Serbian has pulled out of the event at the eleventh hour citing fatigue.

But other big names in men's tennis -- Andy Murray, Stan Wawrinka -- and some charming heroes of the past such as Marat Safin and Carlos Moya will be there to enthrall fans in Delhi

The League has Indian stars in doubles world number one Sania Mirza, Rohan Bopanna, who will represent the home team Indian Aces, while legendary Leander Paes will use his skills for Japan Warriors.

Nadal along with Sania and Bopanna form the defending champions Micromax Indians and are scheduled to clash with Philippine Mavericks in the second match of the opening day on Thursday.

The home team, which is on a roll having won three out of the four matches so far, also has world number five Agnieszka Radwanska, who ended the season with a bang by emerging WTA Finals champion.

The much-awaited men's singles clash between Nadal and Federer, the two great rivals on tennis courts, is scheduled for December 12 when Indian Aces will take on UAE Royals in the last match of the Delhi leg.

Former world number one Ana Ivanovic, Australian prodigy Nick Kyrgios will also attract a lot of attention.

More than anything, it is a great opportunity for the Indian fans to see their tennis heroes live in action even if it is not competitive and not much is on stake.

The event will kick-start on Thursday with Japan Warriors taking on UAE Royals.
© Copyright 2021 PTI. All rights reserved. Republication or redistribution of PTI content, including by framing or similar means, is expressly prohibited without the prior written consent.