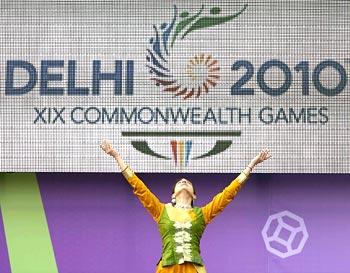 Another deadline for completion of projects at the venues for Commonwealth Games will be missed with Union Urban Development Minister Jaipal Reddy saying there will be delay by a "couple" of days beyond August 31.
Reddy blamed the rains and delay in delivery of containers for the missed deadline to hand over the games venues to the organisers. The 11-day sporting event is scheduled to start on October 3.
"The schedule is not met strictly. It is being delayed by a couple of days because of rain also and because of delay in delivery of containers," Reddy told reporters after a Group of Ministers(GOM) meeting on the Games on Thursday.
After extending the time-frame a few times in the past, the Delhi government had fixed August 31 as the latest deadline for completing Games projects.
"There will be a delay by a couple of days and not more than that," Reddy, who heads the GoM, said.
The electronic connectivity in the stadium and outside was discussed threadbare in the GoM meet attended by Sports Minister M S Gill, Tourism Minister Kumari Selja, Delhi Chief Minister Sheila Dikshit, Cabinet Secretary K M Chandrasekhar, Sports and Youth Affairs Secretary Sindhusree Khullar and other senior officials.
"The main focus was the work to be done by MTNL, TCIL and Prasar Bharati. All of them have given comprehensive reports," said Reddy.
Expressing satisfaction, he said "At the end of the day the communication network is the most important thing. It was reviewed today and we are satisfied that we are on schedule."
About the container problem, he said "all the containers have been cleared and we are in complete control of the situation."
The GoM also took note of rising number of dengue cases in New Delhi.
Downplaying the dengue threat, Reddy said "We also discussed the situation arising out of dengue. I do not think situation is that alarming and by raising an alarm, we will discourage the athletes."
Asked about the aerostat clearance, he said, "Aerostat is a new kind of device. Earlier we got clearance for balloon. So the technical clearances were required."
The multi-crore aerostat (helium balloon), touted to be a star attraction at the opening and closing ceremonies of the Commonwealth Games at Jawaharlal Nehru Stadium, would be up in the sky by September first week for trials.
The security agencies will undertake a proper check of the balloon and the helium tank would be completely sealed off till the Games.
The aerostat is mounted with cameras that provides a 360-degree viewing experience and has laser projections. It is for the first time that such a massive balloon will be used for any sporting event in India.
The issue of ticket distribution was also taken up by the GoM.