Struggling to cope with the windy conditions, Saketh Myneni suffered a tame defeat to end runners-up at the Delhi Open, in New Delhi on Sunday.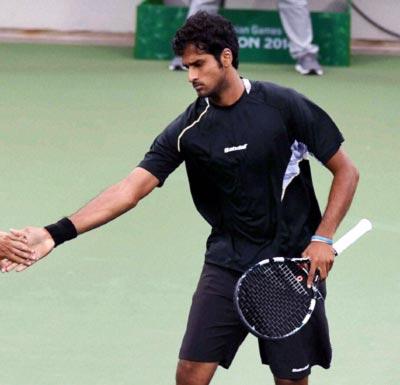 Fourth seed Myneni lost 3-6, 0-6 to Frenchman Stephane Roberts in the summit clash, which completed in under an hour at the DLTA Complex.
Robert, who describes his game as 'casino tennis' as he takes a lot of risk going for his shots, was hardly challenged by the Indian and easily walked away with his first ever Challenger title on the hard court.
All his titles have come on clay so far. The 35-year-old Robert, ranked 61 in 2010, had reached the third round at Australian Open as a qualifier and lost to World No 25 Gael Monfils.
Myneni made a nervy start and it took him six minutes to hold serve in the beginning and that too after saving two breakpoints.
He could never use his serve, which is his biggest weapon, and his strokes were also not up to the mark on the day.
He tried hard to be in the contest but after losing five straight points between sixth and seventh games, Myneni's game fell apart.
The Indian lost 10 games in a row and the match was over in a jiffy. Myneni though earned 48 ranking points and is likely to break into top-150 for the first time in his career.
Myneni, who ended runners-up in the doubles, said he was struggling to keep his body ready for the summit clash.
"I was struggling since last evening (after losing the doubles final) with my arm and movement. It just fell flat. I was trying to be in position for the shots but the conditions made it difficult. I always had to take that extra step. It was a tough match," Myneni said after the match.
"I could have played more inside the court. I took my chances. He was playing unorthodox. I was not there where I needed to be playing my strokes and he took advantage of that," he said, adding that he needs to "manage" his body before he leaves for China to play more Challengers.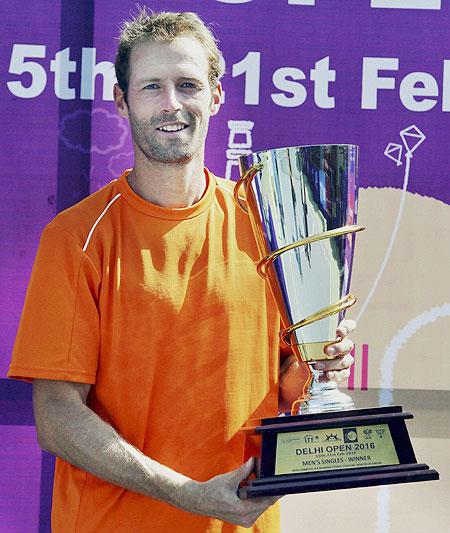 Roberts earned $7200 and 80 ranking points for his title-winning effort.
Bowled over by the "love and kindness" displayed by the Indians in his short trip, Roberts said he wants to come back to the country, which is different from "selfish" Europe.
"It's a bit messy out there on streets but there is kindness in people. I saw one guy selling something and one guy arriving and talking to him before buying. There is a link in people. It's not there in Europe, it's selfish. I like to see this love for each other," Robert said sharing his
experience of being out on Delhi streets.
"You can feel that. In Europe you have it (love) for family but not for others. It's the same in Thailand," he
added.
Image, (top left): Saketh Myneni
Photograph: PTI
Image (bottom, left): Stephane Roberts with the Delhi Open trophy
Photograph: PTI