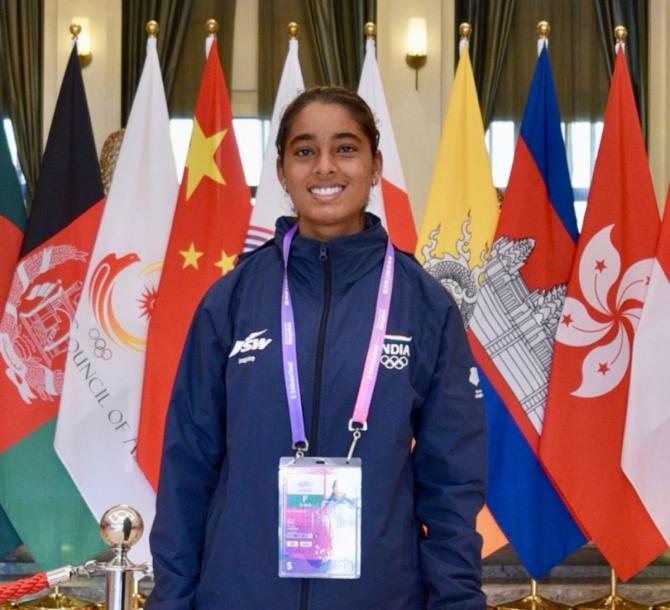 When the Asian Games was delayed by a year owing to the COVID-19 situation in China, it wreaked havoc with the schedule of many athletes, but for Indian sailor Neha Thakur, it proved to be a blessing in disguise.
Neha won a silver in girl's dinghy ILCA-4 event to open the country's medal count in the sport at the Hangzhou Games on Tuesday.
But, if the Games were held last year, as per the original schedule, Neha would not have been a part of the Indian team, as Ritika Dangi was the country's number one in her event at that point in time.
However, Ritika, who was originally the Indian qualifier for the Asian Games,
exceeded the age limit and was rendered ineligible as ILCA-4 class is meant for U-17 girls. So the rising Neha, who had clinched a bronze in Asian Championships in Abu Dhabi last year, became the automatic choice.
"Ritika was set to take part in the Asian Games, but she was unfortunate to go out of the age bracket after turning 18 this year," National Sailing School (NSS) coach Anil Sharma told PTI.
Neha was among three other girls from the NSS to appear for national trials.
"She got a three-month training in Spain and her improvement has been remarkable. We plan to put her with Ritika Dangi in the senior class women's ILCA-6, an Olympic category. Hopefully, she can make it to Paris next, that's the next target," the coach said.
In the ongoing Games, Neha finished with a total of 32 points but her net score of 27 helped her earn the second spot behind gold medallist Noppassorn Khunboonjan who tallied 16.
Singapore's Kiera Marie Carlyle settled for a bronze with a net score of 28.
The eldest sibling from a farmer's family from Amaltaj village, about 120 kilometres from Bhopal, Neha got her career breakthrough after being picked for NSS during their 2017 talent-hunt programme.
The then 14-year-old did not have any distinctive features but the NSS coaches zeroed in on as her father and cousins were tall.
"Height gives an advantage in sailing, but at this young age it's difficult to make out who will grow tall, so we go through the family details.
"Her father was very tall and her two first cousins were lanky and were doing impressively well for the Indian Navy," Sharma said.
Her stint at the Bhopal-based academy began with the Under-15 optimist class.
"She also began to grow taller and made rapid progress," he said.
For her father Mukesh Kumar, who has overcome many ups and downs as a farmer, sending his eldest daughter Neha away from the family at such a young age was not a difficult choice.
"Every year, I face losses from farming. Even this year there was a drought-like situation and I'm not sure if I will get good returns," Mukesh, a soyabean farmer, told PTI from her village.
"She (Neha) always was very ambitious as a child and I thought it was just perfect to pursue her dream after she was picked in the talent-hunt programme.
"Her two brothers also had motivated her a lot and I was really happy for her even if her mother was not willing to let her go and live away from us.
"But now everyone is happy and everyone in our village is talking about her," the proud father beamed.