Only two things can keep Roger Federer from advancing - injury and distraction, says former world number one Mats Wilander.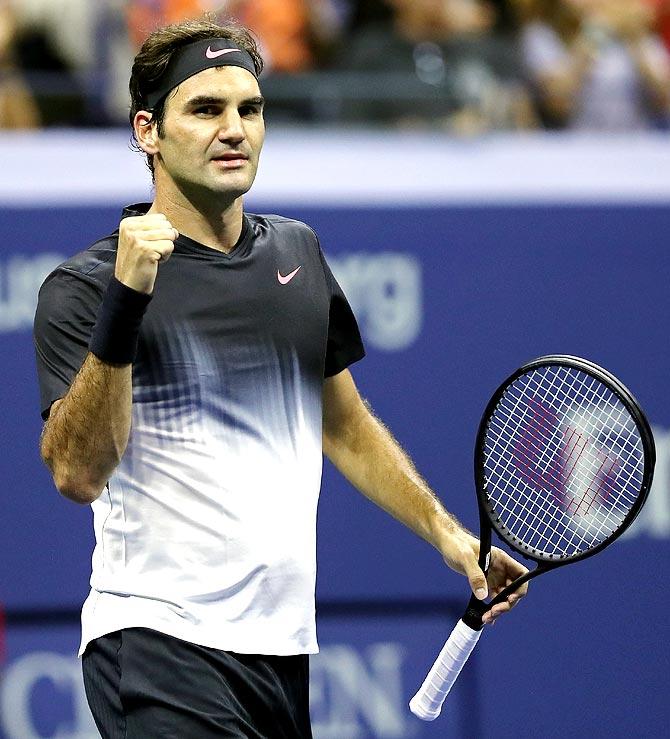 IMAGE: Roger Federer celebrates winning his quarter-final match. Photograph: Matthew Stockman/Getty Images
Juan Martin del Potro may be a magician on court but there is nothing in his bag of tricks that will allow him to beat Roger Federer when they meet in the US Open quarter-finals on Wednesday, says Mats Wilander.
The quarter-final will be a rematch of the 2009 US Open final when Del Potro claimed his only Grand Slam title but former world number one Wilander is not expecting the same result.

"Obviously (del Potro) has everything to win and nothing to lose," said Wilander, who is at the US Open as analyst for Eurosport.

"Del Potro is one of these miracle men he can come up with these matches where you least expect it and he pulls something out of the bag.

"I have no idea what it is but he becomes a magician.

"He can do just about anything except beat Roger Federer in the quarter-finals here. I don't think he has a chance, I really don't think so."

Like everyone who faces Federer, del Potro will have to elevate his game to have a chance against the 19-times Grand Slam champion.

That challenge is made more difficult this time as the big-hitting Argentine comes off an emotionally draining five-set win over sixth seeded Austrian Dominic Thiem that might have been the best match of the Flushing Meadows fortnight.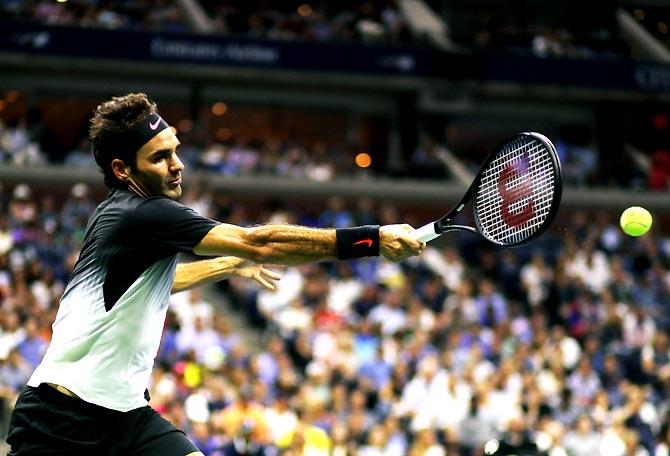 IMAGE: Roger Federer in action. Photograph: Abbie Parr/Getty Images

Federer opened his campaign with two five-setters but will go into the contest well rested having sprinted through his third and fourth round matches.

"I think it takes something out of you when you are in his situation and you don't do this very often," explained Wilander.

"More importantly he doesn't have the backhand anymore and if you don't have a backhand as a weapon you don't beat Federer and Nadal.

"Can't do it."

Wilander says only two things can keep Federer from advancing - injury and distraction.

Federer set off alarm bells during his fourth round win over Philipp Kohlschreiber when he left the court to have work done on his back, the part of his body which forced him to pull out of a U.S. Open tune-up event in Cincinnati.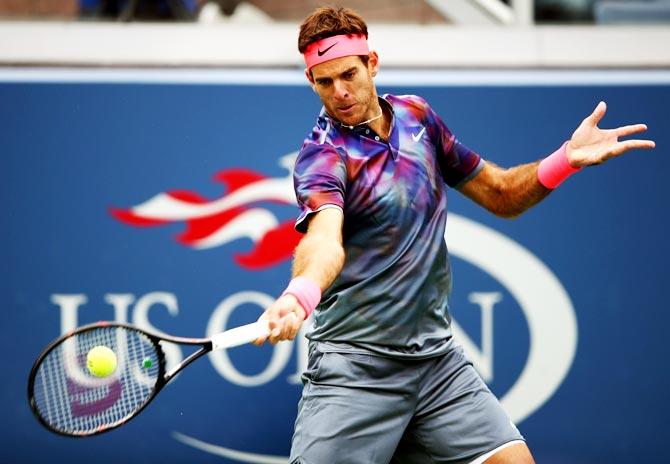 IMAGE: Juan Martin del Potro returns a shot. Photograph: Clive Brunskill/Getty Images

Federer later downplayed the incident saying he was 100 percent fit and ready to go.

"No chance Federer loses this match unless Federer is not 100 percent with his lower back," said Federer.

"We don't know that."

The other thing that could work in del Potro's favour is the small chance that Federer falls into the trap of looking ahead to a potential semi-final meeting with Rafael Nadal, who will play Russian teenage Andrey Rublev earlier on Wednesday.

Federer and Nadal have never met on the Flushing Meadows hardcourts and a possible first ever meeting at the US Open has caught the attention of fans and both players.

"Roger Federer will know who he will play in the semis and could have Nadal walking out all showered ready and waiting in his room going, 'Come on Roger, let's bring it on'," said Wilander.

"I believe it is a nightmare for Federer to play Nadal. And to know Nadal is waiting is going to play into the hands of del Potro for sure."