Spain coach Vicente del Bosque has agreed a two-year contract extension with the world and European champions which ties him until the 2016 European championship in France, the 62-year-old said on Friday.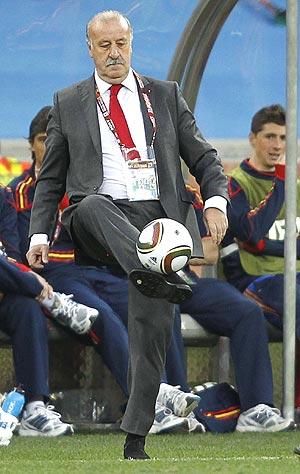 "I can confirm that I have signed with the national team until 2016," Del Bosque told a news conference in Malabo, Equatorial Guinea, where Spain are due to play a friendly on Saturday.
The former Real Madrid player and boss has already earned his place in the pantheon of soccer's greatest managers.
After taking over from Luis Aragones following Spain's Euro 2008 victory, he led the Iberian nation to their first World Cup triumph in South Africa in 2010 and a second straight continental title at Euro 2012 in Poland and Ukraine.
Spain qualified for the 2014 World Cup as winners of qualification Group I ahead of France last month, leaving Del Bosque with an outstanding record.
He has garnered 67 wins from 82 matches, with eight draws and seven defeats, only three of which were in competitive games.
Del Bosque's task will be to oversee the transition to a new generation of players as the likes of Xavi, Iker Casillas, Fernando Torres and David Villa wind down their glittering international careers.
After playing Equatorial Guinea, Spain then take on South Africa on Tuesday in Johannesburg's SoccerCity, where they lifted the World Cup after their final victory over the Netherlands.