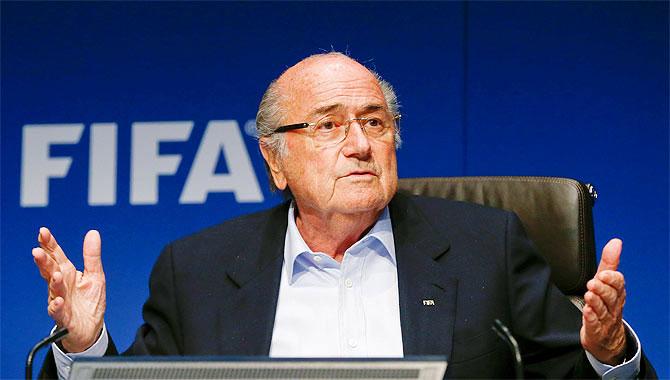 Former FIFA president Sepp Blatter acknowledged on Friday that he failed to reform the scandal-ridden world soccer organisation but asserted he was not responsible for corruption in its regional organisations.
Blatter spoke to more than 400 people at the University of Basel, where a student group has been preparing proposals on how FIFA should address the scandal.
The disgraced FIFA head appeared at the event with Luis Moreno Ocampo, a former International Criminal Court prosecutor who accused the 80-year-old Swiss citizen of turning a blind eye to corruption within regional soccer organisations.
Dozens of officials, including former members of FIFA's executive committee, have been indicted in the United States and Blatter has been banned for six years by its ethics committee.
"I regret I have not done enough to bring back FIFA on the right track," Blatter told the meeting. But he insisted that while he led FIFA, the actions of leaders of regional soccer organisations did not fall under his purview.
"Those things they did within their confederations," he said.
"I don't have any power to intervene in their confederations."
Blatter was banned from soccer activities for ethics violations in December along with Michel Platini, a former French national player who rose to become head of the European football association UEFA.
The pair were suspended in October pending an investigation into a 2 million Swiss franc ($2.07 million) payment to Platini that FIFA made to European boss Platini in 2011.
Platini has said the payment was for work he did as a FIFA advisor between 1999 and 2002 and the nine-year delay in payment was due to FIFA's financial situation.
Blatter was unapologetic about the payment, saying it was an unwritten "gentleman's agreement," though he conceded the transaction should have been documented earlier.
"This is a debt, and we paid the debt," he said.
"Perhaps it should have been indicated at the very beginning that we had something due to him. But this is an administrative and financial procedure and this had nothing to do with ethics."
Blatter appealed his six-year ban to the Court of Arbitration for Sport in Lausanne in March, seeking to have the penalty revoked. Platini has also appealed to this court.
Ocampo, now a HarvardUniversity professor, said Blatter was supposed to be an example for world football. "The problem is his silence," he said. "As president of FIFA, he had to be an example. Even if he was not involved, why was he silent?"
The two-hour-long event was interrupted by protests including from people shouting "FIFA must go" and a banner reading "Slave Labor", a reference to Qatar's stadium building ahead of the 2022 World Cup that has been criticised by groups including Amnesty International for human rights abuses.
They were removed by security.
FIFA said last month it paid Blatter 3.63 million francs last year, publishing his salary for the first time under new governance regulations.
FIFA also announced it lost $122 million in 2015, its first deficit since 2002, attributing that mainly to the costs of battling the worst graft scandal in its history.
In February, FIFA elected Gianni Infantino, a former UEFA general secretary, to replace Blatter.
He has vowed to lead FIFA reforms, but Swiss police raided UEFA headquarters this month to seize information about a contract disclosed in the Panama Papers that he signed. He has denied wrongdoing.
Photograph: Arnd Wiegmann/Reuters