'It ended up in the fifth set tie-breaker, there it's 50/50. He made one more point than me'
Thiem now backs Nadal to win the US Open Championship
Austria's Dominic Thiem suffered a heart-breaking loss against Rafael Nadal in the US Open quarter-final that was stretched to five sets.
Thiem 'bagaled' Nadal at the US Open -- his first bagel set in 14 years and just his fourth ever 'bagel' set at the Slams -- to claim the first set, but the relentless matador from Spain fought back to claw his way into the match and script a 0-6, 6-4, 7-5, 6-7 (4/7), 7-6 (7/5) to reach the semi-finals for the seventh time.
Following the epic against friend Rafael Nadal, the ninth seed said the loss will "stay with me forever".
In mach that lasted 4-hour 49-minutes, which concluded at 2.04 a.m. on Wednesday, the longest in US Open history, World No 1 Nadal scraped through to stay in contention for a fourth title in New York and his 18th Grand Slam crown.
"It's going to be stuck in my mind forever. Forever I'm going to remember this match, for sure," said Thiem after his first ever hard court match against Nadal.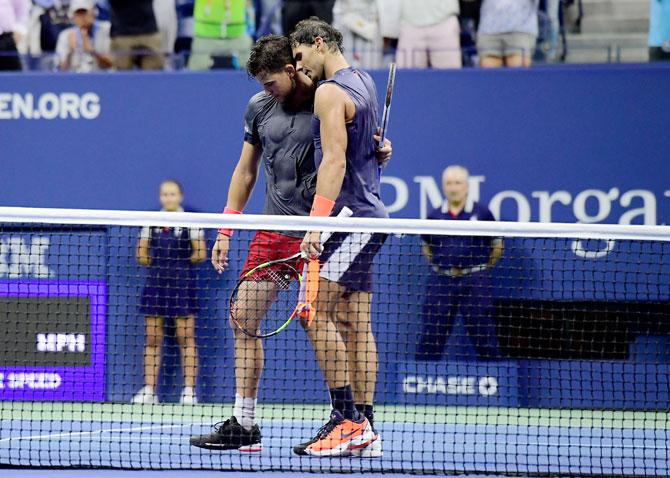 "Tennis is cruel sometimes because I think this match didn't really deserve a loser. But there has to be one.
"It ended up in the fifth set tie-breaker, there it's 50/50. He made one more point than me."
Nadal said he had told Thiem he was sorry for the result although the Austrian laughed off that consolation from his close friend.
"I don't think he's really sorry," said the 25-year-old.
"I mean, he's a great guy. I don't want to lose against anybody. But now I wish him the title the most, that's for sure.
"I think we almost all the time have great matches. I hope that we have many more in the future -- with a different end."