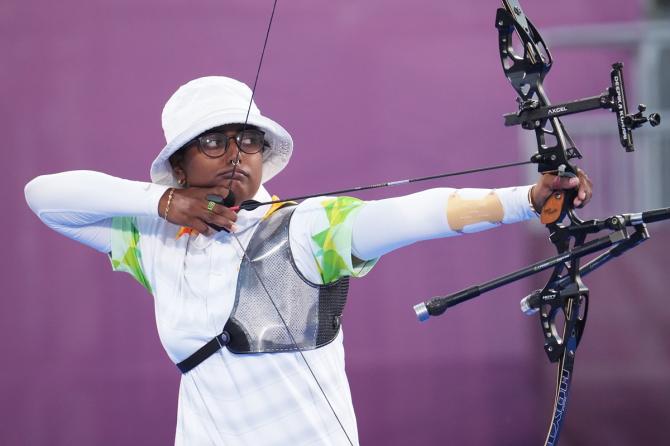 Exactly a month ago, Deepika Kumari, the most decorated Indian archer, became a mother.
Twenty days later, the 28-year-old was back on the field at SAI, Kolkata with her 44-pound bow and arrows, leaving the newly-born daughter with her "really supportive" in-laws.
It's a routine Deepika has been following for the past 10 days to make up for lost time and pave her way back into the Indian team through the upcoming Open Senior National trials slated to be held in Kolkata from January 10-17.
In a career spanning more than a decade, the two-time former world number one has virtually won everything save an Olympic medal.
With just one year to go before Paris 2024, Deepika is well aware that it's "now-or-never".
"Kya karein koi aur option hi nahin hai (I've no other option left)," the three-time Olympian told PTI on Sunday.
"Of course, I will be there. If I don't appear for trials, I will be out of the team for the whole year."
So she had no other option but to hit the training ground with her husband and India number one Atanu Das who too was axed from the Indian team after the Tokyo Olympics in 2021.
The couple failed to make the cut for the World Cup and Asian Games trials last year.
But after the Hangzhou showpiece was postponed to 2023, Deepika made a comeback at World Cup Stage 3 in Paris in June last year, winning a team silver before going into maternity break.
"Till about seventh month (of pregnancy) I was training but then I developed some issues, so had to stop practicing. There was a complete gap of three months," she says.
"Fortunately, it was a normal delivery so I could hit the ground in 20 days' time."
But it's not been easy and she's having a tough time to cope and return to normalcy.
The baby keeps her awake the whole night sometimes, while at times she's able to sleep three to four hours.
The first day when the duo left the baby at home, she cried for hours.
"She was used to breastfeeding, so she started crying when she didn't get it. We left home around 7.30am and returned only in the evening. It was tough that day.
"But gradually she's adjusting. She has to, as I would have to leave her alone when I go for tournaments.
"It would be tough, but we would have no other option. Hopefully, it would be a bit easier when she's grown up. I'm really fortunate that my in-laws are really supportive."
At the field, it's altogether a different struggle for the fatigued Deepika as she no more has the same core muscle strength.
"Please don't ask me about the scores (at practice) now. Body has completely given up -- the muscles have loosened, don't have any control, and I'm facing a lot of difficulty to stand still and shoot. It's only for my mental strength I'm here," Deepika confesses.
That Deepika uses a heavy bow of 44-pound, an excess of four pounds from what the women archers normally use, is also adding to her misery.
But she's confident of making the top-16 which is the cutoff mark in the first Open selection trials.
The 16-member side will be pruned to eight players who will represent India at the World Cups, World Championships (July 31-August 6) and Asian Games (September 23-October 8).
"I'm not changing the bow. Somehow, I'm managing, I'm sure I'll make it to top 16 and then we will see how it goes from there," adds Deepika.
The seven-day selection trials will see about 176 men's and 94 women's archers fighting it out in the recurve section.
The compound section has a tentative entry list of 157 male and 89 female archers including the Indian top two -- Abhishek Verma and Jyothi Surekha Vennam.