Relentless Niskanen takes gold for Finland in men's 15 km classic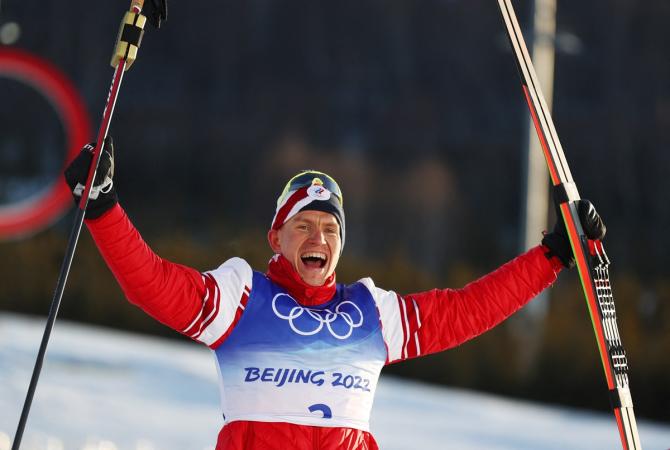 Iivo Niskanen put on a brilliant display of cross-country skiing to win gold for Finland in the men's 15 km classic race at the Beijing Games on Friday, adding the title to the 50 km Olympic classic gold he won at Pyeongchang in 2018.
Skiathlon champion Alexander Bolshunov, representing the Russian Olympic Committee, took the silver after his finishing spurt proved too little, too late, with recently-crowned sprint champion Johannes Klaebo of Norway picking up the bronze.
Niskanen was relentless, barely wasting a watt of energy as his efficient, economic classical style again bore fruit for the Finns, who took silver and bronze through his sister Kerttu and Krista Parmakoski in the women's race on Thursday.
The seeded skiers started into the middle of the pack, and the race came to life with the introduction of Klaebo as the 42nd starter.
After a slow beginning by his standards, Klaebo discovered his mojo by the 10.5 km mark, gliding into the lead after an uphill stretch but with Niskanen and Bolshunov, who started last of the seeds, in his wake the threat was ever-present.
Niskanen displayed the same kind of metronomic skiing that had him neck-and-neck with Bolshunov until the switch to freestyle in Sunday's skiathlon, this time building up a lead of 11.4 seconds over the Russian at the halfway point.
Ahead of them, Klaebo sprinted up the final straight to give himself the best possible chance of getting on the podium, but Niskanen blazed over the finish line to snuff out any hopes the Norwegian may have had of gold.
The challenge of Bolshunov, who won Sunday's skiathlon race but opted out of the sprint to preserve energy, had wilted at the 10.5 km mark but he dug deep again, closing the gap by almost 6 seconds.
However, he ran out of time and ended up having to be content with silver, 23.2 seconds behind Niskanen.
By the time Bolshunov reached the final bend, the Finn knew the gold was his, and he let out an uncharacteristic victory roar as the Russian crossed the line.
"Actually I felt so strong today and it was under control the whole race," the Niskanen said.
"I was fourth, 0.2 seconds behind the medals in Sochi and it's been a long eight years to wait for this race again in the Olympic programme. Now I've managed to win it. I have been focusing on it all the time. This is a really big victory for me."
Niskanen said that Bolshunov had "lived in my head for five days" after his skiathlon win, adding: "I was so worried about his speed (in the skiathlon), but classic 15 km has been a perfect distance for me."
Bolshunov said: "On one hand, I am happy but on the other, I was still aiming for the victory."
Asked whether skipping the sprint had paid off, he said: "If I'd won today I would have said it helped 100 percent, so with second place I'll say it helped 90 percent."
Klaebo was delighted to make the podium for the first time in a distance race in a championship. "This is as good as gold for me and shows my form is really getting better and better," he said.
"I started slow and then equalised the speed and then I caught up and went faster and faster. It's really special, an amazing feeling."
With tears and hugs, White bids farewell to competition at Beijing Games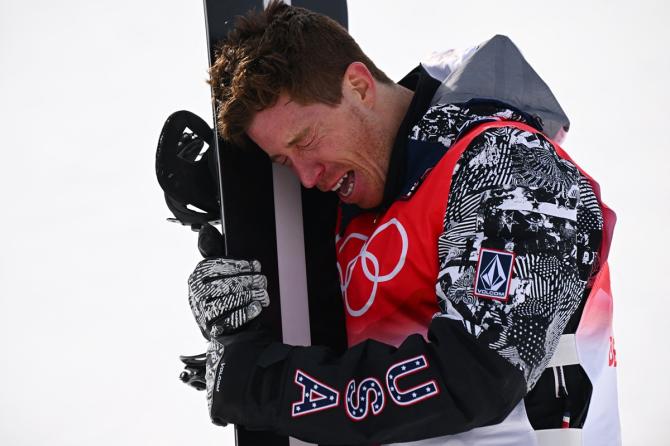 American snowboarding legend Shaun White broke down in tears after his last ever competitive run at the Beijing Olympics on Friday, saying he was grateful to be leaving behind a legacy for the next generation of professional riders.
White's name has been synonymous with the sport ever since he first dropped in on an Olympic halfpipe 16 years ago and won gold at the age of 19.
Now 35, White has come far from his younger competition-obsessed days when fans nicknamed him the "flying tomato" for his long red locks.
"I'm so thrilled to turn the page," the snowboarder said on Friday, holding a black and white board designed by his own company.
"I don't want to beat these guys anymore. I want to sponsor them," he told reporters after Friday's final.
White was the oldest snowboarder at the halfpipe final, going against formidable younger competitors like Ayumu Hirano, who won gold after landing a triple cork in his final run.
Australian Scotty James took silver, while Switzerland's Jan Scherrer took the bronze. White, a triple gold medallist in the event, missed the podium and ended up in fourth place.
But it was White who received the loudest applause of the day.
The entire crowd gathered at the Genting Snow Park roared after he landed his third and final run of the final, ripping off his helmet and goggles to burst into tears.
"It's my last day ever, it's so weird to say," he said as his rivals came over to comfort him.
The five-time Olympian said he always felt he had something to prove in an event that was misunderstood in its early days and often not taken seriously as a competitive sport.
But on Friday, surrounded by the next generation of riders, White said he could see his legacy take shape.
"All my fellow competitors were so kind, a lot of them patted me on the back and told me that the tricks in the sport wouldn't be where it is today without my pushing and I want to thank them for having me and supported me and let me do my thing," he said tearfully.
Japan's Hirano said White's presence at the Games sent an inspiring message to all athletes.
"It's not about the results, the fact that he was here, there is a bigger message in that," the 23-year old boarder said.
White has already been busy building a luxury snowboard and lifestyle company called Whitespace and told reporters on Friday he would be involved in training the next generation of athletes.
"This is the last time I have to be stressed on my snowboard," he said.
Gut-Behrami finally gets her golden moment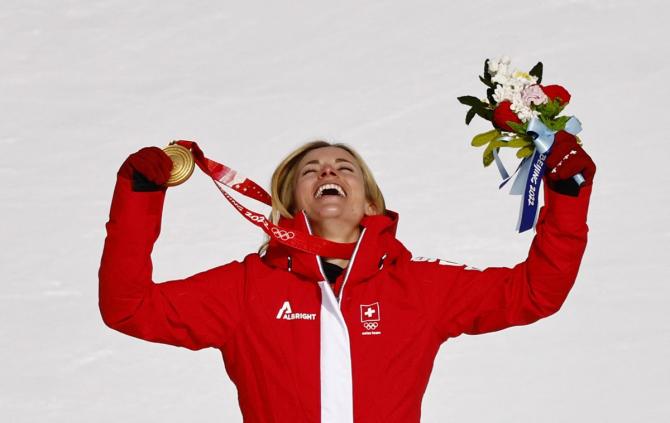 Switzerland's Lara Gut-Behrami finally got her hands on super-G gold at the Beijing Games on Friday, completing her long and often painful journey from teenage prodigy to Olympic champion.
Gut-Behrami has been the face of Swiss women's skiing since bursting onto the World Cup scene as a 16-year-old but, while she has been a consistent force on the World Cup circuit, it was not until last year's world championships that she was finally able to add major event gold to her list of achievements.
The 30-year-old, who has now added to that haul at her third Olympics, credits the late career success to gaining perspective about life and the ups and downs of skiing.
"I am really happy to have got that gold ... but you can't build your life around winning gold," she said.
The Swiss had suffered the agony of finishing fourth in the past two Olympic super-G races -- missing the podium by a hundredth of a second in Pyeongchang and seven hundredths in Sochi.
The 30-year-old could be forgiven for thinking she was cursed at the big events with only a bronze in downhill at Sochi to show for her efforts.
But after picking up another bronze, in the giant slalom here on Monday, she produced a fluent run to secure gold.
"I just thought it was probably going to be my last Olympic super-G of my life and I just wanted to show something great. I just wanted to ski," she said.
"I am happy that this time I am fast enough because last time for sure I was fourth and it was always tight. It's not bad to have the hundredths by my side this time," she added.
Born in the Italian-speaking canton of Ticino, she took part in her first World Cup race at Lienz in December 2007 and finished on the podium in her first World Cup downhill at St Moritz two months later.
The first of her 34 World Cup wins also came at St Moritz the following December when, as a 17-year-old, she became the youngest skier to win a World Cup race in super-G.
"I was skiing fast but I had no clue what was going on," she said, reflecting on the period when she was catapulted to celebrity status in Switzerland.
"I was so young, I was a kid and so many things happened and I didn't know how to deal with them.
"I grew up with the cameras on me, I always did my best but sometimes I was just lost, had no idea what was the best for me," she said.
A series of serious injuries dogged her career but she remained a constant podium presence in the World Cup and World Championships.
But last year she made the breakthrough -- becoming world champion at Cortina d'Ampezzo in super-G and giant slalom.
"A lot of things changed in my life," said Gut-Behrami, who is married to Swiss international footballer Valon Behrami.
"I met my husband after the injury (in 2017). Probably he was the key that I started to think less. I started to talk more with my family too," she said.
"I think the moment I started to have a real life around skiing, having a balance in my life and realising it's not just about skiing was the key.
"Sure, I am always angry when I am skiing bad but I realised at some point that I had to stop that and that I am first a person and then an athlete."
Unbeatable Fedotov stars again in ROC win over Denmark
The Russian Olympic Committee (ROC) men's ice hockey team has scored just three goals in two games, but with Ivan Fedotov doing his impersonation of the Great Wall in net the reigning gold medallists have made a perfect start to their title defence at the Beijing Winter Games.
After a tight 1-0 win over Switzerland in their opener Fedotov again came to the ROC rescue on Friday with a shutout performance in a 2-0 victory over Olympic debutant Denmark.
While the ROC attack has had difficulty getting into gear Fedotov has been firing on all cylinders, stopping all 16 shots in the win over Denmark after turning aside all 33 shots he faced against Switzerland.
"I am not happy with how we play offensively," said ROC coach Alexei Zhamnov. "We are not controlling the puck and we do not have traffic in front of the net.
"There is too much playing around and that is maybe why we do not score many goals."
The game's first goal came midway through the second period with Pavel Karnaukhov knocking in his own rebound off the post past Frederik Dichow's outstretched glove.
That would be all the scoring until Kirill Semyonov put the puck into an empty net after Denmark pulled their goaltender for an extra attacker.
"It was tight and we did not have the puck a ton," said Denmark captain Peter Regin. "Russia are a better team than us and that is just the facts.
"We kept it tight and close for a long time and had some chances to tie it at the end."