White triumph caps golden century for United States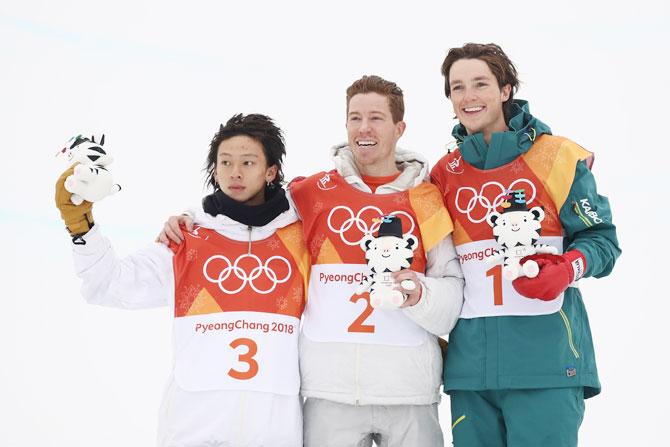 IMAGE: Silver medalist Ayumu Hirano of Japan, gold medalist Shaun White of the United States and bronze medalist Scotty James of Australia pose during the victory ceremony for the snowboard men's halfpipe final on Wednesday. Photograph: Cameron Spencer/Getty Images
Snowboarder Shaun White's halfpipe victory at the Pyeongchang Games on Wednesday earned the United States its landmark 100th Winter Games gold medal, prompting a series of celebratory messages on social media.
White scored 97.75 on his final run to pip Japan's Ayumu Hirano as he claimed his third Olympic gold and his country's 100th. Norway currently leads the all-time list with 121 golds, ahead of the US (100) and Germany (92).
Swimmer Michael Phelps, the most decorated Olympian of all time with 28 medals, 23 of them gold, was quick off the blocks to express his delight on Twitter.
"Let's go @shaunwhite !!! Way to go man!! Nothing like a good comeback right?? Redemption always feels great!" Phelps wrote on his verified account, alluding to White's failure to win a medal at Sochi four years ago.
From the NFL, Houston Texans defensive end J.J Watt was also impressed.
"That pure emotion from @shaunwhite. That's what it's all about. So awesome," he tweeted.
Women's soccer player Kelly O'Hara, a World Cup and Olympic winner was clearly moved by White's celebratory tears.
"I'm crying watching @shaunwhite cry. #olympicfeels" she tweeted.
The first ever gold medal awarded at the Winter Olympics was won by the United States in 1924 with long track speed-skater Charley Jewtraw's success in the 500 metres at Chamonix, France.
"Each and every one of the 100 times we have heard our national anthem play in Olympic Winter Games competition has been a truly unique and special moment," United States Olympic Committee CEO Scott Blackmun said in a statement.
"These medals have spanned nearly 100 years and showcase the dedication to excellence that is central to Team USA and the entire US Olympic family."
However, some social media users were unhappy with the sight of White dragging the American flag along the floor after his triumph.
"Am pleased for Shaun White, but he should not be dragging our flag. Show some respect!" tweeted William C Eacho, former US ambassador to Austria.
North Korean pair given warm welcome on Pyeongchang debut
IMAGE: Tae Ok Ryom and Ju Sik Kim of North Korea compete during the Pair Skating Short Program at Gangneung Ice Arena Gangneung, South Korea on Wednesday. Photograph: Richard Heathcote/Getty Images
North Korean pair skaters Ryom Tae Ok and Kim Ju Sik made their long-awaited debut at the Pyeongchang Olympics on Wednesday in front of a crowd of euphoric spectators cheering on every jump and lift.
The pair were the first North Korean athletes to qualify for the Games but it was unclear for several months whether they would actually compete in South Korea.
The sense of anticipation was palpable at the Gangneung Ice Arena before the pairs short programme.
A swarm of North Korean female fans wearing red and white tracksuits marched up to the stands, smiling and waiving to passers-by as out of uniform police officer looked on.
In the stands, they rhythmically chanted the skaters' names as they waived flags of the country.
A small group of university students supporting better inter-Korean ties brandished a banner that read: "Pyeongchang fairy Ryom Tae Ok, jump toward unification!"
Skating to an instrumental cover of "A Day in the Life" by the Beatles, the pair cleanly executed all the elements of their programme with a technically-sound performance that earned them a personal best score of 69.40 points.
They finished 11th overall and will compete in the long programme on Thursday.
The pair, who won bronze at the Four Continents Cup in Taiwan last month, embraced each other and their coaches in the kiss and cry area, jumping up and down with joy.
"There have been no inconveniences whatsoever when it comes to the life here in the South area," Kim said in translated televised comments before the pair sped past the mixed zone where a horde of reporters were waiting for them.
"You could really feel the power and the energy of the Korean people."
The skaters were the first North Koreans to qualify for the Games after they finished in the top six at a competition in Germany in September
North Korea did not have any athletes at the 2014 Sochi Winter Games. They have sent 22 athletes to compete in Pyeongchang, including 12 ice hockey players in a combined North and South Korean women's team.
Events rescheduled as high winds sweep through Pyeongchang
Several Olympic events were postponed or rescheduled as strong winds swept through the Pyeongchang region on Wednesday, damaging temporary structures set up for the Games.
Nordic combined, biathlon and Alpine skiing events were postponed or delayed due to weather conditions, Olympic organisers said as they rejigged the competition schedule and worked to limit damage sustained around venues.
At the Gangneung Ice Arena, the venue for figure skating and short track speed skating, a tent set up for security screenings lay flat on the pavement.
Olympic volunteers and reporters trudged with their backs to the wind, shielding their faces from the dust.
The Korea Meteorological Administration said on its website that winds in the region were blowing at 7 m/s as of 17:30 (0830 GMT).
In text messages sent to mobile phones in the coastal area, GangneungCity Hall called for people to be wary of flying objects and falling debris.
The streets of the GangneungMediaVillage, where the majority of international journalists covering the Games are staying, were deserted except for a few security officials trying to fix damage to temporary structures. Several tents used as work areas for the press were closed.
Athletes have also felt the effects of the treacherous winds.
Canadian pairs figure skater Meagan Duhamel wrote on Twitter that the hanger she used for her competition dress "broke from the wind" ahead of the short programme on Wednesday in which she and partner Eric Radford finished third.
Pyeongchang wind blows fans off course
The high winds that have forced the postponement of three of four Alpine skiing races at the Pyeongchang Games are blowing the skiing fans' plans off course as they are spending more time cheering for the weather to improve than for their favourite teams.
Decked in a green wig, matching tutu and with a Lithuanian flag draped around his neck, Joseph Virskus, 38, was worried that he and his girlfriend may be forced to make the trip back to Tokyo without even getting the chance to cheer on Lithuanian ski racer Ieva Januskeviciute, who he has watched ski since she was a kid.
"We're here for five days specifically to support our friend Ieva who is racing," he told Reuters while the fans in the stands around him flooded the exits after it was announced that Wednesday's women's slalom event would be pushed to Friday.
"But her giant slalom was delayed and now this is delayed. If we're lucky we'll get to see one run of GS tomorrow before we have to go to the train."
Virskus' British girlfriend Rachel Little shared his disappointment with all the scheduling changes and said the frigid temperatures in Pyeongchang over the past week have been punishing.
"We've been to a lot of cold places in our time but I think this one really takes the biscuit," she said.
"The wind and the humidity. I can't feel my face most of the time. Today is comparatively warm, almost tropical compared to yesterday."
The two had gone skiing the day before and experienced the cold weather first hand while riding to the top of the slopes.
"Sitting on the chairlift was kind of like torture," she said. "It's a shame but hopefully we get to see the one tomorrow and it will all be good."
A man from Seoul who gave his name as Baek Nakki said he would be asking for his money back because he could not come back on Friday, which is Korean New Year, when people pay tribute to their ancestors.
South Korea approves record $2.6 million budget for North Korean's Olympic visit
South Korea approved on Wednesday the use of a record 2.86 billion won ($2.64 million) to bankroll the cost of hosting hundreds of visiting North Koreans during the Pyeongchang Winter Olympics.
The Ministry of Unification said the funds will pay for the costs including accommodations and food for North Korea's cheering squad, orchestra, taekwondo performers, journalists and other supporting personnel who had visited or are still in South Korea. Combined, they make a group of 424 North Koreans.
South Korean President Moon Jae-in invited North Korea athletes, supporters and officials to the Olympics in an attempt to lower months of tension between Pyongyang, Seoul and Washington over North Korea's nuclear and missile programmes.
A final number for the total payment of all the North Koreans who visited during the Olympics will be disclosed at a later time, said ministry spokesman Baik Tae-hyun in a briefing.
Costs for hosting the high-level official delegation which included Kim Yo Jong, the sister of North Korean leader Kim Jong Un, were paid for separately from the government budget, Baik added without disclosing details.
The International Olympics Committee will foot the bill for 22 North Korean athletes also in South Korea.
Travel between the two Koreas has been impossible without the approval of both governments since the 1950-53 war that divided the peninsula and ended in a truce rather than a peace treaty.
Wednesday's number far exceeds the 1.35 billion won that was used to pay for the 650 North Koreans who visited South Korea in 2002 for the Asian Games in the port city of Busan.
The smaller amount in 2002 was partly due to the North Koreans' cheering squad staying and eating on the ferry they had arrived in, a ministry official told Reuters who spoke on condition of anonymity.
Inflation also attributed to the higher number.
From the biggest portion of the 2.86 billion won, about 1.2 billion won will be used for accommodations and food, the official added. Roughly 1.0 billion won will be used to pay for entrance fees for Olympics venues and 100 million won has been set aside for transportation costs.
Most of the North Koreans stayed at luxury hotels in Seoul and near the Olympics venue nearly throughout their visit, including the five-star Grand Walkerhill in western Seoul that has previously hosted celebrities including Paris Hilton and Michael Jackson.
The budget for the North Koreans' stay will be withdrawn from the Inter-Korean Cooperation Fund, part of the Unification Ministry's spending budget. The fund was created in 1991 for North Korea-related expenditures and its total 2018 budget is 962.4 billion won.
($1 = 1,082.9000 won)