Jacobellis earns first US gold and long-awaited redemption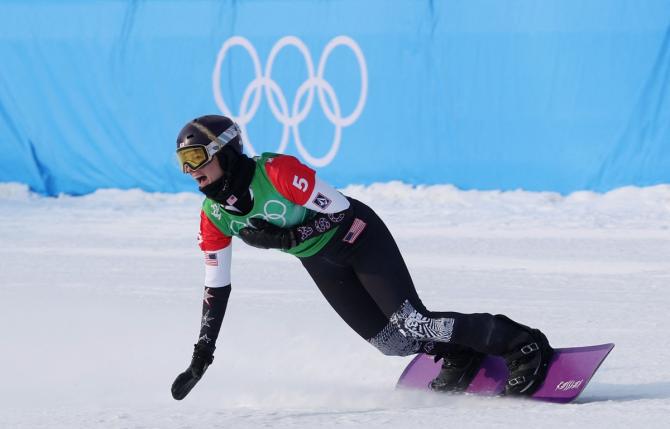 Lindsey Jacobellis claimed the first gold medal for the United States at the Beijing Olympics when she won the snowboard cross final on Wednesday and finally found redemption after her career-defining fail at the Turin Games 16 years ago.
Jacobellis was within metres of winning the event in 2006 - the first time it was included in the Games - when she threw in a showboating trick trying to grab her board, only to fall and get overtaken at the line.
She failed to medal again after various mishaps in the next three Olympics and although she has an astonishing 10 X-Games and five world individual titles to her name, she was always desperate to make amends for Turin.
She did so with a dominant display on Wednesday, made all the sweeter as it secured the first U.S. gold of the Games.
But Jacobellis did not see the victory as redemption.
"It kept me hungry and kept me fighting for the gold," she said, adding that she would have quit the sport if she had won gold in 2006.
"That was a lot to deal with for a young athlete."
She always looked in command of Wednesday's final but, as she knows better than anyone that nothing is settled until you cross the line.
"I wasn't 100% sure but I wasn't seeing anyone in my peripheral so I was confident when I crossed," she said. "It really seemed like an unbelievable moment, it didn't seem real at the time.
"The level is a lot higher than 16 years ago so I feel like a winner just by getting into the final because that has been the challenge every time."
Chloe Trespeuch of France, another veteran at 37, took the silver and the bronze went to Meryeta O'Dine of Canada and, typically for the sport where camaraderie is king, they were both quick to share Jacobellis's joy.
"When she crashed before the line (in 2006) it was really hard for her," Trespeuch said.
It was a very satisfying return for O'Dine, who suffered a concussion in a crash during practice and withdrew from the Pyeongchang Games four years ago, another reason why she felt able to empathize with Jacobellis.
"That (2006) is a very famous story in snowboard cross and to see her come home with the gold… it's honestly really cool to see," O'Dine said.
Australian Belle Brockoff, who finished fourth in the final, said: "I was watching her on Olympics before I even got to the sport. I would use her as inspiration. And then I so vividly remember her jump (from 2006) and watching that gold medal slip out of her fingers and I'm really happy for her.
"For her to keep coming out and not give up is pretty inspirational."
Charlotte Bankes, the World Cup leader with three wins this season, had been expected to challenge for Britain's first medal of the Games but crashed out of contention in the quarter-finals.
Shiffrin washout recalls Biles and Osaka's Tokyo experience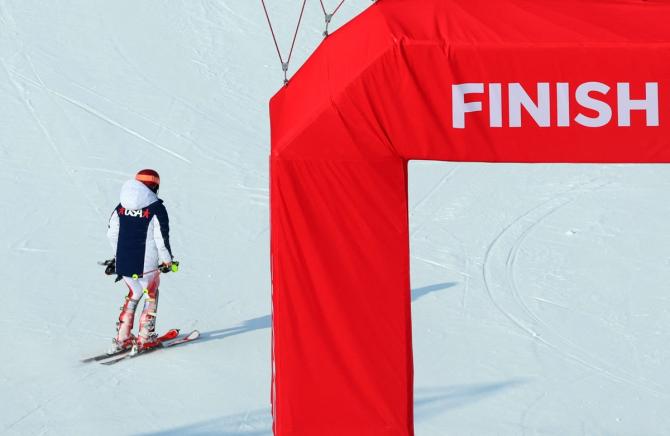 Mikaela Shiffrin was expected to cement her position at the top of her sport in the Beijing Games but after not finishing a race so far her story echoes the disappointments of fellow elite athletes Simone Biles and Naomi Osaka at the Tokyo Olympics.
After crashing out of the giant slalom on Monday, the 26-year-old Shiffrin, one of the world's most successful Alpine skiers, exited at an early stage in Wednesday's slalom race.
The American sat slumped by the side of the course with her head in her hands after her aborted run, and choked back tears while trying to come to terms with what had happened.
In Tokyo, gymnast Biles and tennis player Osaka said the pressure and media attention had got too much and weighed on their ability to perform at their highest level.
While Shiffrin said she could handle the pressure, had much to be optimistic about and even thanked journalists for words of encouragement after her slalom, she was wrestling with the hows and whys of her disappointing performance.
"I will try to reset again... But I also don't know how to do it better because... I just don't. I've never been in this position before and I don't know how to handle it," she said.
"It's been an OK couple of days but still tough because you feel like this moment is building and building and building and you feel a bit weighed down by it but I'm OK to feel that way.
"It's taken a lot of years and I'm not scared to feel a little weighed down by some expectation anymore."
Biles and Osaka received praise for reminding people that athletes are also human.
Biles did not finish her scheduled competitions at the summer Games due to a sudden and dangerous disorientation in midair, later saying mental health was more important than sports.
Osaka had pulled out of other big events before Tokyo to avoid the media which she said was affecting her mental well-being. She eventually lost to a much-lower ranked player in the Olympics.
Shiffrin said she was not sure whether she would compete in the remaining Alpine events in Beijing.
"My whole intention building up, this whole season, since this summer, was to ski these races aggressively. That's what I was doing. Problem is, you have to finish and that's obviously my main issue right now apparently and that's never been an issue in my entire career," Shiffrin said.
"I feel like there's a lot I can analyse about it but my goal was to push and maybe I pushed a little over the limit. Maybe that's because of the pressure, it's probably better to ask some psychologist about that or everybody is going to have an opinion anyway. Honestly I'm at a loss so it's hard to really know what exactly went wrong."
Sports psychologist Gene Moyle agreed that it was helpful to identify the option of a reset, but that if an athlete then fails again it can make bouncing back more difficult.
"Expectations for success can come from a positive place, from the country that you represent or people in your environment, they want the athlete to do really well," he said.
"This can be exacerbated from a media perspective, that can be extra pressure," Moyle, who has worked with Winter Olympians, added.
"There is that sense of the athlete not wanting to let people down. And sometimes you have to work with the athlete to push that external pressure to the side."
Shiffrin travelled to Beijing as a three-times overall World Cup champion and with three Olympic medals under her belt. But she is also still mourning her father who died in an accident in 2020.
In addition to sporting achievements putting her in the spotlight, media attention has also focused on Shiffrin's relationship with Alpine skier Aleksander Aamodt Kilde of Norway, who won bronze in the men's super-G on Tuesday.
"There's so much to be optimistic about," Shiffrin said, gazing at the sky over the Xiaohaituo mountains. "I have three medals. Those are still back home in my closet."
Figure skating medals ceremony delayed over 'legal consultation'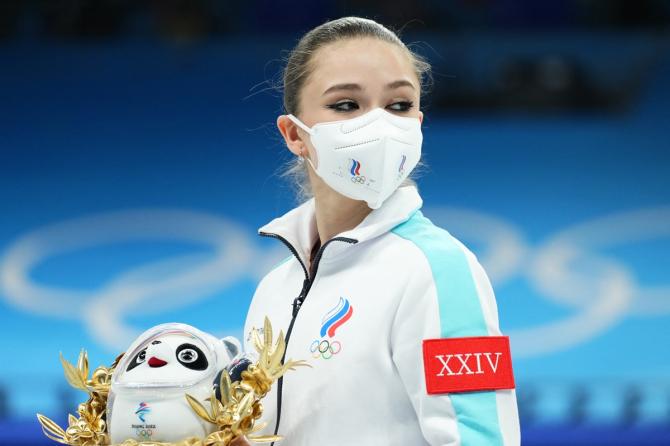 The Beijing Olympics medal ceremony for the figure skating team event that was won by Russian skaters has been delayed due to an unspecified "legal consultation", the International Olympic Committee said on Wednesday.
There were no details given on the reasons for the delay but with four Russian skaters, including 15-year-old sensation Kamila Valieva, not attending their planned training session on Wednesday the ceremony's postponement raised more questions.
It had initially been moved to Tuesday evening from Monday before being postponed indefinitely.
The Russian Olympic Committee (ROC) team claimed the gold medal on Monday with Valieva landing the first quadruple jumps by a woman in Olympic competition. The United States took silver and Japan bronze.
"A situation arose at short notice that requires legal consultation," IOC spokesperson Mark Adams said, without providing any details on the nature of the ongoing consultation.
"You can bet your bottom dollar we are doing everything that this situation can be resolved as soon as possible.
"I cannot give you any more details but we will do our utmost."
Adams said the ceremony would take place as soon as possible.
Valieva was one of the four ROC athletes, along with pairs dancers Anastasia Mishina and Aleksandr Galliamov, and Mark Kondratiuk, who did not appear at their practice sessions on Wednesday. It was not clear why they had not trained.
Kondratiuk also represented the ROC team and competed in Tuesday's individual short programme. He advanced to the finals scheduled on Thursday.
Russian athletes are competing in Beijing as representatives of the ROC rather than their home nation due to doping sanctions.
The only ROC skaters to train were team ice dancers Victoria Sinitsina and Nikita Katsalapov.
The International Skating Union (ISU) did not provide any details on the reason for the delay other than citing "legal consultations," in an emailed response to Reuters.
There was no immediate comment from the Russian Olympic Committee or the International Testing Agency (ITA), which is in charge of doping controls during the Olympics.
Norway's Ruud wins Big Air gold as Hall falters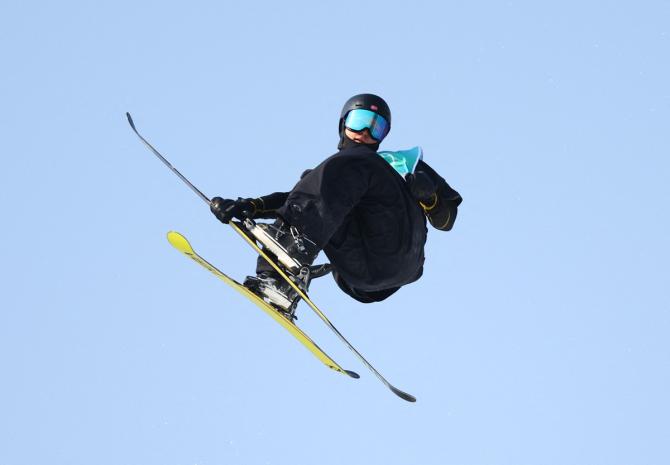 Norway's Birk Ruud claimed the first men's freeski Big Air Olympic gold medal with a dominant display as his main rival, American Alex Hall, faltered at the Beijing Games on Wednesday.
Having landed a switch left triple 1980 mute, five and a half rotations, in the first run, the 21-year-old scored a total of 187.75 and was assured of the title before the third and final jump, which he made holding the Norwegian flag.
Colby Stevenson (183.00) was second for the United States, who later on Wednesday bagged their first gold of the Games when Lindsey Jacobellis nL8N2UK22X won the women's snowboard cross.
Sweden's Henrik Harlaut (181.00) took the bronze with his last jump, his "boom boom boom" celebration breaking a near silence at the Shougang steel mill in sharp contrast to the fanfare that greeted China's Eileen Gu when she won the women's title on Tuesday.
After Austrian Matej Svancer, the 17-year-old rising star of freeski, failed to make it to the final, Wednesday's event was widely predicted to be a duel between Ruud and Hall.
Hall, who won the Winter X Games last month with a double cork 2160, a whopping six full rotations, failed to grab properly on his switch left double 1800 in the first run.
Ruud, a cliff diving enthusiast and 2016 Youth Games gold medallist, managed a switch left triple 1980 mute in the first run to get 95.75.
"Thank you Norway, everybody. This has been a goal since I was at the NTG U (school) when I was 13, and now we're here," he said.
With the two best runs taken into account for the final standings, Hall was already under pressure.
The American scored 92.50 with a left double 1980 Buick, his signature grab, in the second run but gold looked in the bank for Ruud with a 92.00 for his left double bio 1800 mute.
"Dad, you are with me," said Ruud after landing. The Norwegian's father died of cancer last year. "Since then I've realised that there's more to life. I'm grateful," he added.
Ruud's solid second jump left Hall needing at least 95.25 on his third run but the American crashed at landing his signature switch left double 2160 and he finished eighth on 160.75.
"So I was trying to decide between two tricks, that I should play at all safer, or really go for it," said Hall.
"I ended up going for my hardest trick which I'm stoked I just went for it but I didn't quite have enough air time so I couldn't quite land it, but I just did try and give it all I got and sometimes things don't go your way, so it's all good."
Norwegian Christian Nummedal, who had the best score of the second run, crashed out of medal contention with his last attempt, as did Evan McEachran of Canada.
Swede Harlaut was delighted with the bronze.
"I feel fantastic," he said. "Third time at the Olympics, third place. Fantastic."
Vlhova wins slalom gold after Shiffrin flop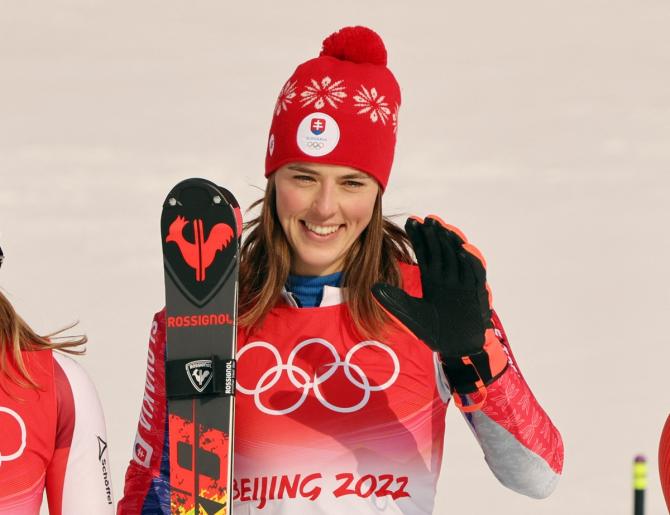 Petra Vlhova won Slovakia's first Olympic Alpine skiing gold medal on Wednesday with victory in a tight women's slalom race on the 'Ice River' course at the Beijing Games.
The Slovak's victory, powering from eighth place after the first run, came after her fancied American rival Mikaela Shiffrin failed to finish the first leg.
Vlhova had an 0.08 advantage over silver medallist Katharina Liensberger of Austria with Switzerland's Wendy Holdener in the bronze medal position a further four hundredths behind.
Germany's Lena Duerr had been fastest after the first run but narrowly missed out on the podium, finishing fourth after her second run was 0.91 slower than Vlhova.
There was just 0.22 seconds between the winner and fifth-placed Andreja Slokar of Slovenia as the top skiers pulled out all the stops on their second run.
Sweden's Sara Hector, who won gold in Monday's giant slalom, was third after the first leg and was in the lead with the finishing line in sight but missed a gate.
The drama prompted emotional scenes in the finish area with tears of joy and sadness.
"All the girls were crying. Normally we are strong girls, but I guess it was a surprise for all of us," said Holdener, who won a silver medal in Pyeongchang four years ago.
Shiffrin, the four-time slalom world champion, lasted little more than five seconds on the slope after also crashing out of the giant slalom on Monday.
OLYMPIC FIRST
Vlhova is the defending overall World Cup champion and current World Cup slalom leader but this is her first Olympic medal after she failed to reach the podium in her two previous Games.
The Slovak had been in eighth place after the first leg but delivered a near perfect run to take top spot.
"I gave everything I had and at the end I am Olympic champion," she said.
"It's difficult to say what it means to me right now. I have been dreaming all my life to win an Olympics or just to have medals.
"I have a lot of emotions right now, inside of me. This season I was really strong and today I gave everything," she added.
Liensberger, the defending World Cup slalom champion and 2021 world champion in the event, had tested positive for COVID-19 and lost her grandfather recently.
"After all I had this season, I am just so thankful and proud and I want to give this medal a little bit to my grandpa. It wasn't nice to lose him but I know he's here and of course he looked out for me," she said.
"Now it's just wonderful to know I can be fast and ski at that level. It's amazing to show that today."
Vlhova's victory was Slovakia's first medal in Alpine skiing although Czechoslovakia won a bronze in downhill in 1984.