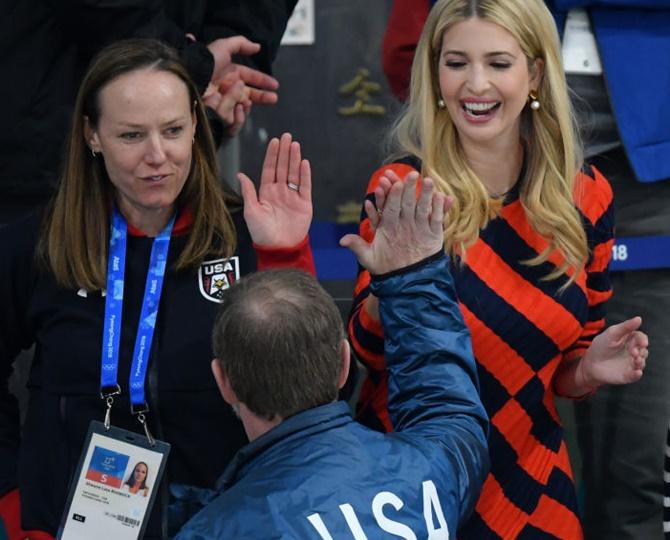 IMAGE: Ivanka Trump high fives a spectator after the United States of America beat Sweden in their Men's Gold Medal Curling match next to former Olympic US bobsledder Shauna Rohbock, left, at Gangneung Curling Centre. Photograph: Carl Court/Getty Images
Ledecka doubles up with historical PGS gold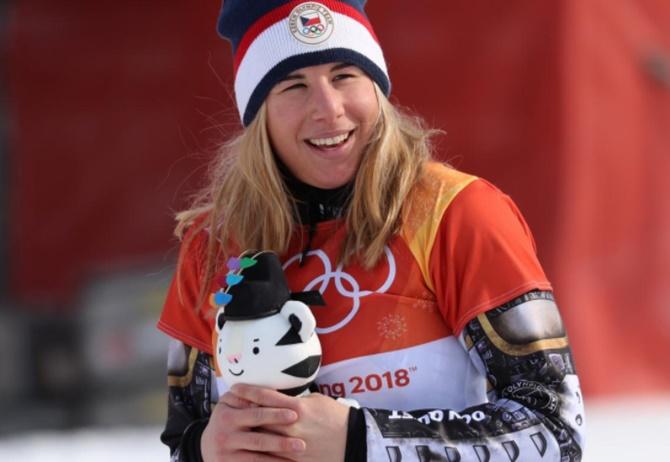 IMAGE: Gold medallist Ester Ledecka of Czech Republic smiles. Photograph: Mike Blake/Reuters
Ester Ledecka became the first person in Winter Olympics history to capture gold medals in unrelated events after the Czech won the snowboard parallel giant slalom on Saturday to go with her stunning Alpine skiing super-G gold.
The 22-year-old was superb throughout and defeated Germany's Selina Joerg in the final by 0.46 seconds to become the fifth person to win gold in two events, although the quartet she joined doubled up in similar Nordic skiing disciplines.
Germany's Theresia Ramona Hofmeister won the minor final against Russian Sochi bronze medalist Alena Zavarzina, who fell in both of her last two races, to complete the podium.
While her super-G gold was a complete shock, Ledecka looked in command from the outset in her favored discipline, setting the fastest time in qualifying and handling the pressure to make her historic achievement look almost routine.
Ledecka's momentous accomplishment of winning unrelated events has seen her lauded by many as the "Queen of the Games", a moniker she admits was growing on her.
"I don't feel like that but it sounds good, for sure," laughed Ledecka, who wore her goggles for the duration of her news conference as she had after the Alpine skiing triumph.
For Joerg, the silver medal could be regarded as a long-awaited redemption after she narrowly missed out on a medal in Vancouver eight years ago.
"I have worked so hard to be here, on the podium," the 30-year-old said.
The German silver and bronze matches the feat the country achieved in Sochi in the shorter parallel slalom, although that event was not retained for Pyeongchang.
Joerg also lavished praise on Ledecka, who she believes can drive the sport of snowboarding further and push it to the forefront at the 2022 Winter Games in Beijing.
Japan win bronze to claim first Olympic curling medal
Japan claimed their first Olympic curling medal on Saturday when Satsuki Fujisawa's foursome scored a point in each of the final three ends to edge Britain 5-3 and win the bronze.
Japan's win guarantees Asia will have two teams on the medal podium with South Korea taking on Sweden in the gold-medal final on Sunday.
"It's the first medal for Japan so it's history," smiled Japan's Canadian coach JD Lind.
"That is something this country has been trying to do since the Nagano Olympics so to finally get to do that, it's a huge day for sure.
"It's been stressful, I definitely feel for Eve Muirhead's team. They had a shot to win. I feel for her having to miss but that's curling and we'll take it."
The match was a tight, defensive, tactical affair from start to finish with neither rink putting up more than one point in an end.
The first mistake came in the ninth and fell to British skip Muirhead who missed on a takeout on her final rock, allowing Japan to steal a point and nose in front 4-3.
Britain needed a point to force extra ends but Japan stole another one when Muirhead misfired on her final stone trying to double the two Japan rocks out and keep hers in.
"Of course I am absolutely gutted. As a team we gave it everything, we didn't leave anything out there," said Muirhead, winner of a bronze at the 2014 Sochi Olympics. "As a skip it is hard to take when you have a shot to win.
"The shot was there, that's why I went for it. Curling comes down to inches and if that had curled another centimetre we would have had the bronze medal around our necks.
"It's going to be hard to take, I'm devastated.
"Having a bronze medal before and coming away with nothing is hard. This is going to take a bit of time."
Norway win 38th Pyeongchang medal to surpass US record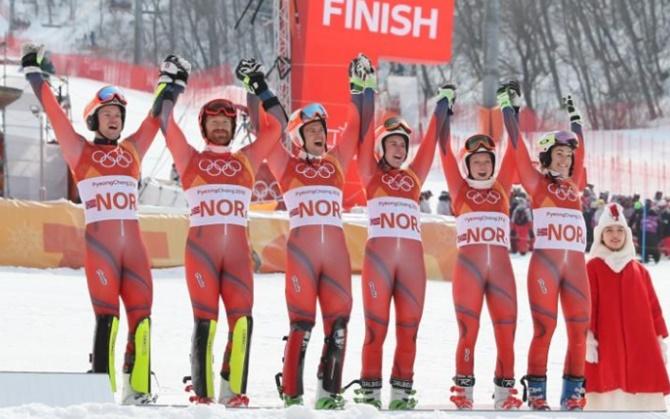 IMAGE: Team Norway celebrates after the mixed team 1/8 final during the Pyeongchang 2018 Olympic Winter Games. Photograph: Soobum Im-USA TODAY Sports/Reuters
Norway's Alpine skiing team won a bronze in the inaugural team event on Saturday to give the Scandinavian country 38 medals at the Pyeongchang Games, the most won by one nation at a single Winter Olympics.
The tally of 37 won by the United States at Vancouver in 2010 was the previous record but the victory over France by time differential in the 'small' final at the Yongpyong Alpine Centre allowed the Norwegians to surpass it.
Norway now leads the Pyeongchang medals table with 13 golds, 14 silvers and 11 bronze medals, bettering their previous best tally of 26 at both the 1994 Lillehammer Games and 2014 Sochi Olympics.
Leif Kristian Nestvold-Haugen put in a brilliant run to beat Frenchman Clement Noel by three 10ths of a second and secure the bronze and let out a huge roar of delight as he crossed the line.
"It's very humbling," Nestvold-Haugen said. "Even underneath the skisuit I get goosebumps talking about it, that the Alpine team of Norway could get that 38th medal."
Alpine skiers, including downhill champion Aksel Lund Svindal, have provided seven of Norway's medals with most of the rest coming from their highly successful Nordic skiers and biathlon competitors.
There were four in speed skating and a bronze in mixed curling awarded after the Russian Alexander Krushelnitsky was found guilty of doping, while Oystein Braten kicked in with a gold in the freestyle slopestyle.
United States rock Sweden to win first gold medal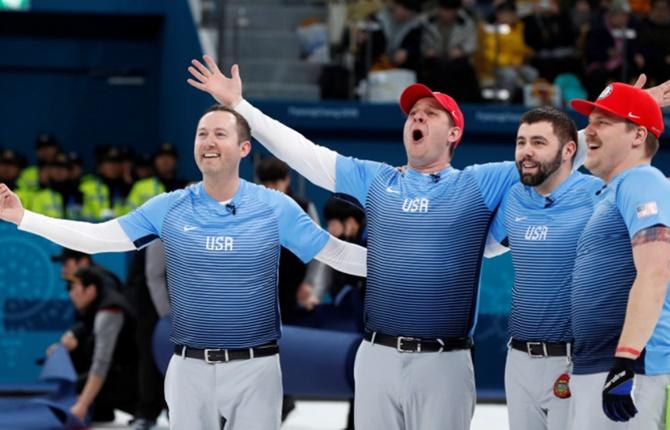 IMAGE: Vice-skip Tyler George of the US and his teammates skip John Shuster, lead John Landsteiner and second Matt Hamilton celebrate after winning the match. Photograph:John Sibley/Reuters
The United States delivered a gold-medal knockout punch, scoring five in the eighth end to crush Sweden 10-7 and claim their first ever Olympic men's curling title on Saturday.
With the score deadlocked at 5-5, United States skip John Shuster provided some last-rock magic with a pinpoint double take-out for five that left their Swedish opponents stunned as the Gangneung Curling Centre erupted into chants of "USA, USA" led by U.S. President Donald Trump's daughter Ivanka.
The gold was just the second Olympic curling medal won by the U.S. men, following a bronze at the 2006 Turin Winter Games which Shuster was also a part of.
Switzerland beat Canada 7-5 on Friday to win the bronze.
"I think during the entire (eighth) end we could feel it building," said Shuster. "Their margin for error was incredibly small. I can't tell you how un-nervous I was."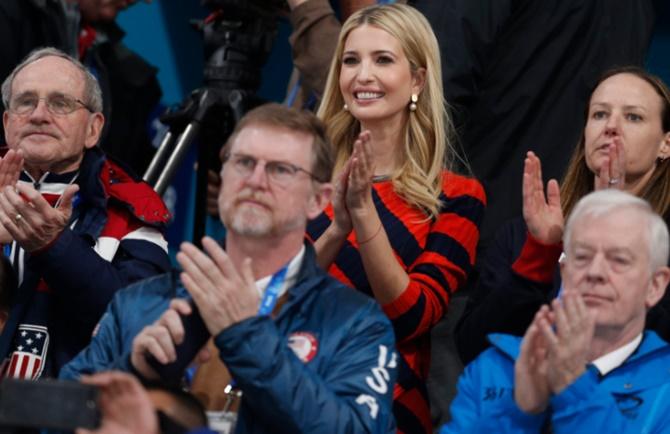 IMAGE: US President Donald Trump's daughter and senior White House adviser, Ivanka Trump, applauds during the men's curling final at the Pyeongchang 2018 Winter Olympics. Photograph: John Sibley/Reuters
The victory capped a remarkable comeback for the United States who sputtered through early preliminary-round play with a 2-4 record before rattling off three straight wins to make the playoffs where they beat twice defending Olympic champions Canada in the semi-finals before seeing off the top-ranked Swedes.
The only real miscue involving the Americans on Saturday came when officials mistakenly presented them with the women's gold medals but that error was quickly corrected and switched for the correct ones.
"We've played our best when our backs were up against the wall," American second Tyler George. "We took it to another level this week.
"Usually we're fighting and scrapping to get into the playoffs but for five days we were the best team in the world and we did it at the right time."
The result meant more Olympic disappointment for Niklas Edin who had skipped Sweden to world championship titles in 2013 and 2015 and a bronze at the Sochi Olympics but could not grab the one medal to elude him.
The contest got off to a tactical start with the Swedes blanking the first then scoring a pair in the second only to have the U.S. hit right back with a two on another brilliant last-rock shot from Shuster.
The U.S. stole a point in the fourth after a measurement to determine shot stone to take their first lead, 3-2.
The Swedes would not be rattled, answering with two in the fifth as the seesaw battle continued with the U.S. replying with a pair in the sixth and Sweden getting one back in the seventh to leave the teams deadlocked on 5-5 with three ends to play.
After the U.S. scored their five a reeling Sweden chipped two off the deficit in the ninth but there was too much damage to repair and the Swedes finally conceded.
"In the eighth end we don't exactly get the rocks where we wanted them and they put a lot of rocks in the house and we were forced to go all in," explained Edin.
"That last shot if it curls three centimetres more it's probably good for them to draw for two or something but when that misses and they make that double we knew we were going to lose."
Finn Niskanen takes gold in 50km mass start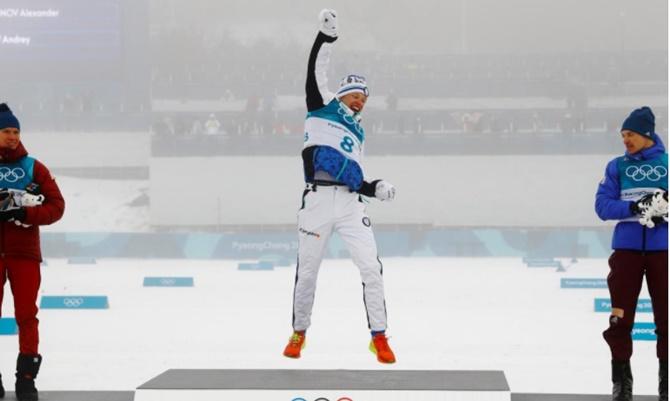 IMAGE: Gold medallist Iivo Niskanen of Finland celebrates, flanked by silver medallist Alexander Bolshunov, Olympic athlete from Russia, and bronze medallist Andrey Larkov, Olympic athlete from Russia, during the victory ceremony. Photograph: Kai Pfaffenbach/Reuters
Finland's Iivo Niskanen made a lung-busting early break and held off a furious challenge from Alexander Bolshunov to win the 50km mass start classic cross-country ski race and get Finland's first gold medal of the Pyeongchang Games on Saturday.
Bolshunov, representing the Olympic Athletes from Russia, took silver 18.7 seconds behind Niskanen, with fellow OAR racer Andrey Larkov beating Norway's Martin Johnsrud Sundby to take bronze.
The Olympic programme usually saves this most gruelling of races for last and because of the huge demands it places on the endurance of athletes it has previously been dogged by allegations of blood doping.
Two of the three Russian athletes who swept the podium in Sochi, winner Alexander Legkov and runner-up Maxim Vylegzhanin, had their medals stripped from them before being reinstated by the Court of Arbitration for Sport (CAS) in 2017.
Alpine skiing: Switzerland pip Austria to win inaugural team gold
Pyeongchang individual medalists Wendy Holdener and Ramon Zenhaeusern led the way as Switzerland beat Austria 3-1 in a final showdown of traditional Alpine powerhouses to win the inaugural team gold at the Winter Olympics on Saturday.
Austria, without their double gold medalist Marcel Hirscher, took silver with the bronze going to Norway when they edged France on time differential after a 2-2 draw in the "small" final at the Yongpyong Alpine Centre.
Norway's 38th medal in all sports at the Pyeongchang Games saw the Scandinavian nation surpass the tally of the United States at the 2010 Vancouver Games to become the most successful nation in terms of total medals at a single Winter Olympics.
The final event in the Alpine schedule brought mixed sex competition and parallel slalom to the Games for the first time and the knockout format ensured plenty of thrills, even if some of the sport's bigger names had declined to take part.
Men's giant slalom and combined champion Hirscher was among them, deciding to focus instead on his bid for a record seventh successive World Cup overall title, but Austria still swept through their three ties to reach the final.