Virtue, Moir win second ice dance gold with world record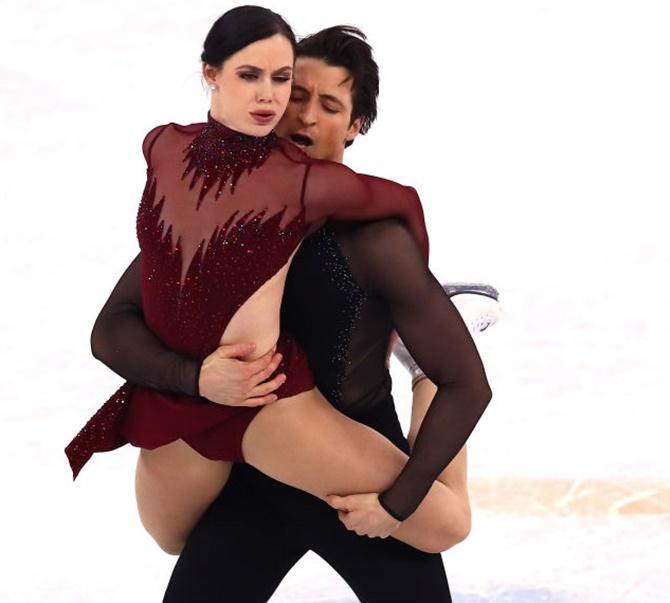 IMAGE: Tessa Virtue and Scott Moir of Canada compete in the Figure Skating Ice Dance Free Dance. PHOTOGRAPH: Dean Mouhtaropoulos/Getty Images
Canadian ice dancers Tessa Virtue and Scott Moir claimed their second Olympic gold medal with a brilliant free dance on Tuesday, edging to the top of the podium by less than a point and breaking the world record into the bargain.
Skating last to "Moulin Rouge," the pair embraced and grinned on the ice after their dynamic performance that had the audience roaring.
They won with a total score of 206.07, eclipsing the world record that had been set just moments before by French pair Gabriella Papadakis and Guillaume Cizeron, who finished on 205.28.
"We don't know what the future holds quite yet but it definitely feels like we're getting close to the end of our career," Moir told OBS, the official Olympics broadcaster.
The pair had previously said this would be their last Olympics and hinted that retirement from competition - this time for good - might be on the cards soon.
"We're just proud of our accomplishments at these Games. The goal was to win two golds but it's a really intense competition," Moir added.
"We have such respect especially for Gabriella and Guillaume. We're pretty happy with how things turned out, that's for sure."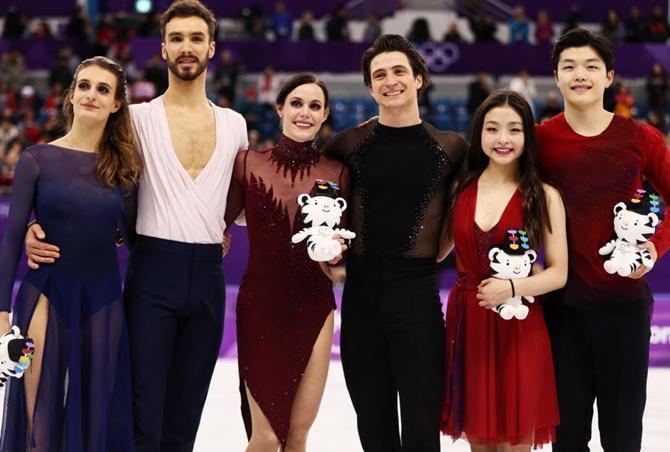 IMAGE: From left, silver medal winners Gabriella Papadakis and Guillaume Cizeron of France, gold medal winners Tessa Virtue and Scott Moir of Canada and bronze medal winners Maia Shibutani and Alex Shibutani of the United States celebrate during the victory ceremony for the Figure Skating Ice Dance. PHOTOGRAPH: Jamie Squire/Getty Images
The Canadian pair, who won gold in Vancouver eight years ago, have dominated the event since they returned to competition after retiring following a silver at the Sochi Games four years ago. They also have a team silver from Sochi and gold at Pyeongchang, won last week.
They made a comeback late in 2016 and powered to a number of world records with only one defeat along the way.
That loss - in the Grand Prix Final in Japan last December - was to Papadakis and Cizeron, and prompted the fiercely-competitive Canadians to return home and tweak their programme in response.
Papadakis and Cizeron struggled in their short programme on Monday after the top of Papadakis's costume came loose, and were 1.74 points behind the Canadians entering Tuesday's free dance.
The pair's ethereal free dance had the audience at the Gangneung Ice Arena clapping and set a new world record for both the free skate -- they scored 123.35 and topped the Canadians -- and the total score.
Virtue and Moir broke that record fewer than 15 minutes later, when they scored 122.40 in the free programme.
"We are really proud of what we did today," Cizeron said. "We did the best we could on the ice and it was a very emotional moment and we're really proud of that silver medal."
Papadakis said Tuesday's performance had made their Olympic debut special.
American siblings Maia and Alex Shibutani, known as the "Shib Sibs", won bronze after entering the free dance in fourth. They finished on 192.59.
Canada at the Sharpe end of ski slopestyle gold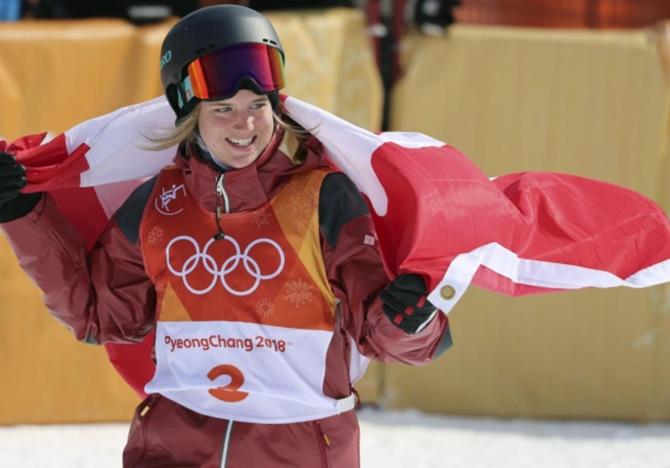 IMAGE: Cassie Sharpe of Canada celebrates her victory. PHOTOGRAPH: Mike Blake/Reuters
Cassie Sharpe dominated her rivals with the two best runs of the final as the 25-year-old Canadian soared to Olympic gold in the women's ski halfpipe on Tuesday.
Sharpe's second run of 95.80 was more than enough to defeat France's Marie Martinod and American Brita Sigourney, who completed the podium places in a final that went pretty much to form.
All three skiers had recorded two runs of more than 90 points in qualification and they brought a similar level of consistency to a final that saw the top five qualifiers duplicate their finishing order in the medals showdown.
After some low scoring to start the first round, including a fall for Sochi gold medallist Maddie Bowman, the final began in earnest when her compatriots Annalisa Drew and Sigourney established scores in the high 80s.
Martinod responded with a high-class opening attempt that scored 92.20 before Sharpe went one step further, completing a run full of variation to tally 94.40 for a healthy lead after the first round.
The Canadian's solid platform enabled her to drop back-to-back 900s on her next run to increase the advantage over Martinod to 3.60 points going into the final round.
Bowman then required medical attention after suffering a nasty fall at the end of her third run as she failed to lay down any clean routines in the defence of her title and had to settle for an 11th-placed finish out of the 12 skiers.
Another Sochi medallist, Ayana Onozuka of Japan, was unable to repeat her bronze medal performance from four years ago and finished in fifth place.
The medals this time came down to the final four skiers.
When Drew had climbed into the bronze medal position, the pressure was on Sigourney to respond. After a nervous wait that saw both U.S. athletes standing together at the foot of the pipe, Sigourney was awarded 91.60 to take third by 0.80 points.
In an anti-climactic finish to the final, both Martinod and Sharpe fell on their final runs but that did not stop both athletes beaming with delight at the top of the podium.
South Korea continue relay dominance
South Korea powered to gold in the Olympic women's short track speed skating 3,000 metres relay defending the title they won in Sochi.
Italy took the silver while China and Canada were disqualified in the final to hand the bronze medal to the Netherlands who set a world record to win the B Final.
It was a typically wild and woolly race for the gold with several crashes and near wipeouts before South Korea grabbed control with two laps left.
They muscled their way to the front, triggering a mighty roar from the near-capacity crowd, before holding on for victory to maintain their domination of the event.
Canada won the first relay gold at the 1992 Albertville Olympics but South Korea has taken ownership since, topping the podium in six of the next seven Games with only China interrupting that run with victory in 2010.
It was Choi Minjeong's second gold of the Games to go along with the one she claimed in the 1,500m while Shim Sukhee and Kim Alang also celebrated gold for a second time after helping South Korea to relay glory in Sochi. Kim Yejin completed the winning foursome.