Record-breaking Virtue, Moir dance into first place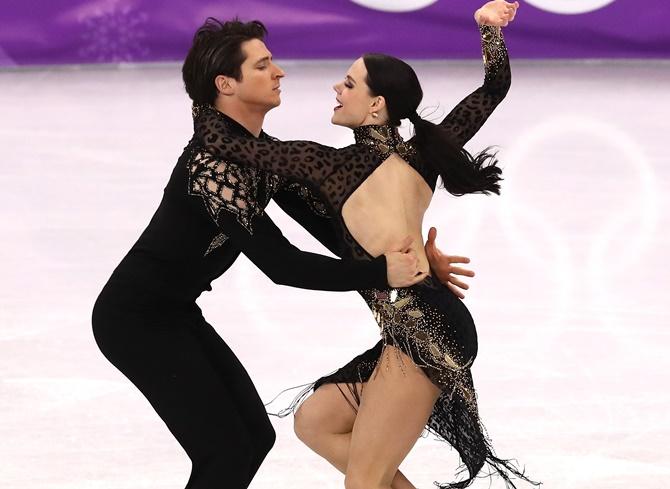 IMAGE: Tessa Virtue and Scott Moir of Canada compete during the Figure Skating Ice Dance Short Dance. PHOTOGRAPH: Ronald Martinez/Getty Images
Canada's Tessa Virtue and Scott Moir made a perfect start in their bid to add another Olympic medal to the four they already possess by breaking their own ice dance short programme world record to skate ahead of the field on Monday.
The pair have tasted defeat just once since coming out of retirement in late 2016, when a loss to France's Gabriella Papadakis and Guillaume Cizeron at the Nagoya Grand Prix Final last December was enough to make them tweak their programme.
Virtue and Moir, who are competing in their last Olympics and played a key role in Canada's team trophy gold last week, scored 83.67 points for their sizzling Latin-themed routine, breaking their previous record mark of 82.68.
They edged out their French rivals, whose stellar skate had the audience clapping along to the Ed Sheeran soundtrack that accompanied their dance, by less than two points with Papadakis and Cizeron awarded 81.93 by the judges.
"It feels great but even better than the world record is the feeling we had when we ended the programme," Virtue told Reuters.
"We're really pleased with that performance. On the world's biggest stage when the pressure is mounting, it's nice to be able to deliver like that."
Canada crush OAR to set up US showdown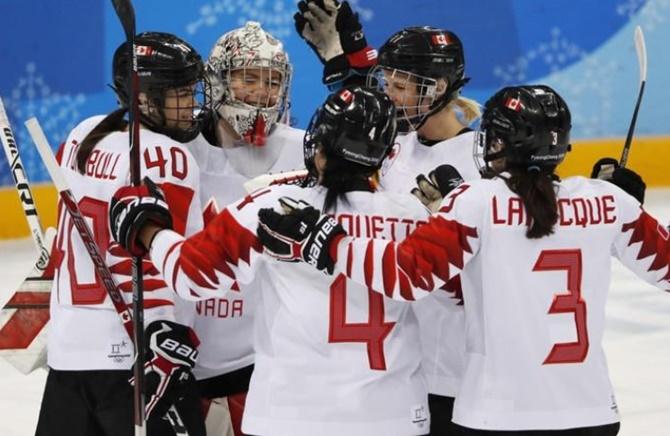 IMAGE: Goalie Shannon Szabados of Canada celebrates with teammates. PHOTOGRAPH: Grigory Dukor/Reuters
Canada thumped the Olympic Athletes from Russia 5-0 on Monday to book their spot in the Olympic women's ice hockey final and renew one of the Winter Games's greatest rivalries.
Canada have played for gold at every Winter Games since women's hockey became part of the Olympic program in 1998 and for the fifth time in six Winter Games will face off against the United States.
"We have something special here and we're ready our coaching staff has prepared us as best they can and we just need to go out and just play," Canada forward Meghan Agosta told reporters.
"This is something we have worked hard for all year and it comes down to one game and it is going to be the better team that comes out on top and there is no doubt in my mind that we are going to be ready for whatever it takes."
The U.S. set the stage for a rematch when they shutout Finland 5-0 to reach the final for the third consecutive Olympics.
Although the U.S. and Canada have met on every final expect at the 2006 Turin Olympics, the Americans have not had gold hung around their necks since the Nagano Games with the Canadians occupying top spot on the podium ever since.
Norway's Lorentzen edges Korean in photo finish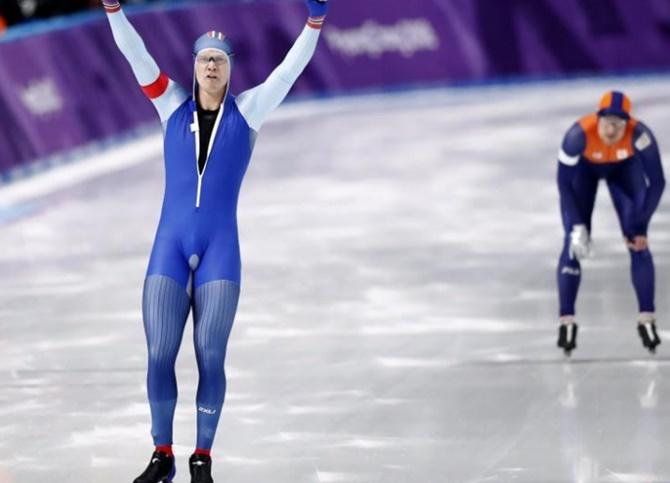 IMAGE: Havard Lorentzen of Norway celebrates. PHOTOGRAPH: Damir Sagolj/Reuters
Norwegian Havard Lorentzen struck gold in the men's 500 meters speed skating at the Gangneung Oval on Monday after edging out South Korea's Cha Min-kyu in a dramatic photo finish.
After Cha had broken the Olympic record in a blistering lap, the ice-cool Lorentzen went 0.01 seconds faster, zooming around the track in a time of 34.41. Chinese Gao Tingyu took the bronze medal.
"I was tying my skates when Cha did his race and the atmosphere was amazing. Then he sets the Olympic record," Lorentzen told reporters.
"I wasn't sure I could beat that but I knew I could at least do a medal. And when I did the last 50 meters I said to myself this has to be a medal.... And then to cross the finish line and the entire stadium just goes to silence - it's quite cool."
Lorentzen was the first Norwegian to win the Olympic 500m title since Finn Helgesen 70 years ago and he became his country's first medalist in the event since Magne Thomassen won silver in 1968.
Norway, once a powerhouse in the sport alongside the Netherlands, has struggled in recent decades and until Monday had not won a gold medal in speed skating at the Olympics since Adne Sondral's victory in the 1,500m in Nagano in 1998.
Norway soar to victory in team event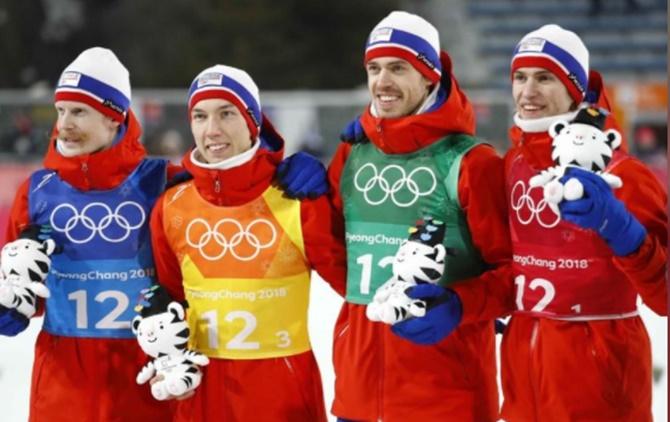 IMAGE: Gold medalists Daniel Andre Tande, Andreas Stjernen, Johann Andre Forfang and Robert Johansson of Norway celebrate during the victory ceremony. PHOTOGRAPH: Dominic Ebenbichler/Reuters
Robert Johansson soared through the night air to land a spectacular final leap that sealed victory for Norway in the men's ski jumping team event at the Alpensia resort on Monday.
The Norwegians, who scored 1,098.5 points in total, were dominant throughout en route to their second ski jumping gold of the Games. Germany finished 22.8 points behind to take silver and Poland claimed the bronze.
The Norwegians took a slender lead into the final round, two points ahead of the Germans and five clear of the Poles.
The three leaders illustrated the gulf in class to the rest, leap-frogging ahead of each other in a tense final that provided a superb showcase for the sport.
Daniel Tande Andre opened up a gap for with the first of Norway's four jumps in the final, scoring 145.5 points for the world champions and forcing Poland and Germany to play catch-up.
The Norwegians sensed their time had come and Andreas Stjernen added 139.8 points with their next jump to put even more daylight between them and the chasing pair.
Canada and Germany in dead-heat for gold
Canada's Justin Kripps and Germany's Francesco Friedrich won gold medals after a dead-heat in the men's Olympic two-man bobsleigh on Monday.
Kripps and four-times world champion Friedrich both finished with identical times of three minutes 16.86 seconds. Latvia's Oskars Melbardis took bronze.
It was the first dead-heat in the Olympic two-man bobsleigh competition since Nagano in 1998.