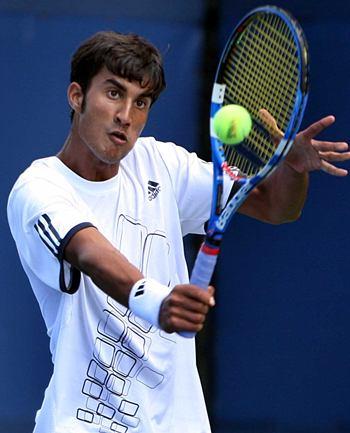 Yuki Bhambri in action. Getty Images
Yuki Bhambri will open India's Davis Cup campaign against Serbia, drawn against visiting side's No 2 player Dusan Lajovic for the first singles match of the World Group playoff tie, beginning in Bangalore on Friday.
- Paes, grand old man of Indian tennis ready to shoulder responsibility
- 'Djokovic's presence would have been good for tennis in India'
The second singles match will be played between India's Somdev Devvarman and Filip Krajinovic. The first match will begin at 3 pm and the second from 6.30 pm.
On the second day of the tie, ace Indian tennis player Leander Paes will combine with local star Rohan Bopanna against the Serbian pair of Nenad Zimonjic and Ilija Bozoljac.
While on the last day of the tie, Devvarman will play Lajovic in the fourth rubber and Bhambri will face Krajinovic in the second reverse singles.
The first reverse singles will commence from 4 pm and and the fifth rubber will start after 6.30 pm.
The nominations for the doubles and reverse singles can be changed up to one hour before scheduled start.
Indian non-playing captain Anand Amritraj said he was happy with Yuki starting the tie for India.
Asked whether India will target Krajinovic, Amritraj said they are not targeting anyone as both are equally good players.
Devvarman said both the teams are evenly matched. He described Krajinovic as a very good player.
"There is a chance for both teams as both are evenly matched and I think Krajinovic is a very good and informed player. Even I have been playing well. I am going to put my best foot forward," he said.
The Indian said playing in Shanghai has helped him become match fit.