It will be the beginning of a new era in Indian tennis when a young Davis Cup team, sans all the proven stars, battles it out against New Zealand to stay in the Asia Oceania Group I in Chandigarh, from Friday.
A 20-year-old Yuki Bhambri and Vishnu Vardhan, who impressed at the London Olympics, will lead the Indian challenge in the absence of the big names who damaged their reputations with public spats not so long ago.
Every country faces transition when the seniors pass on the baton to the youngsters but the way it has begun in Indian tennis is not something to cheer about.
The foursome of Leander Paes, Mahesh Bhupathi, Rohan Bopanna and Somdev Devvarman are missing in the line-up and it will be a big test of nerves and skills for the youngsters.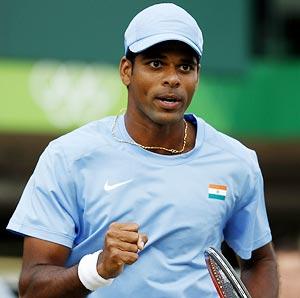 Both Paes and Somdev Devvarman, who is out due to a shoulder problem, are expected to make a comeback when the next Davis Cup assignment comes.
However, there is uncertainty if Bhupathi and Bopanna will come back to represent the nation in the Davis Cup as they have been axed from the side due to the bitter selection row ahead of the Olympics which started with both of them refusing to partner Paes.
The national federation, AITA, could afford to kick them out and experiment with the youngsters since they are capable of taking the fight with not-so-strong rival in New Zealand in this tie.
The rankings and the recent performances point towards superiority of young Indian players and the hot weather conditions would also suit them but it will be a mistake to take the Kiwis lightly in the first round of the play-off tie.
The winner will remain in Group I while the loser will play Chinese Taipei next month, where the vanquished team will be relegated to Group II for the 2013 season.
India would fancy their chances in the tie since Yuki, Vishnu Divij Sharan and Sanam Singh all have had a very good season thus far. Both in ranking and performance on the Tour, Indian players are a notch above the Kiwis.
Yuki is the highest-ranked singles player among all, who will play in this tie, at 179th.
The Delhi lad, who has amazing fighting skills and some big ground strokes, has won Challenger titles in both the singles and the doubles this season. He has also reached quarter-finals of four other tournaments.
Compared to that, New Zealand's top player Jose Rubin Statham is ranked 317th. He was mostly successful while playing ITF Futures, a notch below the Challengers, winning three titles.
But he has struggled in the Challenger circuit as reaching pre-quarterfinals only once is his best show.
However when it comes to experience of playing in the Davis Cup, the Kiwis are much better than the hosts.
Jose Rubin Statham (23), Daniel King-Turner (32), Michael Venus (10) and Artem Sitak (5) have the experience of playing 70 matches among them, compared to just five of the Indians.
Yuki is the most experienced with three matches in two ties while Vishnu and Sanam have played one match each.
But India has rising stars in Vishnu, Sanam and Divij. While Vishnu has done well in both singles and doubles, Divij has had a great season in doubles.
There was great drama when Paes reluctantly paired with Vishnu for the London Games but the youngster came up with a gritty performance, not dropping his serve even once while playing against the biggies of the world tennis such as Jo Wilfred Tsonga.
Serve is Vishnu's biggest strength apart from having a calm head over his shoulders. He has won three Futures singles titles this season apart from winning a doubles challenger with Divij and ending runners-up in two others.
Sanam, the local lad, is not ranked high a he stands at 367 in singles but he has done well in singles and has actually beaten his team-mates Yuki and Vishnu this season.
While he beat Yuki in last week's Shanghai challenger, he had defeated Vishnu in a Futures event.
The left-handed Divij, meanwhile, rose to top-100 two days back and forced the selectors to draft him into the squad after being selected as a reserve player. He replaced Saketh Myneni.
Divij, who hails from Delhi, reached five Challengers and won two titles -- one each with Yuki and Vishnu.
For the Kiwis, Daniel King Turner, ranked 382 in singles, will do the singles duty with Jose. He has only one Futures title under his belt but he has beaten players such as Yuichi Sugita of Japan and Alexander Kudryavtsev of Russia.
Then, Michael Venus (ranked 592 in singles and 423 in doubles) and Artem Sitak (705 and 380) have mostly done well in doubles and are likely to present a good challenge to the Indian pair.