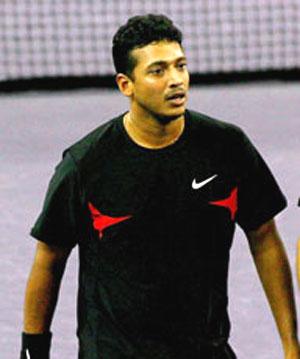 Though Brazil appear to be a better outfit on paper, factors like home conditions and crowd support are bound to work in the hosts' favour during the September 17-19 Davis Cup tie between the two countries at Chennai, said Indian doubles specialist Mahesh Bhupathi on Monday.
"They are a better team, no doubt. But we are playing at home and we will be having a big crowd supporting us. Conditions like heat would be in our favour," said the tennis veteran ahead of the India-Brazil World Group play-off clash.
India would be represented in the singles by Somdev Devvarman and Rohan Bopanna while Bhupathi is going to combine forces with fellow-veteran Leander Paes to try and re-work the magic that has fetched them a string of Grand Slam men's doubles titles in the past. 
Brazil is to be represented by their world No 28 Thomasz Bellucci, Ricardo Mello, Bruno Soares and Marcelo Melo. Bhupathi was full of praise for the way Bopanna has played with his Pakistani partner Aisam-ul-Haq Quereshi on the men's doubles circuit.
The duo, dubbed as the "Indo-Pak Express", grabbed the tennis world's attention by reaching the final of the US Open last week before losing the title-clash against the host nation's Bryan brothers - Bob and Mike. 
"Rohan has played well throughout this year and it's good to see it being translated from the lower to higher levels," said Bhupathi.
"Most important thing is that Rohan and Aisam reached the final of the US Open. They have made the transition and now it is a question of keeping fit and doing it again and again," said Mahesh. 
Bhupathi said he preferred to focus on next month's Commonwealth Games in Delhi rather than the subsequent Asian Games.
"Let's take one step at a time. Let us focus on the Commonwealth Games," he said when asked about his participation in the Asian Games at Guangzhou in China. Bhupathi said he was aware of the government's decision to settle the tennis players' dues as had been promised. 
"I have read about it. Government had assured that everything will be taken care of. I hope that will be the case," the senior player said.