Spain captain Alex Corretja has defended his decision to pick Nicolas Almagro for the Davis Cup final after the holders were beaten 3-2 by Czech Republic when Almagro lost the decisive singles rubber to Radek Stepanek on Sunday.
-PHOTOS: Czechs lift Davis Cup with victory over Spain
Corretja, in his first year in charge, had to field questions about why he didn't select Feliciano Lopez, whose big-serving style is seen as better suited to the zippy indoor court in Prague's O2 arena than that of clay specialist Almagro.
-Czech Republic beat holders Spain to win Davis Cup
Lopez himself was quoted as saying the day before the tie that he was surprised not to be picked along with David Ferrer but Corretja said he had no doubt he had made the right choice and would choose Almagro over Lopez again.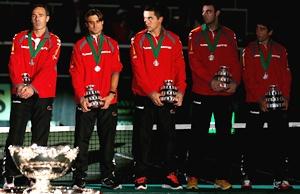 Almagro, the World No. 11, lost in five sets to Czech number one Tomas Berdych on Friday, while fifth-ranked Ferrer won both his singles and Berdych and Stepanek beat Marc Lopez and Marcel Granollers in Saturday's doubles.
"I don't think I made a mistake and I don't think we lost the tie because Nico Almagro played," Corretja, unable to call on the injured Rafa Nadal, told Spanish radio station Cadena Ser by telephone late on Sunday.
"Having seen the way Nico Almagro played on Friday I still believe that he was the right person to play the final rubber," Corretja added.
"Who knows if a different player would have been any better? Nobody."
"I am a fan of Feliciano Lopez in the sense that he has given a huge amount to the Davis Cup team."
"He's an excellent team mate and an excellent friend and an excellent Davis Cup player and an excellent player on those courts but I have a huge number of reasons why I think Almagro had to play."
Almagro turned in an error-strewn performance against Stepanek and although he briefly mounted a comeback to win the third set the Czech 33-year-old, ranked 31, had too much guile and experience for the younger Spaniard.
"Alex is there to take these kinds of decisions, they are not easy and you have to respect them," 40th-ranked Lopez was quoted as saying in Spanish media on Thursday after the draw for the final.
"But on a technical level I don't understand it," he added. "I thought I was going to play because this surface suits me very well."
Corretja was unrepentant.
"As captain I try to cope with the situation as best I can and in the end we fought as hard as we could to win a final that eluded us by a tiny, tiny margin," he told Cadena Ser.
"If we played Czech Republic again tomorrow I would choose the same four players."
The failure of Spain's bid for a fourth title in five years left a bitter taste for Corretja and his players and the absence of the injured Nadal, who has only lost once in 21 Davis Cup singles rubbers, proved decisive.
Corretja said he expected to be able to count on all of the nation's top players for next year's edition, including Nadal, Ferrer, Lopez, Almagro, Fernando Verdasco and the doubles pair of Marc Lopez and Granollers.
With a fit Nadal in the side, they will again be firm favourites, especially playing at home on their favoured clay.
"Obviously when Rafa recovers from his (knee) injury and he's available I'll be delighted," Corretja said.
Photograph: Clive Brunskill/Getty Images