Serbia and Canada both won marathon doubles matches on Saturday to seize control of their Davis Cup quarter-finals in North America.
Both matches were decided in the 28th game of the fifth and final set as Serbia grabbed a 2-1 lead over the United States in Idaho and Canada led Italy by the same score in Vancouver.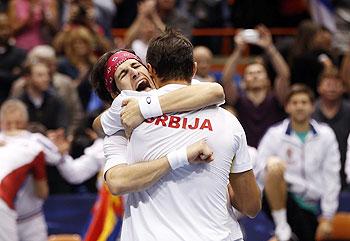 Argentina won their doubles rubber against France in Buenos Aires to snatch a 2-1 lead while Kazakhstan stayed alive against the Czech Republic by winning the doubles to head into Sunday's reverse singles trailing 2-1.
The Serbian pair of Nenad Zimonjic and Ilija Bozoljac pulled off a stunning upset over Bob and Mike Bryan, the world's top ranked doubles team, 7-6 7-6, 5-7, 4-6, 15-13.
The result left the visitors on the verge of victory with World No 1 Novak Djokovic set to play in the first of Sunday's two singles matches.
Serbia's non-playing captain Bogdan Obradovic had considered playing Djokovic in the doubles but decided to go with Bozoljac, ranked 338th in the world, to keep his best player fresh.
"I know that I had that in myself," Bozoljac said.
"I knew that if I give my 100 per cent for one match, I can play on a really high level and I can match up with these good players."
There was more drama across the border when Daniel Nestor and Vasek Pospisil beat Fabio Fognini and Daniele Bracciali 6-3, 6-4, 3-6, 3-6, 15-13 after nearly four and a half hours.
The win left Canada needing to win just one of Sunday's two reverse singles rubbers to reach the elite World Group semi-finals for the first time.
The Argentine pairing of David Nalbandian and Horacio Zeballos recovered from a set down then a 5-2 deficit in the third set to beat Julien Benneteau and Michael Llodra 3-6, 7-6, 7-5, 6-3.
The Europeans started the tie as favourites and despite needing to win both reverse singles, French captain Arnaud Clement was still hopeful.
"The two matches tomorrow will be just as hard to win for the Argentines," he told reporters.
"I'm still confident, we still have our chances to pass this round. If we want to win the Cup we have to be able to turn this situation around."
Andrey Golubev and Yuri Schukin stunned Radek Stepanek and Jan Hajek 7-6, 6-4, 6-3 to provide Kazakhstan with a glimmer of hope against the reigning Davis Cup holders after they lost both singles matches on Friday.
"We're a young team, playing against the Davis Cup champions and nobody thinks we can beat them," said Schukin. "But we battled hard for every single point and never thought of giving up."
Photograph: Jim Urquhart/Reuters