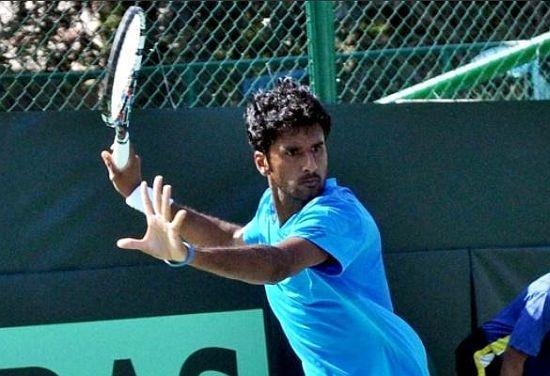 IMAGE: Saketh Myneni. Photograph: Twitter.
Beset by injuries to singles players and 'mistrust' between the Rio-bound doubles players, India would expect young Ramkumar Ramanathan and Saketh Myneni to rise to the occasion when they face Korea in the Asia/Oceania Group I Davis Cup tie, starting, in Chandigarh, on Friday.
The 21-year-old Ramkumar will make his Davis Cup debut for the country as Yuki Bhambri and Somdev Devvarman are nursing their respective injuries.
The Chennai lad's game is full of energy, passion and sharp strokes, especially his forehand, but lack of consistency has not taken him far on the Tour. This is the moment for him to enhance his reputation by winning Davis Cup matches for the country.
He has won a few tough matches, lost a few close contests and is good enough to pull it off together with Myneni against the Koreans, who have landed without their best player, Hyeon Chung, ranked 107 now but was career-best 51 last year.
In his absence the best-ranked player in Korean camp is Seong-chan Hong, who is placed as low as 427 in the ATP singles list. Yong-Kyu Lim (626), Yunseong Chung (628) and Hong Chung (655) are the other players in the side.
This line-up is not likely to trouble India who have far more experienced players in the squad. Myneni now has played three ties and has lost only one doubles match.
Myneni, though, has been troubled by a shoulder injury recently and it is crucial for the hosts that he remains physically fit. He has the game required to win matches in this tie.
Expectations while representing the nation can create a lot of pressure in the head but both Ramkumar and Myneni have the chance to deliver now. They are not up against a formidable rival and have home advantage plus the fan support.
Grass is not the surface players from either side prefer but India chose to host this tie on grass as it is akin to an alien turf for the Koreans. It gives advantage to the Indians, who are more experienced as far as the surface is concerned.
But it is not a good advertisement for the game in the country as India have not chosen hard courts to play despite the fact that their own players are more comfortable on that.
And also that they are up against a side which has come with players who are either in 400s or 600s in the ATP ranking list. It's true that India must have had Hyeon Chung in mind when it made the choice, but it still is a strange selection.
Davis Cup returns to grass courts in India for the first time since 2008 when the hosts had beaten Japan 3-2 in a close tie in New Delhi.
Led by Somdev Devvarman, a new crop of singles players more comfortable playing on hard courts, took over and the country's preferred surface became hard courts in recent years.
Poor form and a foot injury ruled Somdev out of this tie, as AITA's selection committee in consultation with other players chose to host the matches on grass.
The advantage is there but India have its own set of problems to deal with. The hosts have Rohan Bopanna and Leander Paes as the doubles pair for the tie as AITA want them to tune up for the Rio Olympic Games by resolving their differences.
Bopanna did not want to play with Paes at the Rio Games, but AITA shot down his preference, which was Myneni.
It's baffling how the mistrust of years can be removed in one week. Bopanna has already taken pot shots at Paes for him joining the side too late.
Paes is one of the greatest in the game in doubles and Bopanna too had his share of high moments in his career. More than the Korean rivals, their own differences could be their bigger enemy.
Being different individuals they can have differences but sometimes it hurts the team and the country more than their personal interests.
Still it is the best option looking forward. India will certainly benefit if the two players can forget personal issues and find 'chemistry' before Rio.
The winner of the tie will advance to the World Group Play-offs and will clash with either China or Uzbekistan. For India, it will be an away tie if they advance to Play-offs.