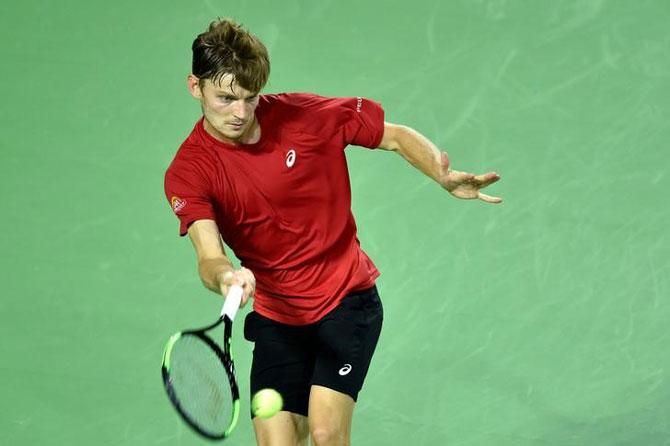 IMAGE: Belgium's David Goffin in action during his Davis Cup Quarterfinals World Group singles match against Italy's Paolo Lorenzi in Spiroudome, Charleroi, Belgium, on Sunday. Photograph: Eric Vidal/Reuters
David Goffin sent Belgium into the their second Davis Cup semi-final in three years on Sunday with a decisive victory over Italy's Paolo Lorenzi in Charleroi.
Goffin's 6-3, 6-3, 6-2 triumph in front of a boisterous home crowd gave Belgium a 3-1 lead and sent them into a home semi-final against Australia who also wrapped up victory over the United States thanks to Nick Kyrgios's defeat of Sam Querrey.
France sealed victory over Britain on Saturday and will face Novak Djokovic's Serbia who also saw off Spain in two days.
Belgium, beaten by Britain in the 2015 final, had been one point away from beating Italy on Saturday only for Joris de Loore and Rubens Bemelmans to lose their doubles against Simone Bolelli and Andreas Seppi having had a matchpoint.
Any hope of an Italy comeback were snuffed out by Goffin though who was ruthless against Lorenzi as he took his record to 13 wins in 14 Davis Cup singles matches.
"I am very happy, I knew David had the level but you have to deliver and he did. He played a very professional match, handling the nerves," Belgium skipper Johan van Herck said.
"I think we have a really good team. Australia do too ... we have the home advantage. We have a chance to beat them.
"This doesn't have to end here. We are going to go into the semi-final with a lot of ambition and try to reach our second final in three years."
The semi-finals will take place in September.