Bidding for Beckham: Soccer star among lots at Cannes AIDS auction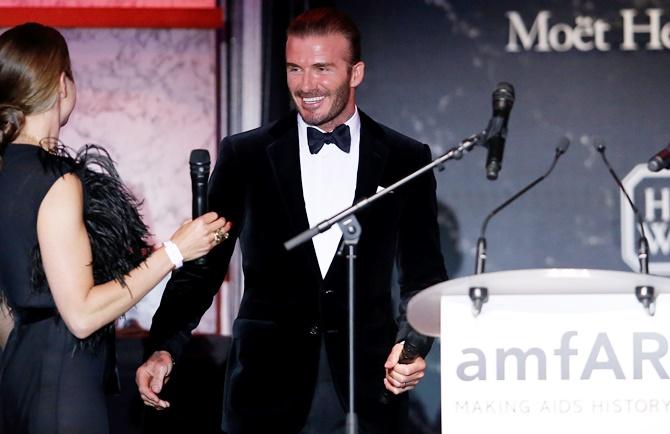 IMAGE: David Beckham is seen during auction. Photograph: Stephane Mahe/Reuters
Fancy drinks overlooking the Mediterranean followed by dinner with Leonardo DiCaprio and entertainment by Diana Ross?
That's what you get at the amfAR dinner, the biggest, starriest party at the Cannes Film Festival, where top celebrities help persuade the super-rich to part with their cash in a charity auction for AIDS research.
Will Smith, Jessica Chastain and Uma Thurman encouraged the well-heeled crowd on Thursday night to bid on a collection of photographs by George Hurrell, whose portraits of Hollywood stars of the 1930s and 40s defined an entire era of movie glamour.
David Beckham sold himself - or at least the chance to play in a soccer match with him - for 350,000 euros ($390,000).
Diana Ross headlined the entertainment which also featured a younger generation of pop stars including Nikki Minaj, Rita Ora and DNCE, the US band famous, appropriately enough, for the song "Cake by the Ocean".
The most expensive lot at the auction, for the American Foundation for Aids Research, was a collection of glamorous dresses that went for 3 million euros.
As models strutted onto the stage and the bids went through the roof, Dustin Hoffman joked with Reuters reporter Sarah Mills: "You think they know the models are not part of the lot?"
The Cannes Film Festival concludes on Sunday.