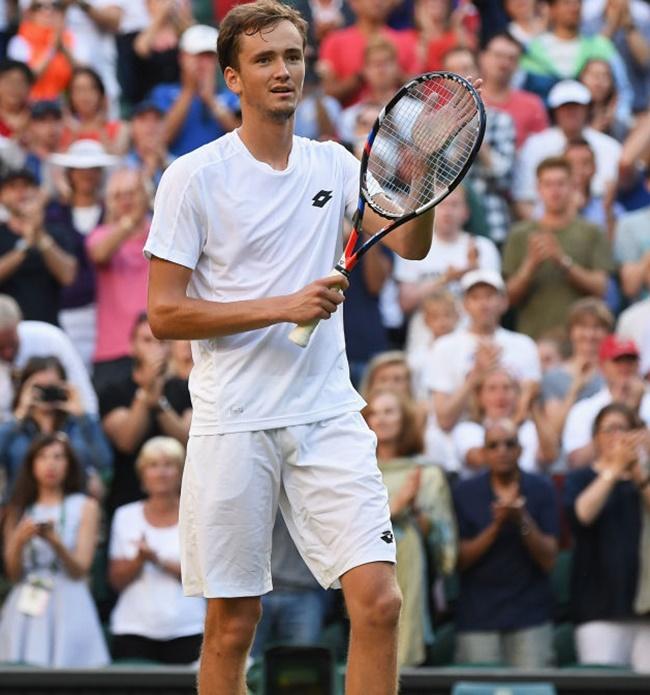 IMAGE: Daniil Medvedev of Russia celebrates after beating Stanislas Wawrinka of Switzerland. Photograph: David Ramos/Getty Images
Russian Daniil Medvedev, fresh from upsetting world number three Stanislas Wawrinka in the first round at Wimbledon, said he was now targeting a run to the last eight at the All England Club.
Laid low by sore knee, Wawrinka shown door by energetic Russian
The 21-year-old, who has just broken into the top 50 in the world, played with real swagger in his 6-4, 3-6, 6-4, 6-1 win over the fifth-seed and that confidence was evident when he talked to reporters after the win on his Wimbledon debut.
"I didn't even look at my draw, like after the second round, so I don't know who I will play if I will be winning," he said.
"But after beating Stan, I mean, I feel good on grass. I will just try to play match-by-match, try to do my best, but I would say if I can reach a quarter-final, I would be happy."
Medvedev, who next faces Daniil Medvedev 124th-ranked Belgian Ruben Bemelmans, was ranked 99th in the world at the start of the year but a strong run of form has seen him rise to 49th.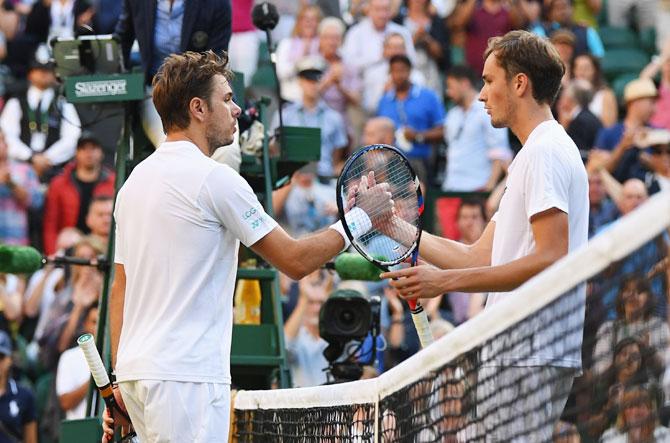 IMAGE: Switzerland's Stanislas Wawrinka congratulates Russia's Daniil. Photograph: David Ramos/Getty Images
Few people, if any, however expected him to upset his Swiss opponent, a three-time grand slam champion."First of all, it's my first grand slam win. So even I guess if I didn't beat Stan, it would be one of the biggest wins in my life.
"My first top-10 win. I have no words to describe this. I guess this memory will be with me forever," he said.
Medvedev showed few signs of nerves despite playing such a high profile opponent on Centre Court in his first outing at the tournament.
But he conceded that, inside at least, there were some butterflies.
"Of course, it's a very strange feeling to go out there. It's like you have a fear, you're tight, but plus to this also, you want to show your best. You want to beat Stan Wawrinka on Centre Court so that people can know more about you," he said.
"It was just something special. I don't know how to explain it," he added.
It is clear, though, that the Monte Carlo-based Medvedev has a strong belief in his ability on grass.
"I think my game suits it really well, because I don't have, like, a huge serve but it's quite strong and very precise. So that's the best thing for grass, because with the grass it goes faster than on hard or clay," he said.
"Then I have a really flat game, which no one likes to play, because you have to put the ball up after my shots. I'm good at the key moments. So far I have been good at these key moments.
"So, everything just makes me play well on grass, and that's my favourite surface," he said.
Asked whether he had had a feeling that he could pull off a surprise at Wimbledon, Medvedev said with a smile: "I love grass. I play well on grass. I beat a lot of good guys on grass. I knew that I can do well here."