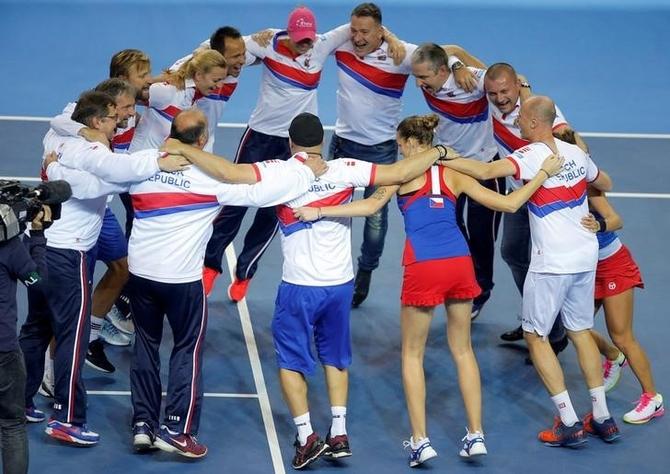 IMAGE: Czech Republic's Fed Cup team celebrate their victory against France. Photograph: Vincent Kessler/Reuters.
The Czech Republic further established themselves as the dominant force in women's team tennis as they claimed a 3-2 comeback win against hosts France to capture their fifth Fed Cup title in six years on Sunday, and 10th overall.
Karolina Pliskova and Barbora Strycova downed Kristina Mladenovic and Caroline Garcia 7-5 7-5 in the doubles to hand the visitors the decisive point.
The nation won five titles as Czechoslovakia in the 1970s and 80s before dominating the women's team competition in recent years.
Only the U.S. have won more titles, having prevailed 17 times since the competition was created in 1963.
Against the pair who won this year's French Open, Strycova and Pliskova returned well and made the most of Mladenovic's below-par performance to hand the Czech Republic victory.
Petra Kvitova, twice a champion at Wimbledon, had been expected to spearhead the Czechs' charge towards victory but after her unexpected defeat in her opening singles, she was a no show on Sunday.
"Kvitova could not play today, we did not have many options, but Strycova played really well," said Czech captain Petr Pala, who helped his side recover from a 2-1 deficit to become the first captain to win five Fed Cup titles.
"The girls never gave up, like the French, but there is only one winner."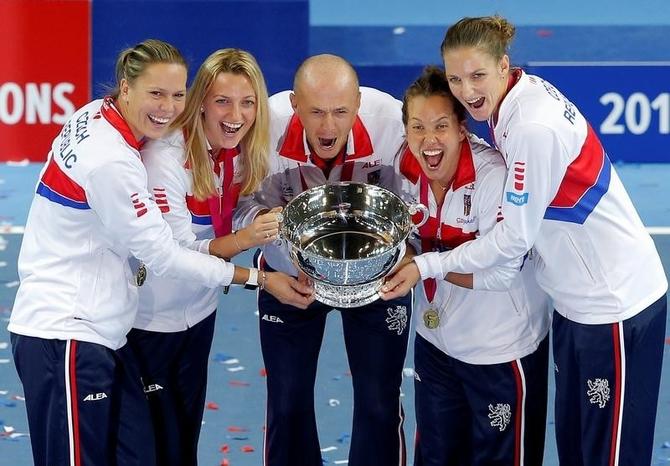 IMAGE: Czech Republic's Fed Cup team celebrate their victory against France. Photograph: Vincent Kessler/Reuters.
Rather than dwelling on Kvitova's absence, her Czech team mates simply focused on the task ahead and their determination paid off as they became the first team to win three successive Fed Cup titles since Spain achieved the feat from 1993-95.
"It's a wonderful day. It was not easy that's why we are so happy," said Pliskova.
"The secret was to go out there and fight for every point. We fought until the end," added Strycova.
"It's sad for the players but that's sport. The players gave everything, they were brave and did their best. Congratulations to the Czech," said French federation president Jean Gachassin.
Pliskova had put the visitors ahead on Saturday with an epic 6-3 4-6 16-14 win against Mladenovic after a nail-biting third set, the longest ever played in a Fed Cup final.
Garcia drew France level as she beat world number 11 Kvitova 7-6(6) 6-3 with an aggressive display, suggesting an upset was possible.
Sunday's programme began with a minute's applause in memory of the 130 people who were killed in the Paris attacks a year ago. On court, Garcia moved France within one victory of the title as she subdued Pliskova 6-3 3-6 6-3.
Both captains kept their cards close to their chest with a possible doubles decider looming, and instead of the scheduled Mladenovic v Kvitova reverse singles, Alize Cornet and Strycova were sent to the Rhenus Sport arena's hardcourt.
France's Cornet was no match for the world number 20 and despite opening a 4-1 lead in the second set, she lost 6-2 7-6(4) before the doubles went the Czech Republic's way.
"I could have done much better," said Cornet.
In the doubles, the Czechs earned the decisive break in the 11th game of the first set when Mladenovic netted Pliskova's return.
They then struggled early on in the second set, saving four break points in their first two service games. However, a Mladenovic volley error allowed the Czechs to break for a 3-2 lead.
The French levelled for 4-4 but cracked again in the 11th game, won by the Czech thanks to a splendid drop volley by Pliskova.
The U.S. Open finalist completed victory with a volley on their second match point.