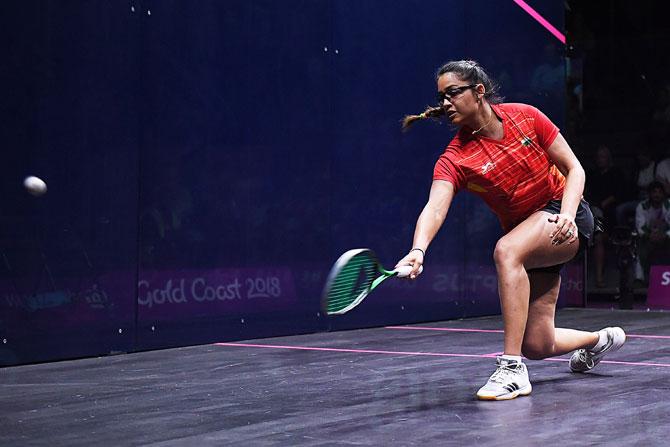 The Tamil Nadu government on Monday lauded sportspersons from the state who had won medals at the just concluded 21st Commonwealth Games in Australia, and announced rich cash incentives for their feats.
Chief Minister K Palaniswami wrote to squash players Joshna Chinnappa, Deepika Pallikal and Saurav Ghosal, besides A Sharath Kamal and G Sathiyan (Table Tennis), lauding them for winning medals in their respective fixtures.
According to the Chief Minister, Pallikal will receive a government 'high cash incentive' of Rs 60 lakh for winning two silver medals, while Chinnappa and Ghosal will get Rs 30 lakh each for their respective single silver medals.
Kamal, who won a silver in the men's doubles and a bronze in the singles event was "eligible" to get Rs 50 lakh for his feat, Palaniswami said.
This was in addition to the Rs 50 lakh announced by the Chief Minister earlier to Kamal for winning gold in the men's team event, Palaniswami said.
He also announced Rs 50 lakh for Kamal's teammate G Sathiyan for winning silver and bronze in mixed doubles and men's doubles, respectively.
This was in addition to the earlier Rs 50
lakh announced by him to Sathiyan for winning gold in the team event, the Chief Minister said.
Commonwealth Games boss apologises for dull closing ceremony
Gold Coast Commonwealth Games chief Peter Beattie admits organisers botched Sunday's closing ceremony, accepting criticism that long-winded speeches had fans rushing for the exits while athletes were largely excluded from the broadcast.
Organising committee chairman Beattie apologised on Monday in the face of a barrage of criticism, saying "we got it wrong," according to AP.
Closing ceremonies of Olympic and Commonwealth Games are usually much more relaxed than formal openings, focusing on the athletes and celebrating their achievements.
But the organizers' decision to have athletes enter the Carrara Stadium before the ceremony began meant television viewers saw little of the people the closing was meant to celebrate.
"We wanted athletes to be part of and enjoy the Closing Ceremony," he wrote on Twitter.
"However, having them come into the stadium in the pre-show meant the TV audience were not able to see the athletes enter the stadium, alongside flag bearers. We got that wrong.
"The speeches were too many and too long. I was part of that and I acknowledge it. Again, we got that wrong," he added in another post on the micro-blogging site.