India held on to their fourth position in the medals tally, having claimed seven gold, two silver and three bronze medals so far.
From weightlifting to boxing to table tennis to hockey, women formed the core of India's stupendous day four at the 21st Commonwealth Games where a 16-year-old Manu Bhaker delivered a record-shattering shooting gold medal and the table tennis team shocked fancied defending champions Singapore to clinch the top honours for the first time in the event.
Another high point of the day was a 35-year-old M C Mary Kom advancing to the medal rounds in what is her first and probably last appearance at the Games.

India held on to their fourth position in the medals tally, having claimed seven gold, two silver and three bronze medals so far.

From the shooting ranges in Brisbane to the weightlifting arena in Gold Coast, it was all about women on Day 4 on Suday. And starting it all was Manu Bhaker, the teen sensation from Haryana, who shot down the Games record and the gold medal in the 10m air pistol event.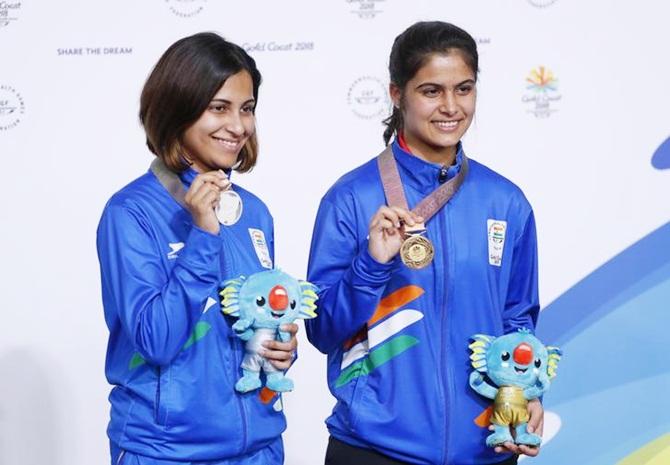 A distant silver-medallist in the event also happened to be a woman -- Heena Sidhu.

"Shooting is an uncomplicated sport, take aim and shoot. That's why it's important not to think too much. If you think too much, then it becomes complex," explained Bhaker as she analysed her brilliant performance.

In the weightlifting arena of the Carrara Sports and Leisure Center, Punam Yadav (69kg) pulled off a personal best of 222kg (110kg+122kg) to improve the bronze she had won in the 2014 edition to add another gold to India's haul.

The women's hockey team showed tremendous grit to stun Olympic champions England in its third pool match in what can only be described as a morale-soaring 2-1 victory, which took them closer to a semis berth.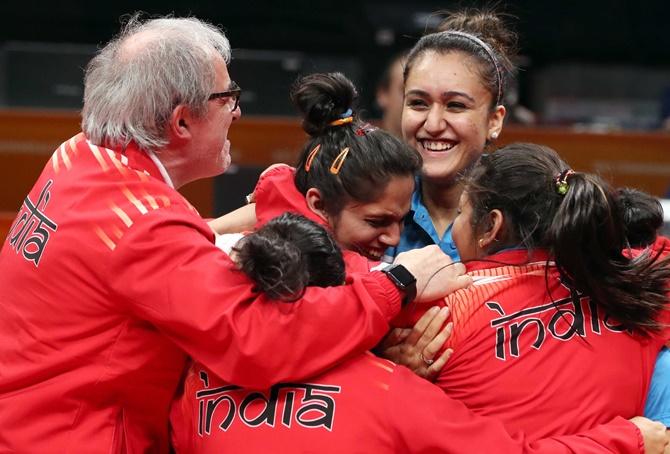 And in the evening, the women's table tennis team of Manika Batra, Madhurika Patkar and Mouma Das did what was not at all expected of them, beat defending champions Singapore 3-1 for a historic maiden gold medal.

"It was my first time playing against Feng, the moment I knew I won against the world No.4, I felt on top of the world. Even in my wildest dream I had not thought that I will beat an Olympic medallist and world number four," Batra said after her shock win over Feng Tianwei.

"I knew that she was having problems with my pimpled rubber and I realise that but I did not use it as my strength all the time. I kept changing my game. I did not want to kept her settle so I changed my rubber after the second game," she added.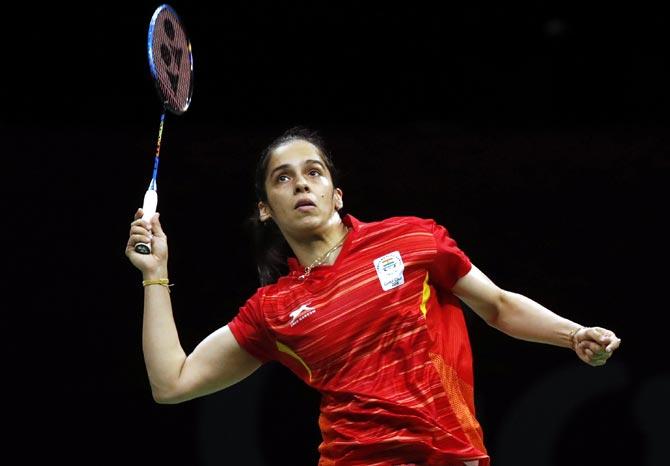 On the badminton court, Saina Nehwal remained in brutally good form and guided India to a 3-1 triumph over Singapore in the mixed team event. The top seeds will be up against Malaysia in the summit clash, on Monday.

Adding a dash of bronze to the weightlifting collection was Thakur (94kg), who lifted a total of 351kg (159kg+192kg) on a day when Papua New Guinea's Steven Kari broke the Commonwealth as well as the Games record in clean and jerk for a total lift of 370kg (154kg+216kg).

Yadav and Thakur's haul took India's overall weightlifting medal tally to five gold, a silver and two bronze medals so far, a performance made special by the fact that most of them nursed varying niggles and did not have access to a full-time physio owing to an accreditation goof-up for which none has taken responsibility so far.

In shooting, Ravi Kumar let slip a golden opportunity to settle for a bronze medal in the 10m air rifle event where Deepak Kumar finished sixth after breaking the Games record in qualification.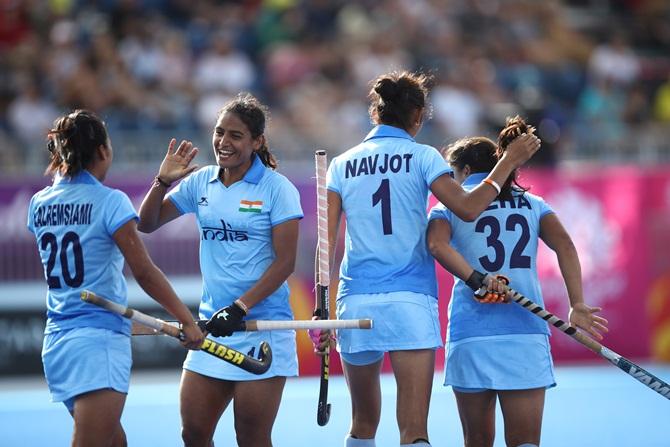 In the boxing ring, Mary Kom advanced to the semis with a sound thrashing of Scotland's Megan Gordon -- her victory assuring the Indian boxing contingent of its first CWG medal at the ongoing edition. Among the men, world bronze-medallist Vikas Krishan (75kg) advanced to the quarter-finals.

"This will be my first Commonwealth Games medal and I am happy to achieve that but gold is what I'm after," Mary Kom declared after her win.

The high-profile athletics competition also got underway at the Carrara sports complex and India had a fairly decent day with race walker Khushbir Kaur finishing fourth in the women's 20km event.

In track and field events, shot-putter Tejinder Singh made it to the final, while Mohammed Anas Yahiya topped his 400m heat to book a slot in the semis.

The men's hockey team, meanwhile, continued to be slightly off and had to work hard for a 4-3 win over Wales in their second pool B match. They had on Saturday settled for a disappointing 2-2 draw with a sloppy Pakistan, the equalising goal from the rivals coming in the final seven seconds of the match.